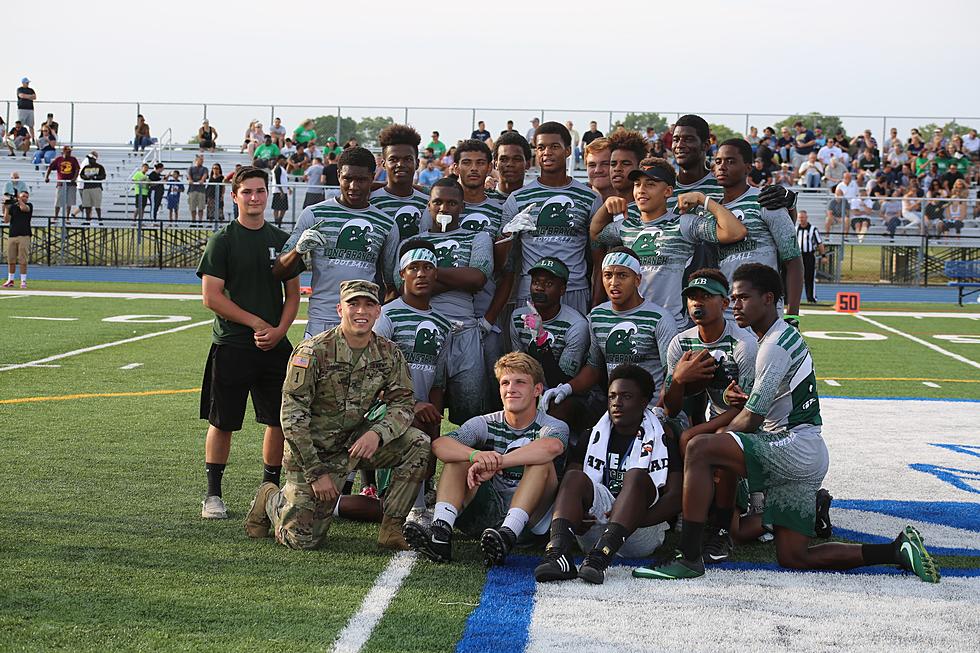 Summer Rewind: Taking a Look Back at the 2017 All-Shore Gridiron Classic
Photo by Steve Meyer, Townsquare Media.
There are the usual suspects throughout the Shore Conference that are expected to excel once the 7-on-7 portion of the offseason rolls around, but as spring turned to summer an unexpected team kept coming up in conversations about which teams' passing units were looking sharp.
Long Branch turned heads by coming out on top against teams like Howell and Manalapan to win the Monmouth County 7-on-7 championship, and in the Shore Conference final prior to the 40th annual All-Shore Gridiron Classic it was easy to see why the Green Wave have turned the corner to become a dangerous aerial unit.
Senior quarterback Juwan Wilkins tossed three touchdown passes and the Green Wave showcased what could be a dominant group of receivers in defeating Central to win the 2017 Shore Conference 7-on-7 championship at Shore Regional's Robert E. Feeney Field.
"We executed and finished strong," Wilkins said. "Kaymar (Mimes) was a big part, Kevin (Porch) helped defensively and as a whole team we came together. We were fired up the whole time."
"The passing game has become a much bigger part of the high school game than it was 5 or 10 years ago," said Long Branch head coach Danny George. "We're a spread team that will throw it around so to play teams like Howell and Manalapan to get here and beat a good Central team shows we're doing something right."
Wilkins threw for 760 yards with nine touchdowns and three interceptions last season splitting time with Marc Dennis. It will be Wilkins job this year as Dennis will not play football, according to George. With a great supporting cast around him Wilkins should see those numbers go up considerably.
The most noticeable player among Long Branch's receivers is literally hard to miss on the field. Senior Kaymar Mimes, who is the brother of Oakland Raiders defensive end Shilique Calhoun, stands 6-foot-5 and weighs 230 pounds and has FBS offers from Temple and Rutgers along with offers from Old Dominion and Monmouth. He is being recruited as a defensive end but will be a major weapon for Long Branch's offense.
There's also 6-foot-4 senior T.J. Fosque, who is the son of Asbury Park head coach Tim Fosque, senior Pasa Fields and junior Matt Clark. Mimes led Long Branch with 22 receptions last season while Fosque averaged just under 25 yards per catch with 423 yard and six touchdowns on just 17 receptions. Fields brought down 16 passes for 195 yards and two touchdowns.
"We have a lot of guys back and we have an opportunity to win some football games," George said. "We want to win every day whether it's in practice or 7-on-7 games."
George has cranked up the intensity this offseason, and that will continue into the first scrimmage when Long Branch takes on Paramus Catholic, St. Joseph (Hammonton) and Timber Creek in a mega four-way scrimmage that will be a huge test for the Green Wave.
"That will be a big test, obviously, so we wanted our summer to be meaningful," George said. "We want our practices to be meaningful, our speed and agility sessions to be meaningful and our 7-on-7s to be meaningful."
So far Long Branch is making all the right moves.
Redemption for Matt DeGennaro
Coming into his senior season Matt DeGennaro was excited to be the starting quarterback for one of the best teams in the Shore Conference and guide an offensive unit that hoped to bring St. John Vianney to a state championship. And for the first three weeks of the season DeGennaro was providing everything the Lancers needed from the quarterback position.
DeGennaro threw for 383 yards and three touchdowns over the first three games to compliment St. John Vianney's powerful rushing attack, but then DeGennaro started feeling ill and didn't see another snap until the final game of the season.
"After starting the first three games right, before the Brick game I got sick, and right after that I found out I had mono," DeGennaro said. "My spleen was enlarged for six weeks and I didn't come back until the state semifinal game against St. Joe's."
St. John Vianney was 10-0 heading into the game but lost 45-20 to the eventual Non-Public Group III champion Green Knights. DeGennaro was able to end his high school career on the field, however, throwing for 139 yards and two touchdowns.
"It was good to be able to come back and go out like that," DeGennaro said.
That wasn't the final time he would suit up as a high school football player, though, as he was selected to play in the 40th annual All-Shore Gridiron Classic. Rotating as one of four quarterbacks on Monmouth County's roster, DeGennaro completed 4 of 8 passes for 23 yards and threw a 5-yard touchdown pass to Asbury Park's Paul Reed in Monmouth's 17-8 victory.
"It was a great opportunity to come back and get another chance to show what I have," said DeGennaro, who will play a prep year at the Williston Northampton School in Easthampton, Mass. "I felt pretty good about the day."
A pair longtime assistant coaches at two of the Shore Conference's winningest programs were inducted into the Shore Football Coaches Foundation Hall of Fame at halftime of the Gridiron Classic.
Former Matawan assistant Leon "Butch" Britton and former Brick assistant Bob Spada were honored for being integral parts of the coaching staffs that helped both the Huskies and Dragons win multiple state championships. Britton coached under Barry Rizzo from 1967 through 1979 and was then Matawan's head coach for two seasons through 1982. Matawan was named Central Jersey Group III champion in 1973 and went 11-0 to win the Central Jersey Group IV title in 1974.
Spada was a star three-sport athlete at Vineland High School and later a standout tight end for Duke University who was drafted by the Chicago Bears. He coached under the legendary Warren Wolf from 1962 through 1991 and was a part of 18 championships during his coaching career.
Point Boro's Hayden Frey and Middletown North's Jake Goldfarb were the recipients of the prestigious Sam Mills Award, given to a player on each team who embodies the toughness, perseverance and character of the late Sam Mills, who starred as a linebacker for Long Branch in the late 1970s before becoming an All-American at Montclair State and an All-Pro linebacker with the New Orleans Saints.
Frey caught three passes for 25 yards and hauled in a 12-yard touchdown pass while Goldfarb was a defensive tackle that helped Monmouth shut down Ocean County's rushing attack to the tune of 56 yards on 24 carries.
During the season Frey caught 21 passes for 386 yards and five touchdowns in Point Boro's run-heavy flexbone offense to help the Panthers capture the Class B South division title and finish 8-2. Goldfarb made 29 tackles with six tackles for a loss, two sacks and an interception for a Middletown North team that went 9-3 and reached the Central Jersey Group IV final for the first time since 1996.
Game notes: As featured in the main story from the game, Marlboro's Cameron Caorsi broke the Gridiron Classic single-game rushing record with 168 yards, eclipsing the former mark of 161 set by Freehold's Joe "The Jet" Henderson in 1986…The defensive coordinator in that game was Shore Sports Network's own Ed Sarluca, who was more than happy for Caorsi to let him off the hook after 31 years…Derek Sininsky is the first coach from St. John Vianney to coach the Monmouth County all-stars to victory in the Gridiron Classic…Monmouth now leads the all-time series 21-18-1…Ocean County was denied its bid to become the first county to win four straight Gridiron Classic games…There is no official account of the most interceptions by an individual in a game, but I will guess no one has ever had three picks in a game. That would mean Red Bank Catholic's Max Hazard unofficially tied the record with two interceptions…Shore Regional hosted the Gridiron Classic for the first time.
Managing editor Bob Badders can be reached at bob.badders@townsquaremedia.com. Follow him on Twitter @Bob_Badders. Like Shore Sports Network on Facebook and subscribe to our YouTube channel for all the latest video highlights.
More From Shore Sports Network