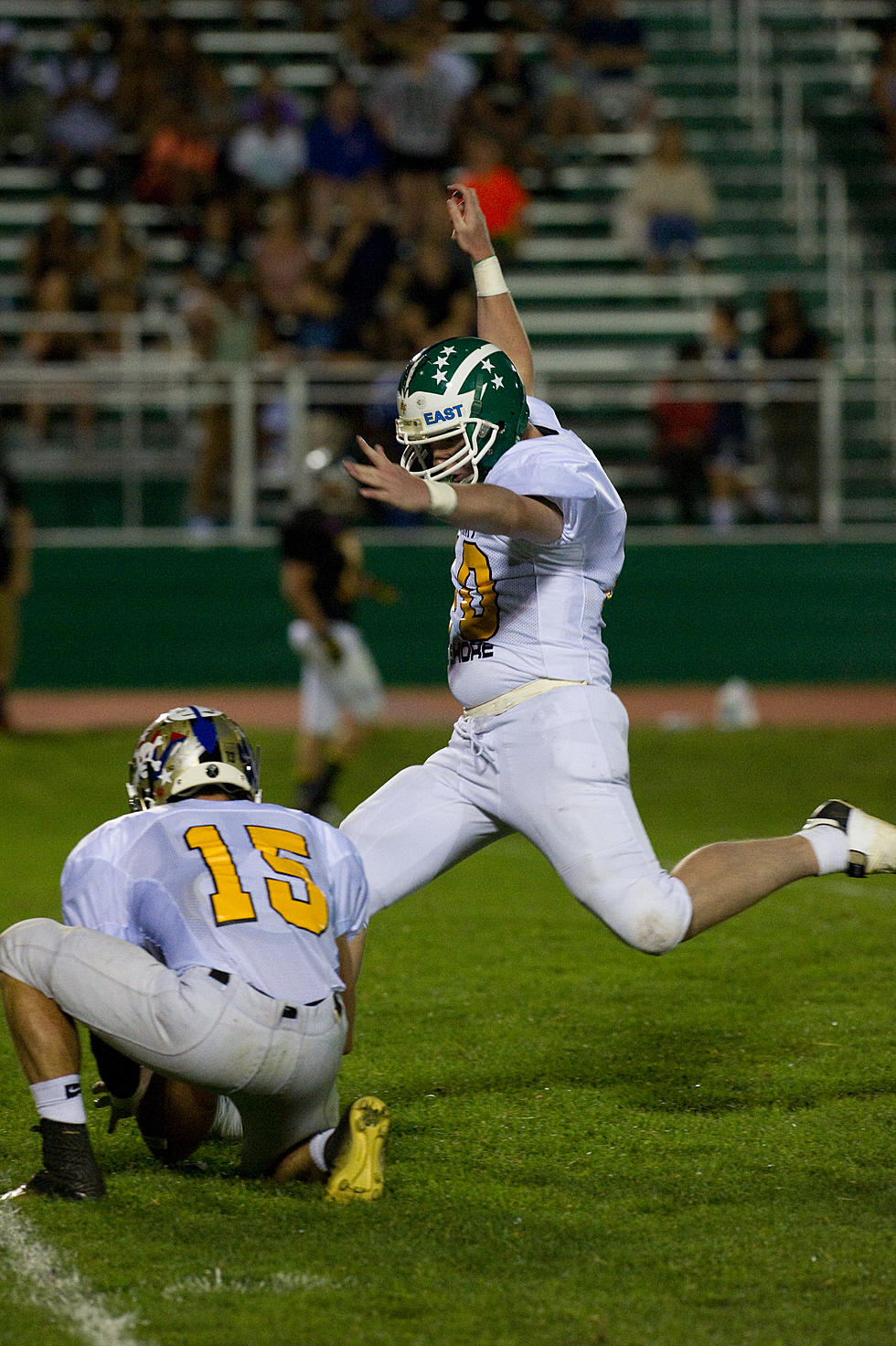 Storybook Ending for Brick's Anthony Starego
Brick kicker Anthony Starego, who has autism, earned offensive MVP honors for Ocean County by kicking two extra points and the game-winning field goal in a 17-14 win over Monmouth in the U.S. Army All-Shore Gridiron Classic. (Photo by Sport Shots WLB)
BRICK - When it all began, it was simply a young boy with his father on an empty football field, trying valiantly for weeks just to get one ball through the uprights.
Before the game-winning field goals, before appearances on the TODAY Show and ESPN's College GameDay, before Thursday night's magical finish in the U.S. Army All-Shore Gridiron Classic, it was Ray Starego trying to find an activity for his autistic son, Anthony, that the two could do together. Anthony would be Rutgers kicker Jeremy Ito, and Ray would be his trusty holder as Anthony tried to stun Louisville again and again with a game-winning field goal, just like Ito in 2006, hearing the roar of the crowd at High Point Solutions Stadium in his head while the crickets chirped at the local park.
"Looking at it from Day One where he couldn't reach the goal line from the 10-yard line, and now kicking the game-winning field goal in the Gridiron Classic, it's truly remarkable,'' Ray said. "You can't make this stuff up.
"When we adopted him at three years old, if you take me from that moment in time through now? It's an act of God. This could not have been orchestrated by chance."
The 19-year-old has had a knack for the dramatic flourish during his remarkable and historic two-year varsity career with the Green Dragons, and he ended it in fitting fashion on Thursday. He thumped a 20-yard field goal with 5:21 left in the game that snapped a tie and sent Ocean County to a 17-14 win over Monmouth County, firing one last salvo at Brick's Keller Memorial Field, where he has kicked thousands of balls over the years. Another game, another straight-out-of-a-Disney-movie moment.
"I had fun and kicked it right through the uprights,'' Anthony said. "Was I nervous? Nope."

After becoming the first special needs player to participate in the 36-year history of New Jersey's oldest high school football all-star game, he made one more piece of history when he earned offensive Most Valuable Player honors for Ocean County after booting a pair of extra points in addition to his winning field goal.
"I just can't get over the things he continues to amaze me with,'' his mother, Reylene Starego, said. "This is just incredible, and here of all places. Isn't that great?"
"It's a great ending to a storybook couple of years,'' said Brick coach Rob Dahl, who served as Ocean County's head coach in the win. "It was such a tight game, and when we got in the red zone on third down, I'm thinking, 'This could be it.' The ball was right where we wanted it on the left hash, and that's his spot. He hit it, and I knew we just had to play good defense from there."

As a kicker, Anthony has turned autism from a disability into a weapon. He missed a 29-yard field goal attempt in the first quarter, but it was like it never happened when he trotted out in a pressure-packed spot in front of 3,000-plus fans in the fourth quarter.
"Even after he missed the first field goal, we had confidence in him,'' Dahl said. "The greatest thing about him is that with his disability, he was able to not think about that (missed field goal) and go and hit two extra points and the game-winning field goal."
"Short memory is what you want from any kicker, and he's got that just by the nature of his condition,'' his father said.
Early in his life, Anthony was destined to be forgotten, human flotsam drifting through the system as an unwanted child.
When the Staregos adopted him as a 3-year-old, he had already lived in 11 different foster homes. He was largely non-verbal and was highly sensitive to anyone touching him, both symptoms of his autism. When Ray and Reylene first laid eyes on him, something intangible resonated in them.
"It was just a gut feeling,'' Ray said.
As part of the process of potentially adopting him, they spent some time with him in increments in order to get to know him. They took him to McDonald's for a few hours the first time, and when they went to return him to his foster mother, they had to pry his fingers off the doors of their van because he didn't want to leave.
He still barely spoke a word, but the next time they went to see him, he was sitting with his foster mother while she read a book to him. He saw Ray and Reylene enter the house and patted the seat next to him on the sofa as if to say, "Come and sit next to me."
"That's when I knew, this is going to be it,'' Ray said. "We knew right then he would be ours."
When he was five years old, Ray said Anthony started to eerily resemble Ray's father as a young boy, another small sign that something special was at work. When Anthony was in seventh grade, Ray decided that kicking a football might appeal to Anthony's condition because it involved repetitive motion and a strict routine.
Ray ordered a kicking tee and a block on eBay and took Anthony to a local park near Point Pleasant Borough High School.
"I can't tell you how many times we went out, and he couldn't make a kick,'' Ray said. "Not one. It could've been a couple of weeks until he finally made one kick. I look back and almost feel like I was too hard on him because I couldn't understand how someone with his condition that focuses on routine and repetition could not get one ball through the upright."
In an effort to help him improve, Ray signed Anthony up for a kicking camp with Lee McDonald of Special Teams Solutions. All of the other kids were routinely making kicks from the 20-yard line, which had Ray facing a dilemma.
"Do I move him up to the 10-yard line and single him out? Or do I leave him at the 20 knowing he has no shot to make one?" Ray said. "What do you do? He wanted so much to be like the rest of the kids. He was already different, and I didn't want him to be different again in front of all the kids."
Anthony lined up at the 20 for the whole camp. He wasn't able to get one through the uprights, but he got closer and closer with each day. McDonald gave him the Most Improved award for his relentless determination.
Once he reached Brick Township High School, there were plenty more hurdles to overcome. During a jayvee scrimmage before his sophomore year, a defender trying to block a kick crashed into him, leaving him black and blue and out for a month.
"After that he said, 'Dad, I'm scared,''' Ray said. "He was always fearful of getting hurt. It's really hard to become a good kicker when you're scared. It took him an awfully long time for him to get it back."
By 2012, he had won the starting job on the varsity team. Everything changed when he swung his big left leg and booted the game-winning 23-yard field goal in the final seconds of a 24-21 upset of Toms River North. The Mariners' head coach that night was Chip LaBarca Jr., who is now the Brick offensive coordinator and coached the offense for Ocean County on Thursday night.
"The whole thing is amazing,'' LaBarca said. "To come here and get to know him, he's a great kid. It was incredible to see everything that happened after he made that kick."
His feat made national headlines, showing the boundaries for special needs athletes might not be as constricted as once thought. The family soon found themselves talking to Savannah Guthrie and Matt Lauer while Anthony smiled in his kelly green shirt and white tie, and then it was a heartwarming piece on College GameDay that spread his story across the country.
"This whole story boiled down to a kick," Ray said. "One single kick."
This past fall, the bright lights of the national media were traded for the stuffy confines of courtrooms as the Starego family battled to get Anthony an extra year of eligibility.
The NJSIAA had ruled him ineligible because he played four consecutive years of football and turned 19 years old before the cutoff date of Sept. 1. The Staregos went through a legal labyrinth of appeals before the NJSIAA ultimately granted him an unprecedented fifth year of eligibility on the day of Brick's third game of the season, a 47-21 win over Toms River South.
Perhaps the most remarkable part of the legal saga is that some hesitation by the NJSIAA over reinstating Anthony was that his return might constitute an athletic advantage for Brick. All of the Green Dragons' future opponents were contacted and agreed to his return, but the notion that a player with autism could be an unfair weapon for a team was unprecedented.
After the courtroom interlude, Anthony went right back to making history and inspiring others. He became the first special needs player in New Jersey history to play in a state championship game when he hit a pair of extra points in Brick's 26-15 win over Colts Neck in the NJSIAA Central Jersey Group IV final that gave the Green Dragons their first state title since 1994.
He then became the first player with autism to ever achieve a postseason accolade when the coaches in Brick's division, Class A South, voted him as the All-Division kicker. That honor made him eligible to participate in the U.S. Army All-Shore Gridiron Classic.
"Really it was the coaches in the division overwhelmingly voting for him,'' Dahl said. "I was humbled by that in the meeting."
That set the stage for one final moment on Thursday night that had everyone simply shaking their head and smiling in wonder after Ocean County's victory.
"Being as close to Anthony as I am and playing with him for so many years, it was just awesome to see,'' said Brick linebacker Drew Scott, whose interception return set up Anthony's game-winning field goal.
While he has become a symbol of hope for special needs athletes everywhere and parents struggling with diagnoses of autism for their children, it is his transformation as a person that is more astonishing than any field goal he has ever kicked. The non-verbal, highly-sensitive boy is now a gregarious young man, smiling and shaking hands with reporters, high-fiving teammates, and constantly reminding Brick kicking coach and noted Fighting Irish fan Kurt Wieboldt that "Notre Dame sucks and Rutgers is better."
"He talks trash with the best of them,'' his father joked. "He's really blossomed into a kid that makes a difference in people's lives, and he does it just by being who he is."
"He's a funny kid,'' said his Ocean County teammate, Jackson Memorial's Marcus Ademilola. "In the locker room, he was cracking jokes. I have a lot of respect for him."
The reason the Staregos fought so hard in court isn't because they desperately needed to see him make another game-winning field goal. It's because of what football has opened up inside him.
"I feel like when he made that kick to beat Toms River North, it was almost like he came out of his shell,'' Dahl said. "All of a sudden, the social interaction was better than it ever was. This is about more than kicking balls through goal posts, this is about a kid developing from his success and the team camaraderie. The overwhelming support he got, the more we got to see the real side of Anthony."
The Staregos have now been speaking at school assemblies about the benefit that sports and camaraderie can have on children with autism.
"Basically we say to them, look what happened when his school, his teammates and his classmates helped and supported and nurtured him,'' Ray said. "Without that, it doesn't happen.
"Just befriending them means the world to them. These kids know they're different from the other students, but they just want to feel normal. When you pick on somebody, you feel good about yourself for five minutes. When you help someone like that, you feel good for a lifetime."
The journey may not be over, either, as the Staregos said they have been contacted by former Point Boro head coach Calvin Thompson, who is now the head coach at Jersey Coast Academy, a junior college program based in Toms River that is affiliated with Ocean County College. There is a possibility Anthony could kick for them this fall while still attending special education classes at Brick.
Until then, the goose-bump moments will continue, as the family is flying to Los Angeles on Friday to be feted at an event Saturday run by the HollyRod Foundation, named for actress Holly Robinson Peete. Anthony is receiving an award for being an inspiration to those with autism.
It's just another day in the life for the teenager who started out alone in a field with his father, just trying to get the ball 10 yards in the air. As he piled into the family car with his MVP plaque tucked under his arm in the darkness of the Brick parking lot on Thursday night, he turned to his father and said, "Told you dad, I knew it was coming down to a winning field goal."
He knew what everyone else could sense was coming in the final minutes of the game. After overcoming 11 foster homes, a disability that left him silent and afraid, and an arduous court battle, his job is simply to inspire. Why should Thursday night be any different?
"You knew it was gonna happen," Drew Scott said before grinning. "It's the Starego way."
More From Shore Sports Network