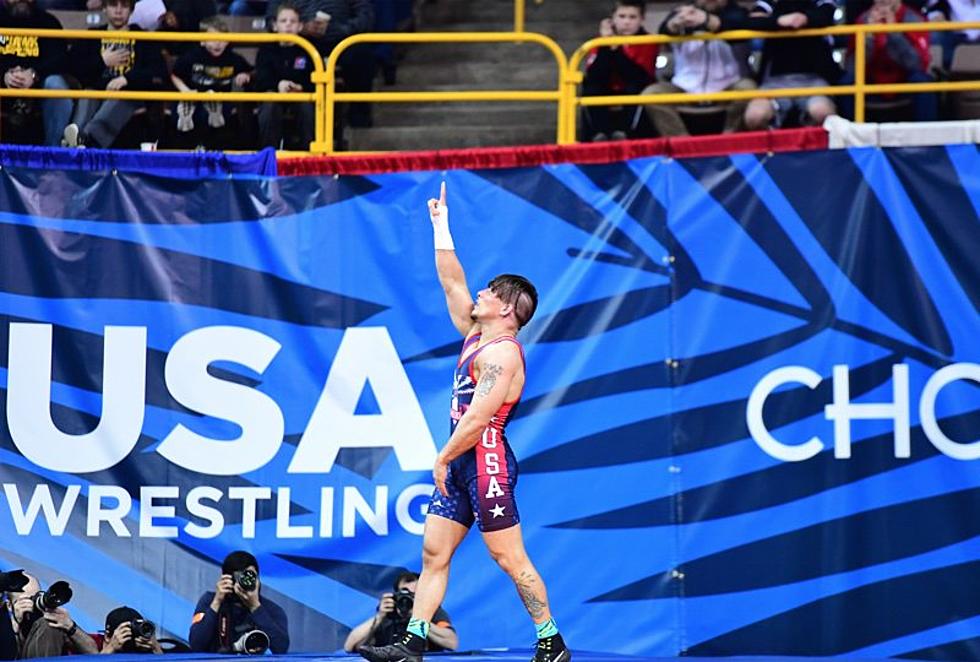 Southern Regional Grad Frank Molinaro Wins United States Freestyle Olympic Trials at 65kg
Photo credit: FloWrestling.
Frank Molinaro is one the verge of becoming a United States Olympian.
The former Southern Regional star defeated 19-year old prodigy Aaron Pico, 4-4, in the winner-take-all third match of the championship series to win the United States Men's Freestyle Olympic Trials at 65 kilograms (143 pounds) on Saturday night at Carver Hawkeye Arena in Iowa City.
After losing 4-2 in the first match of the best-of-three series, Molinaro won 4-3 in the second match to force the deciding bout. He hit a four-point move with a body lock in the second period to take a 4-1 lead, and held on after Pico scored a takedown and earned another point on a shot-clock violation by Molinaro to tie the score at four. Molinaro, however, held the tie-breaking criteria based on the four-point move.
Molinaro has made the U.S. Olympic team, but he still has some work to do if he hopes to get a chance to win an Olympic medal.
The winners of the Olympic Trials for both men's and women's freestyle and greco-roman make the Olympic team, but the United States has yet to qualify the 65kg freestyle weight class for the 2016 Olympic Games in Rio De Janeiro, Brazil. To officially reach Rio, Molinaro will need to qualify at one of the final two last chance qualifiers before the Summer Olympics on Aug. 5-21. The first LCQ takes place in Mongolia, April 22-24, where a top-three finish would qualify the weight. The second is in Turkey, May 6-8, where the top two finishers qualify.
The 27-year old Molinaro, who was a three-time NJSIAA champion and a four-time Region VI champion while wrestling for Southern (he wrestled his freshman year at Middletown North) before capturing the 2012 NCAA 149-pound championship while wrestling for Penn State, had a brilliant tournament in coming from the No. 9 seed to win the Olympic Trials. He won by 14-1 technical fall over Kellen Russell, a former Blair Academy and University of Michigan standout, to begin his run. He then stunned No. 1 seed and four-time world team member and two-time NCAA champion Brent Metcalf (Iowa), 3-3, in the quarterfinals. In the semifinals he took out Ohio State's four-time NCAA champion Logan Stieber, 5-5, to reach the finals where he beat an equally red-hot Pico.
Pico rallied from a 9-0 deficit in the first round to win 20-9 over Jayson Ness, then won a back-and-forth battle with No. 2 seed Jordan Oliver, 11-9. In the semifinals, Pico won by 12-1 technical fall over Reece Humphrey.
Pico wrestled just one year in high school and was the 2013 California state champion as a freshman. He then turned his attention to the international freestyle scene, and won the 2013 Cadet World Championship.
Wrestling editor Bob Badders can be reached at badders@allshoremedia.com. Follow him on Twitter @Bob_Badders. Like Shore Sports Network on Facebook and subscribe to our YouTube channel for all the latest video highlights.