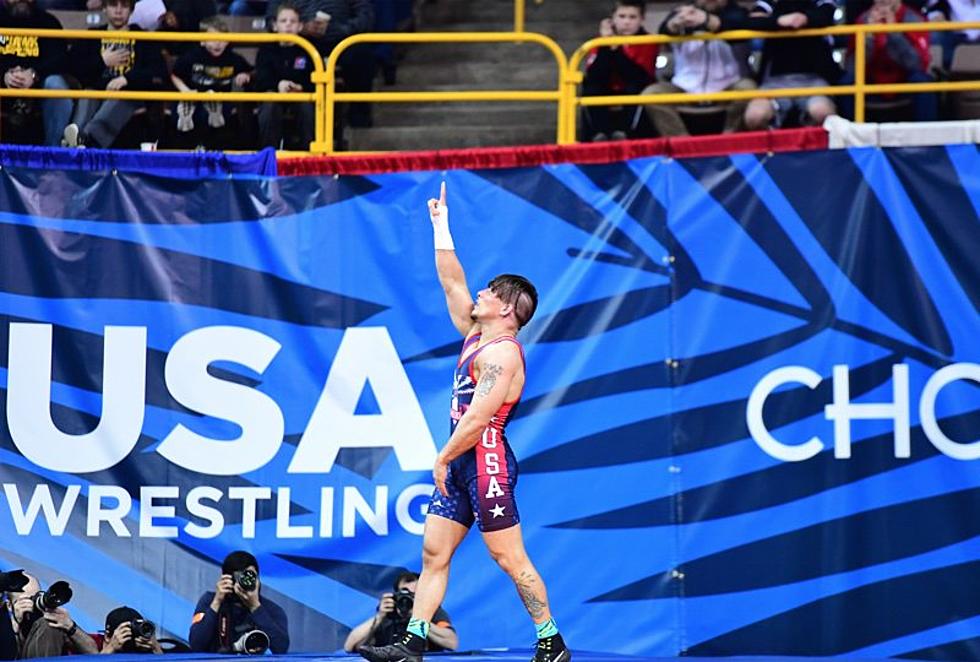 Southern Regional Grad Frank Molinaro Qualifies for Olympics After Redistribution of Qualifiers Announced
Photo credit: FloWrestling.
Even though he was unable to secure the requisite finishes at the final two Olympic qualifying tournaments, there was still a chance, albeit a small one, that Southern Regional grad Frank Molinaro could still find his way into the Olympic Games this summer.
After a ruling by United World Wrestling on Wednesday to redistribute the Olympic qualifications for freestyle, Greco-Roman and women's wrestling. Molinaro is officially a United States Olympian.
The changes came in response to recent doping violations by Poland and Ukraine at the European Olympic Qualification Tournament in Serbia and the Asian Olympic Qualification Tournament in Kazakhstan.
From this morning's news release:
"According to UWW's Anti-Doping Rules and the last instruction issued by WADA, the competitive results of the athletes sanctioned for doping violations will be wiped from their respective tournaments. Per the rules of the international federation, Olympic licenses will be redistributed based on the following circumstances:
Due to doping violations at the European Olympic Games Qualifier Magomedmurad GADZHIEV (POL) and Andriy KVYATKOVSKYY (UKR) have had their results at 65kg wiped and associated Olympic licenses revoked. The licenses were transferred to Georgia (via Zurabi IAKOBISHVILI) and Armenia (via Devid SAFARYAN).
Following this adjustment, Bulgaria (via Boris NOVACHKOV) earns the Olympic license won by Georgia at the 1st World OG Qualifier in Mongolia. 
As Bulgaria takes their license from the 1st World OG Qualifier, their first-place finish at the 2nd World OG Qualifier will be transferred to the United States who finished in third place (via Frank MOLINARO).
The qualified countries at 65kg (for Zrenjanin, Ulaanbaatar and Istanbul) are then: Georgia (GEO), Armenia (ARM), Bahrain (BRN), Turkey (TUR), Bulgaria (BUL), Canada (CAN) and The United States of America (USA)."
Molinaro is the first Shore Conference wrestler to make the United States Olympic Team.
Molinaro won the United States Olympic Team Trials at 65 kilograms (143 pounds) on April 9 with an amazing run in Iowa City. He defeated teen prodigy Aaron Pico, 2-4, 4-3, 4-4 in the championship series to secure the 65kg spot. During the tournament he stunned four-time world team member, Brent Metcalf, 3-3, in the quarterfinals, before beating Ohio State's four-time NCAA champion Logan Stieber, 5-5, in the semifinals.
The U.S. had not qualified for the Olympics at 65kg yet, however, so Molinaro had to trek to Mongolia and Turkey over the past three weeks in hopes of qualifying the weight. He needed to finish in the top three at the first last chance qualifier on April 24 in Mongolia, but fell in the second round to two-time world bronze medalist Yakup Gor of Turkey. When Gor did not make the final it ended Molinaro's chance to wrestle back for third through the repechage.
In Istanbul this past weekend, Molinaro had an extremely tough road to qualify as he needed to reach the final. He began his tournament by beating Armenia's David Safaryan, the 2014 World Champion, 3-2, before taking down Junior World Silver Medalist Yuhi Fujinami from Japan, 7-6. He was eliminated in the quarterfinals by former Cal Poly All-American Boris Navachkov, 5-2. Navachkov trains at Stanford and represents Bulgaria.
However, because of the doping violations and the fact those countries took top spots at qualifying tournaments, the game of musical chairs that followed left the United States and Molinaro with a seat at the table.
Molinaro battled back to take third place, which made the difference in him earning the qualification after the doping violations. His third-place finish was elevated to second place, thus giving him the necessary finish to qualify the weight for the U.S.
The U.S. had never failed to qualify its full freestyle team heading into this year, and although it came down to a last-minute decision because of doping violations, that streak continues. The U.S. will send Daniel Dennis at 57kg, Molinaro at 65kg, Jordan Burroughs at 74kg, J'den Cox at 86kg, Kyle Snyder at 97kg and Tervel Dlagnev at 125kg to Rio De Janiero, Brazil for the Summer Olympics from Aug. 5-21.
The 27-year old Molinaro was a three-time NJSIAA champion and a four-time Region VI champion while wrestling for Southern (he wrestled his freshman year at Middletown North). He continued his career at Penn State where he captured the 2012 NCAA 149-pound championship and helped the Nittany Lions claim back-to-back NCAA titles in 2011 and 2012.
Wrestling editor Bob Badders can be reached at badders@allshoremedia.com. Follow him on Twitter @Bob_Badders. Like Shore Sports Network on Facebook and subscribe to our YouTube channel for all the latest video highlights.