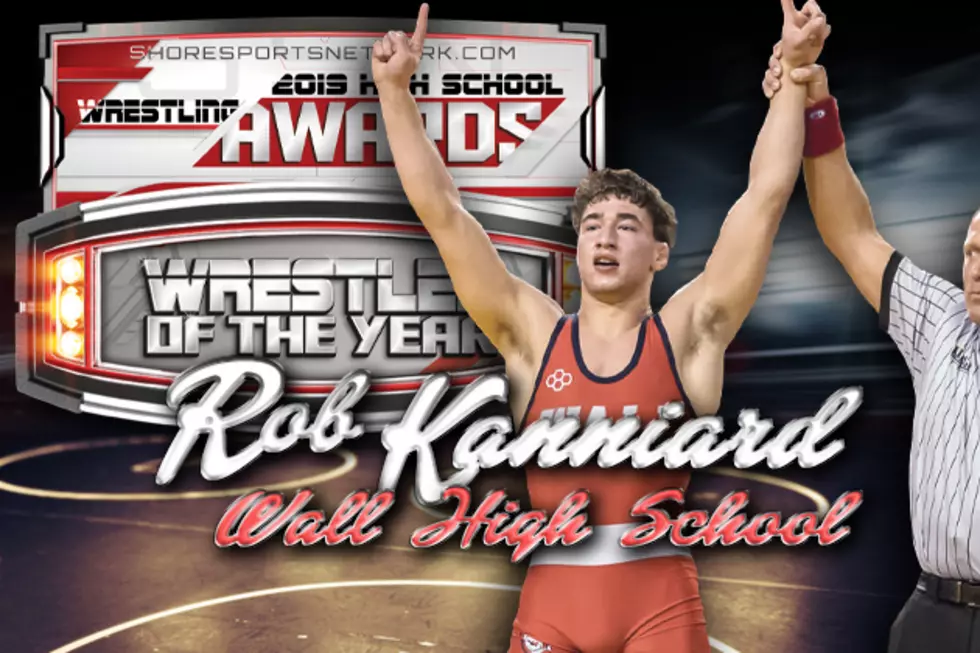 Shore Sports Network 2019 Wrestler of the Year: Wall's Rob Kanniard
Wall senior Rob Kanniard is the 2019 Shore Sports Network Wrestler of the Year. (Photo by Richard O'Donnell; artwork by Steve Meyer).
There is only one word to accurately describe the 2019 season of Wall's Rob Kanniard.
The Shore Sports Network Wrestler of the Year, Kanniard authored a flawless senior season that culminated with his hand being raised inside Atlantic City's Boardwalk Hall as the NJSIAA 160-pound state champion. He went 46-0, setting a new Shore Conference career wins record with 165 and dominating every opponent in his path to end his career with his ultimate goal being achieved.
"It's the greatest feeling in the world," Kanniard said after his 9-4 victory over DePaul's Connor O'Neil in the state championship match. "I've been working for this moment for so long and all the hard work has paid off. It feels even better than I imagined."
Kanniard's junior season was nearly as outstanding, except for one notable blemish. His only defeat as an 11th-grader came in the state final to Bergen Catholic's Shane Griffith, a three-time state champion who was ranked No. 1 in the entire country. From the point on, Kanniard zeroed in even more on climbing to the top of the mountain. The result was a three-month span where he was an absolute buzzsaw.
Among Kanniard's 46 victories were 25 wins by fall, 10 technical falls, three major decisions and six forfeits. His only victories by decision came in the state quarterfinals and the state finals by margins of seven and five points, respectively. Even more impressive was the fact that Kanniard was not scored upon all season.
"He's one of the best wrestlers I've ever seen and obviously ever coached," said Wall head coach Brian Fischer.
Kanniard finished his career with a gaudy 165-10 record with six of those losses coming as a freshman. He was fourth in the state at 152 pounds as a sophomore and the state runner-up at 160 as a junior. All signs pointed toward him doing exactly what he did this season. His expectations were enormous and he was every bit as dominant as everyone in the Shore Conference assumed he'd be.
After rolling to the title at the season-opening Colt Classic, Kanniard cruised to his third title at the prestigious Mustang Classic with three pins and then an 18-7 major decision over St. Augustine's Sal Manera. He took Manera down seven times, including throwing to his back for a five-point move in the second period.
After winning the championship at the Elizabeth Minutemen Classic, Kanniard rolled to his second Shore Conference Tournament title with a technical fall and two pins before receiving a forfeit in the finals. At the District 21 Tournament, Kanniard had a pin and a second-period technical fall before receiving another championship-bout forfeit to become Wall's third four-time district champion.
The Region 6 Tournament was more of the same. He won by technical fall in the quarterfinals for his 159th career win, breaking the previous Shore Conference wins record of 158 held by both Raritan's Dan Seidenberg and Howell's Kyle Slendorn. He won by technical fall again in the semifinals before pinning Raritan's Anthony Aquilano to secure his third region title. Then it was on to Atlantic City for the moment of redemption he'd been waiting for.
As the No. 1 seed in the 160-pound bracket, Kanniard won by 17-2 technical fall in just 2:09 over Whippany Park's Thomas Stigliano. In the pre-quarterfinals, he won by 12-2 major decision over Pemberton's Joseph Wilson. His first non-bonus-point-victory of the season was in the quarterfinals when Paramus's Tony Asatrian held him to an 11-4 decision. In the semifinals, he won by 16-6 major decision over Manalapan's Matt Benedetti to put him right back on the center mat for Saturday's final round.
After a scoreless first period, Kanniard took O'Neil down twice to lead 4-1 heading into the third period. He added another takedown for a 6-2 lead and then hit a sweet duck-under for a 9-3 lead. A minute later it was all over. Referee Ed Tonnesen raised Kanniard's right arm as thousands of fans applauded. Mission: accomplished.
"I've been dreaming of this day for so long and it finally came true," Kanniard said at the time.
Kanniard finished his career as a state champion, adding to the long list of accolades during a storied tenure. He was a three-time state medalist, a three-time region champion and four-time medalist and a four-time district champion. He won two Shore Conference Tournament titles in the first two seasons the tournament switched to an individual format. He won three Mustang Classic titles in a tournament widely regarded as one of, if not the best, regular-season tournament in New Jersey. He holds Shore Conference records for wins in a season (46) and career (165). He is currently ranked No. 6 in the nation by FloWrestling.
The next stop for Kanniard is Rutgers University where he'll begin a new quest to become an NCAA All-American and a national champion. The competition will be stronger and the stakes will be higher, but as Kanniard proved over his four years in the Shore Conference, he is more than capable of greatness.
Managing editor Bob Badders can be reached at bob.badders@townsquaremedia.com. Follow him on Twitter @Bob_Badders. Like Shore Sports Network on Facebook and subscribe to our YouTube channel for all the latest video highlights.
More From Shore Sports Network