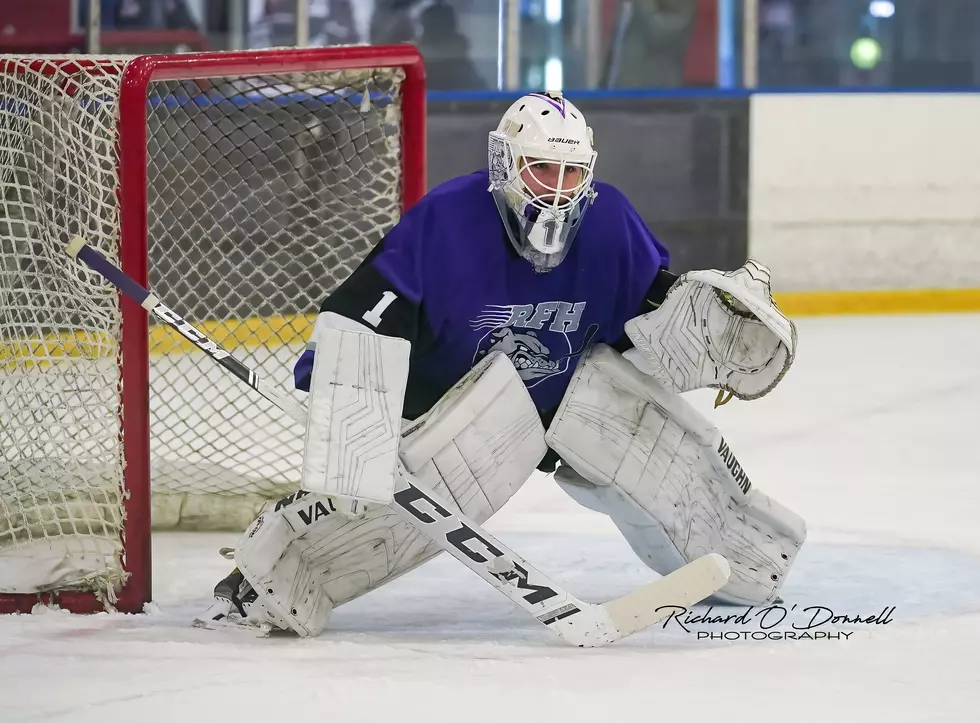 Shore Conference, NJ Ice Hockey Scores for Wednesday, Feb. 17
Rumson-Fair Haven senior goalie Ronan Hickey made 21 saves in a 5-3 win over Middletown South on Feb. 11, 2021. (Photo by Richard O'Donnell).

Wednesday, Feb. 17
No. 3 Middletown South 2, No. 5 Manasquan 2
Middletown South junior forward Nate Block scored on an end-to-end rush with 4.6 seconds left in the game to cap another thriller between the Eagles and Warriors as the teams skated to a draw for the second consecutive night.
On Tuesday night, Manasquan's Braden Ryan scored with 12.9 seconds left in the game to salvage a 3-3 tie for the Warriors (0-2-3, 0-2-3).
Vin Ferraro gave Manasquan a 1-0 lead with a power-play goal early in the first period and Middletown South (3-2-3, 2-2-3) tied the score on a goal by Andreas Forand late in the period.
Manasquan took a 2-1 lead with 3:46 left in the second period when Ryan scored off a pass from Mike Farinacci.
Conall Dougherty made 29 saves for Manasquan and Jack Collings stopped 23 shots for Middletown South.
Jackson Liberty 6, Freehold 4
No. 4 Rumson-Fair Haven 6, Red Bank 1
Junior forwards Charlie Tallman and Brett Pritchard each recorded two goals and one assist as the Bulldogs (4-0-2) remained unbeaten with a victory over the Bucs (3-5).
Spencer Lee and Braiden Spagnuola each scored once, Ryan Croddick has two assists and Ronan Hickey made 12 saves.
Gordon Odgen scored for Red Bank and Gus Fillipelli made 30 saves.
KEEP READING: Here are the best places to retire in America
More From Shore Sports Network