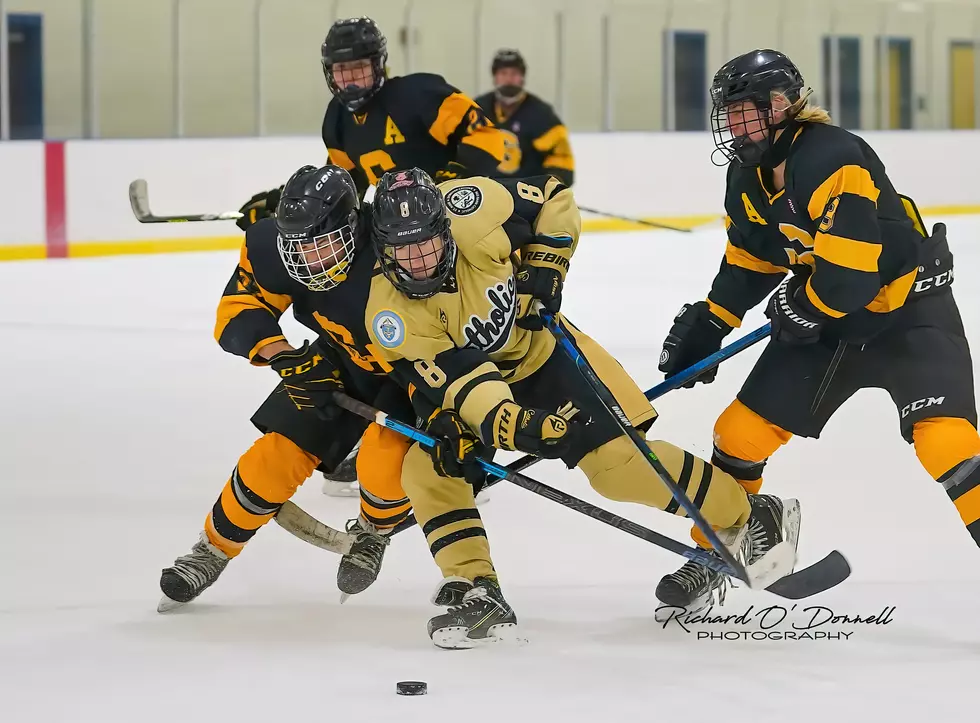 Shore Conference, NJ Hockey Scores for Friday, Feb. 12
Catholic (St. Rose/RBC/Donovan) freshman Ben Meyer (8) battles for the puck against two Southern Regional defenders on Feb. 9, 2021. (Richard O'Donnell).

Friday, Feb. 12
Middletown North at Marlboro, 7 p.m. - canceled
Senior forward Ryan Bechutsky continued his incredible stretch of play by recording his third consecutive hat trick as the Braves scored six unanswered goals over the final two periods for an emphatic victory over the Rams. He is the first player in program history to record hat tricks in three straight games.
Freehold at Jackson Liberty, 4:50 p.m. - postponed
Toms River East 6, Brick Memorial 1
Senior forward Vito Pecorella and sophomore forward Ethan Smith each scored twice as the Raiders (5-3, 3-2) hit the back of the net four times in the second period to sink the Mustangs (0-4, 0-3).
Pecorella and Smith both finished with two goals and one assist while David Deconde had a power-play goal plus two assists and Christopher Dineen scored once. Jake Verdon, Jarrod Dye and Dominick Markland each recorded two assists and Dominick McKeon made 11 saves to earn the win.
Trent Burton scored Brick Memorial's lone goal early in the third period and Sam Stulic made 37 saves.
After a scoreless first period, Smith scored just 27 seconds into the second period to give Toms River East the lead. Pecorella scored just 41 seconds later and Deconde added a goal on the man advantage to give the Raiders three goals in the first 3:15 of the second period. Pecorella's second goal made it 4-0 heading to the second intermission.
Brick Memorial got on the board with Burton's goal at 1:22 of the third period, but Toms River East extended its lead to 5-1 with Dineen's goal at 7:56 and Smith added a goal at 12:32 to account for the final margin.
No. 10 St. Rose 3, No. 7 Central 2
Senior forward Christopher Lordi recorded a goal and an assist and freshmen forwards Connor Harms and Matt Noonan each scored once as the Purple Roses (2-3) clipped the Golden Eagles (7-1) to hand them their first loss of the season.
Senior goalie Jack Bilancione made 30 saves and freshman forward Ben Meyer added two assists.
Senior forward Trevor Coltenback scored twice to lead Central. Joey Klutkoski added two assists and Nick Bilinski made 28 saves.
No. 8 Toms River North 10, Lacey 5
Senior forward Joe Frattaroli led the Mariners' scoring outburst with three goals and three assists as they remained undefeated (5-0) with a victory over the Lions (0-5).
Senior defenseman Justin Ervelli had a goal and a career-high five assists to finish with a career-best six points and senior forward Anthony DeFalco scored twice and also had two assists. Senior forward Cole Schneider added a goal and three assists, freshman defenseman Ty Schneider had a goal and two assists and Jake Bennert and Stevan Kapp each scored once. Joe Bonelli made nine saves.
Frank Hubscher led Lacey with two goals and Cooper McDonald had a goal and two assists. Donald Kirk had a goal and an assist and Cole Stracensky scored once. Jacob Turn made 48 saves for his third game with 40-plus saves this season.
Senior forward James Fay totaled two goals and one assist and junior goalie Vin Vassallo recorded his first varsity shutout to lead the Rebels (2-3) past the Dragons (0-4-1).
Senior forward Stanley Paluszek added a goal and two assists and freshman forward Tony Brandi scored once.
Junior forward Harry Grasso broke a 1-1 tie with a goal early in the third period and the Crimson Knights (2-2) held on for a victory over the Bucs (2-4).
Red Bank led 1-0 after the first period on a goal by junior forward Nate Cooper and Wall tied the score late in the second period when freshman defenseman Carter Jolly scored his first varsity goal.
Sophomore goalie Myles McGovern made 23 saves to earn the victory. Red Bank freshman goalie Gus Fillipelli had a great performance to help keep the Bucs in the game by making 44 saves.
No. 4 Rumson-Fair Haven 3, Morris Knolls 1 - Live stream
The Bulldogs (3-0-2) traveled to Mennen Arena and came away with another impressive victory by taking down the No. 13 team in the state. It is Rumson's third top-20 victory this week to go along with wins over Westfield and Middletown South.
Junior forward Brett Pritchard scored twice to give him four goals in the past two games, and it was his tally at 2:22 of the third period that stood up as the game-winning goal. He added another goal with 48 seconds left to clinch the victory.
Morris Knolls took a 1-0 lead at 10:13 of the first period on a goal by Jeffrey Quinn but Rumson was able to tie the score midway through the second period on a goal by Connor Spagnuola.
Senior goalie Ronan Hickey was strong in net once again for Rumson, stopping 22 of 23 shots to earn the victory.
9 REASONS NOT TO LIVE AT THE JERSEY SHORE
More From Shore Sports Network