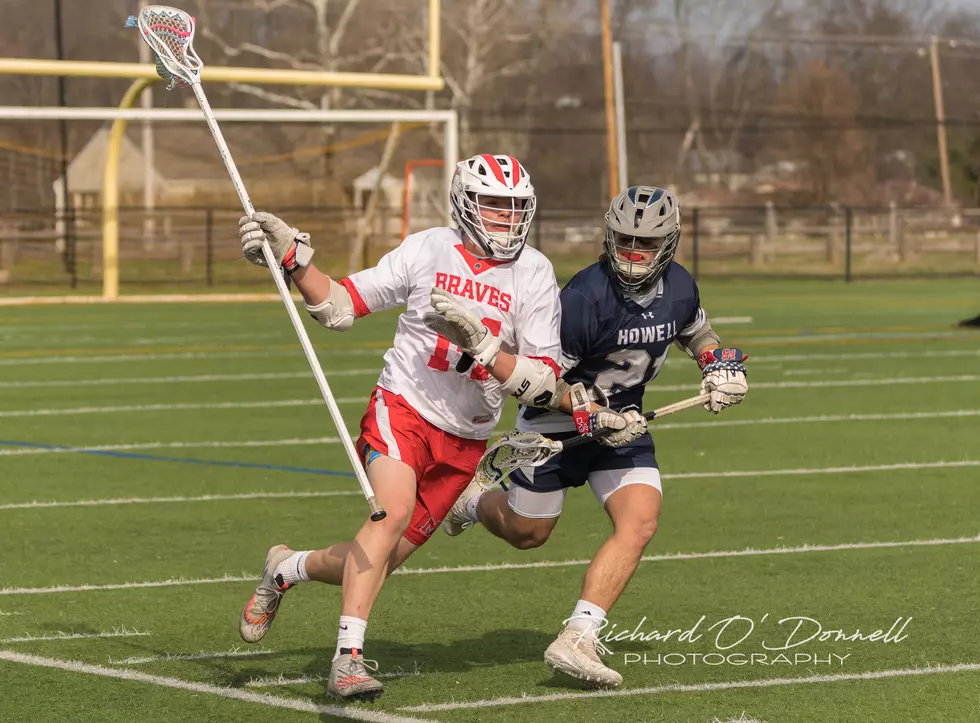 Shore Conference Boys Lacrosse Scoreboard for Tuesday, April 26
Manalapan defenseman Aidan Wilmot tries to clear the ball while being pursued by Howell's Vin Burns. (Richard E. O'Donnell)

Tuesday, April 26
Class A South
No. 4 Southern 21, Toms River South 5
Class B North
No. 1 Rumson-Fair Haven 19, St. John Vianney 2
The Bulldogs (9-3) continued their expected march toward the division title by routing the Lancers (3-7). Senior attackman Connor Spagnuola scored a career-high four goals and sophomore attackman Matthew Casazza scored three times to lead a balanced attack that featured 12 different goal scorers.
Vincent Raphalian tallied two goals and one assist and Griffin Kolb scored twice. Grayson Goldin, Andy Croddick, Bryce Devlin, Jason Halikias, Brody Page, Jack Maguire, Justin Worobel, and Colin Cody each scored once. Braiden Spagnuola (8-for-9), Luke Marascio (6-for-6), and DJ Devine (8-for-9) combined to go 22-for-24 at the face-of X. Will Setteducate (3 saves) and Alex Baret (3 saves) split time in goal.
Mason Shenk and Nick Corso scored for St. John Vianney.
Nondivisional
No. 10 Red Bank 11, No. 8 Middletown South 10
Sophomore midfielder Andrew Pape scored the go-ahead goal with 22 seconds left and the defense came up with one final stop in the closing seconds as the Bucs (5-4) rallied with four goals in the fourth quarter to win a thriller over the Eagles (6-4).
Middletown South held an 8-7 lead going into the fourth quarter. Red Bank tied it up on a goal by junior midfielder Henry Spencer with 9:21 on the clock but Middletown South pulled ahead again when senior midfielder Luke Rohrmann scored off a pass from Steve Kirchner at 7:10. Spencer then sank his sixth goal of the game at 4:53 to tie the game 9-9 and Matt Kelly converted a pass from Pape for a goal at 3:35 to give Red Bank a 10-9 advantage. Middletown South found the equalizer with 3:00 left on an unassisted goal by Rohrmann.
After Pape's goal gave Red Bank the lead, Middletown South won the ensuing face-off and finally gained possession with 3.4 seconds left and was able to call a timeout. The Eagles drew up a play but their final shot attempt skidded just wide of the net as Red Bank hung on for the dramatic victory.
Spencer had an excellent game with a game-high six goals while Pape tallied three goals and one assist. Junior attackman Ryder Villani and sophomore Matt Kelly each scored once. Matt Lynch chipped in with two assists and Trey Lynch had one assist. Junior goalie Gavin Lisko made some key saves down the stretch and finished with 10 total saves.
Sophomore midfielder Colin Gallagher led the way for Middletown South with two goals and four assists and junior midfielder Beau Servidio dominated the face-off X by winning 20 of 24 draws. Rorhmann delivered four goals and one assist, John Beyer had two goals and an assist, Steve Kirchner had a goal and an assist, and Brendan Gilbert scored once. Lucas Campos made four saves.
Jackson Memorial 8, Manalapan 7
Senior attackman Matt DeRosa scored three times and set up two more goals and sophomore attackman Drew Barocas also notched a hat trick to lead the Jaguars (7-3) to a solid victory over the Braves (7-4).
Senior midfielder Charlie Harrison added a goal and three assists and junior Justin Perillo had a goal and assist. Senior goalie Hunter Olsen made 14 crucial saves to help the Jags earn the one-goal victory.
Sophomore midfielder Grant Carle continued to drive the offensive play for Manalapan by scoring three times and winning 12 of 19 face-offs. Sophomore attackman Christian Zdiarski scored two goals with one assist and senior midfielder Frankie D'Amore scored twice. Junior midfielder Luke Mann picked up a game-high eight ground balls and senior goalie Alex Kaplan made 10 saves.
Holmdel 15, St. Rose 5
Senior attackman Kyle Kapcsos scored four times and added five assists to eclipse the 100-goal milestone for his career and lead the Hornets (7-4) past the Purple Roses (6-5). He also crossed the 150-point mark for his career. Kapscos' five assists are a career-high and his nine points tied a career-best he set in a season-opening win over Brick.
Jaden Gallo and Evan Cohen also scored four times with Gallo also adding two assists. Will Gilfillan tallied a goal and two assists, Jared Battaglia had a goal and an assist, and Aidan Lagana scored once. Freshman FOGO Jack Powers continued his standout season by going 16 for 24 at the X and Andrew Arredondo had another strong game with 13 saves.
James Magrini scored twice and Colin Westhoven had a goal and three assists to lead St. Rose. John Harold scored once and Chris DeVoy made eight saves.
Nonconference
No. 3 Wall 11, Cherokee 5
Senior midfielder Matt Dollive asserted his presence with four goals and two assists to power the Crimson Knights (11-1) to a victory over the Chiefs (4-3) for their ninth straight win.
Junior midfielder Connor Moore scored three times, junior attackman John McCurry had two goals and one assist, and sophomore attackman Jack Meyer sank a pair of goals. Junior LSM Dominick Giglio collected six ground balls, freshman FOGO Michael Hoarle won 10 of 19 face-offs, and senior goalie Aiden Kessler made five saves.
No. 7 Howell 20, Robbinsville 10
Junior attackman Nate Lorenzo recorded five goals and four assists to reach the 100-career point milestone as the Rebels (9-3) pumped in a season-high 20 goals to ground the Ravens 4-6) in a non-conference matchup.
Senior attackman Vin Burns continued his balanced season by scoring four goals and setting up four more while twin brother Tyler Burns patrolled the midfield with four goals and two assists. Junior attackman Jack Marich stayed hot with four goals and one assist, senior midfielder Doug MacKenzie scored twice, and senior midfielder CJ Calafiore tallied a goal and two assists. Freshman middie Vin Meehan chipped in with one assist and senior goalie Colin Fay made 12 saves.
This Breathtaking New Jersey Beach Mansion Has the Best Views on the East Coast
More From Shore Sports Network