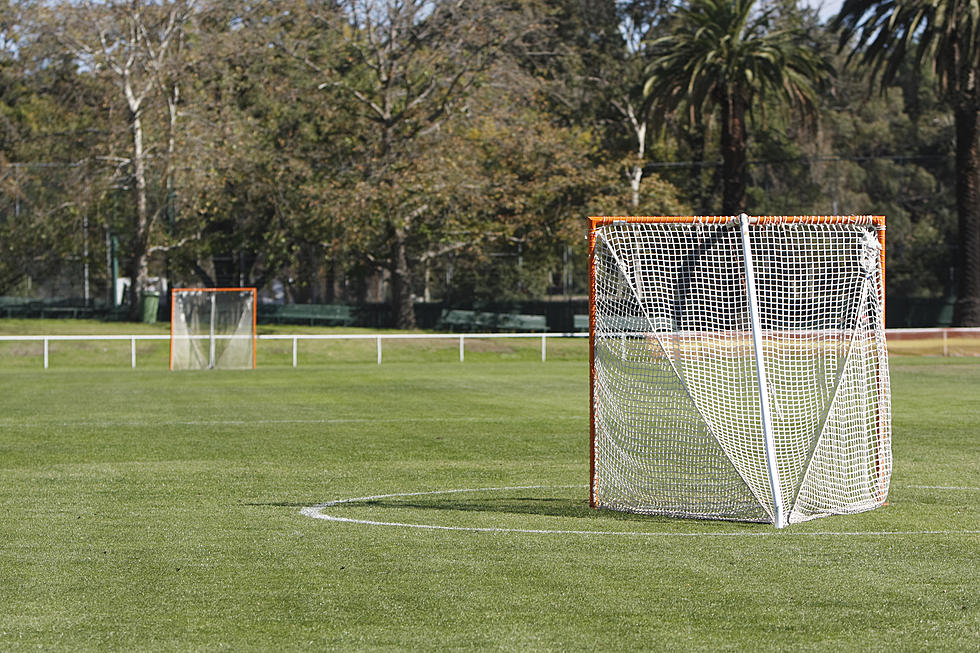 Shore Conference Boys Lacrosse Scoreboard for Saturday, April 9.
Getty Images/iStockphoto

Saturday, April 9
Class A North
No. 7 Howell 14, Marlboro 1
Freshman Jayden Devino scored twice, including his first career goal, while senior FOGO Glenn Giordano and senior defenseman Shayne Hughes also scored their first career goals to highlight a divisional victory for the Rebels (3-2, 3-0) over the Mustangs (0-4, 0-3).
Junior attackman Nate Lorenzo scored two goals with one assist, Devino and senior midfielder Doug MacKenzie both scored twice, and senior attackman Vin Burns and junior attackman Jack Marich both totaled a game-high four points with a goal and three assists.
Also contributing offensively for Howell were senior midfielders Tyler Burns and Dax Kukan and sophomore midfielder Ian McDow with a goal and an assist each, while Hughes, Giordano, and freshman midfielder Nicholas Turturro had one goal apiece. Senior goalie Colin Fay made seven saves.
Nondivisional
No. 8 Middletown South 10, Red Bank Catholic 5
Senior midfielder Luke Rohrmann scored three times and junior goalie Lucas Campos made 10 saves as the Eagles (5-0) remained undefeated with a solid non-divisional victory over the Caseys (3-2).
Tied 1-1 after the first quarter, Middletown South broke the game open with a five-goal second quarter to take a 6-1 lead into the break. The Eagles then led 9-2 heading to the fourth quarter.
Sophomore midfielder Colin Gallagher added a pair of goals, junior attackman Steve Kirchner scored once, and sophomore defenseman Owen Richter picked up a team-high seven ground balls.
Junior midfielder Torin Harmon led RBC with three goals. Anthony Muniz had a goal and an assist, Sam Fertal scored once, and Peter Villare and Jackson Lu had one assist each. Defensively, Nick Cosimano collected a game-high 11 ground balls and Gianvito Viola made eight saves.
Brick Memorial 14, Donovan Catholic 10
Senior attackman Dan Aulisi scored five times and senior midfielder Henry Lindquist had two goals, two assists, and 10 ground balls to send the Mustangs (3-2) to a victory over the Griffins (1-4).
Senior Dylan Rinyak delivered three goals and one assist senior Rob Beshears had a goal and three assists. Junior attackman Aiden McBride added two goals, sophomore midfielder Lucas Stickle scored once, and senior goalie Paul Mazzeo made 17 saves. Senior defensemen Chase DeVeau and Jake Gallo and junior midfielder Matt Cataldo chipped in with one assist each.
Sophomore attackman Jack Farlekas led Donovan Catholic with four goals and one assist while sophomore midfielder Andrew Baltus and freshman LSM Michael Poskay each scored twice and senior midfielder Connor Durante had a goal and two assists. Midfielder Pat Dellane scored once and sophomore midfielder Evan Roeber and attackman Jake Kerwin had one assist each.
St. Rose 9, Colts Neck 2
Colin Westhoven scored two goals and won 10 of 14 faceoffs and Chris DeVoy made 11 saves to steer the Purple Roses (5-0) to their fifth straight win to begin the season.
James Magrini registered a game-high three points with two goals and one assist while Sean Lattimer and Dan Bair also scored twice. Mike Conlon tallied one, James Vitale had an assist and a team-high eight ground balls, and John Harold also chipped in with one assist.
Barnegat 15, Central 3
Nonconference
No. 3 Southern 5, Ocean City 4
Junior midfielder Joey DeYoung scored twice and senior goalie Tyler Sininsky made eight saves to backstop a great defensive effort as the Rams (4-0) earned an impressive road victory in a matchup of returning sectional champions.
Southern won last season's NJSIAA South Jersey Group 4 sectional title and Ocean City (3-2) won the South Group 3 championship.
A 3-2 second quarter was the difference in the game as both the Rams and the Red Raiders had a goal each in the third and fourth quarters.
Senior attackman Jack Kolbe had a goal and an assist and senior midfielders Zach and Jake Washco both scored once.
No. 4 Wall 7, Columbia 6 (OT)
Sophomore midfielder William Madden scored on a bounce shot in overtime as the Crimson Knights (4-1) survived a comeback bid by the Cougars (3-1).
Junior attackman John McCurry led Wall with three goals and one assist, junior midfielder Connor Moore scored twice, and junior attackman Eugene Haghighi and Madden each scored once. Senior midfielder Matt Dollive had two assists, freshman midfielder Michael Hoarle won 9 of 17 faceoffs, and senior goalie Aiden Kessler made eight saves.
Pope John 8, No. 6 CBA 7 (OT)
Sophomore Nick Rispoli sank the game-winning goal in overtime to give the Lions (2-3) the victory as CBA (3-3) battled tough with another state-ranked opponent before falling in the extra quarter.
Junior attackman Nick Blalock led CBA with three goals and sophomore attackman Ryan Martin had two goals and one assist. Junior Ian Macrae had one goal and one assist, senior Max Avrillon scored once, and goalie Brandon DeSena made six saves.
No. 9 Red Bank 13, St. Joseph (Metuchen) 7
Junior attackman Ryder Villani tallied a career-high seven points by tying a career-best six goals and adding one assist to power the Bucs (2-1) to a victory over the Falcons (1-4).
Sophomore Andrew Pape totaled three goals and one assist and junior Henry Spencer delivered two goals and two assists. Matt Lynch and Matt Kelly added a goal and an assist each and Gavin Lisko made six saves.
Red Bank led 9-4 at halftime and 11-6 heading into the fourth quarter.
No. 10 Manalapan 11, Lawrence 8
Sophomore attackman Christian Zdiarski sank a career-high five goals and sophomore midfielder Grant Carle tallied two goals and three assists to send the Braves (3-2) to a road victory over the Cardinals (1-4).
Sophomore attackman Anthony Macchio added a goal and an assist, junior attackman Adam Vender scored once, and sophomore defenseman Jake Horowitz scored his first varsity goal. Senior Alex Kaplan (3 saves) and sophomore Antonio Santana (2 saves) shared time in goal.
Point Boro 16, Edison 6
Freshman attackman Brady Kirk totaled three goals and two assists and senior Matt Meccia and sophomore Spencer Knapp also delivered hat tricks to lead a balanced attack that sent the Panthers (5-0) to a win over the Eagles (1-4).
Brian Ostrander had two goals and three assists, Matt Koehler had a goal and two assists, Logan Letts and Greyson Ritter had a goal and an assist each, and Matt Woit, Logan Morris, and Jack Engelken each scored once. Tommy Morris dominated the face-off X by winning 21 of 24 draws and Dennis Glynn had an assist to go along with a game-high five ground balls.
Matt Azzarano (4 saves) and Colin Cole (3 saves) split time in goal for Point Boro.
J.P. Stevens 12, Long Branch 6
10 Farmers Markets at the Jersey Shore to Check Out for the 2023 Season
More From Shore Sports Network