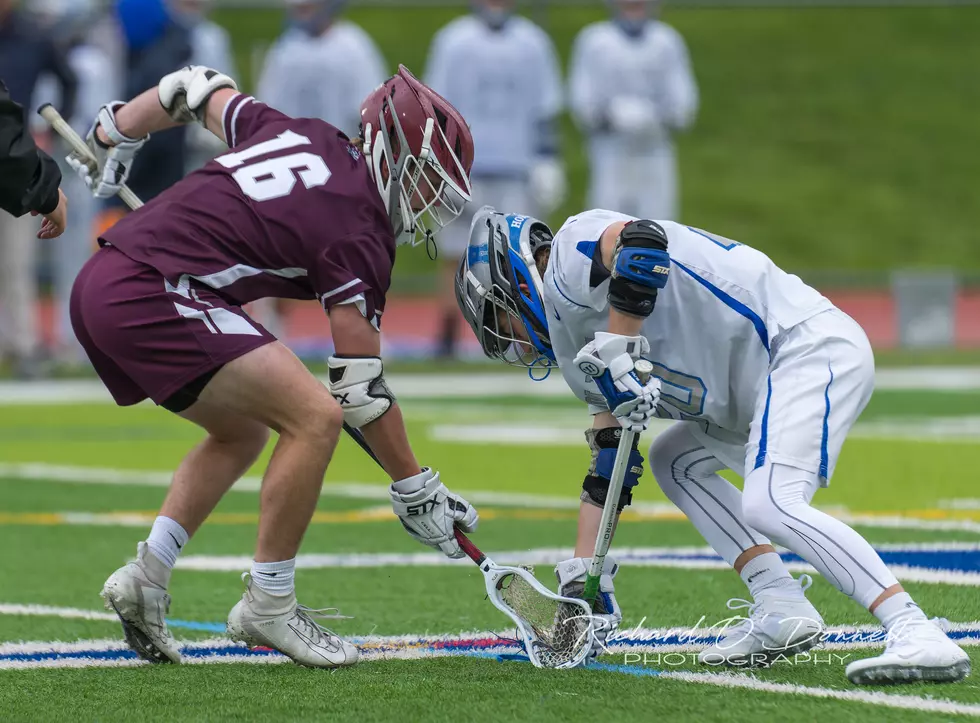 Shore Conference Boys Lacrosse Scoreboard for Friday, April 28
Richard E. O'Donnell

Friday, April 28
Class A North
Howell 10, Colts Neck 8
Senior attackman Nate Lorenzo scored six goals and added one assist to lead the way as the Rebels (5-5, 3-3) rallied from a one-goal halftime deficit to defeat the Cougars (1-9, 1-5).
Sophomore midfielder Vincent Meehan added a goal and an assist while senior attackman Jack Marich, junior midfielder Jon Peal Pepe, and sophomore defenseman Colin Finnegan each scored once. Alexzander Mooneyhan, Kieran Baldwin, and Ian McDow chipped in with one assist each.
Sean Perkinson scored twice and Jack Dodd made 17 saves to lead Colts Neck. Kody Lubischer scored twice, Jayden Molina had a goal and two assists, Ethan Sloane had a goal and an assist, and Tyler Bowden scored once. Luke Ferraro chipped in with two assists.
Class A South
Brick 10, Brick Memorial 7
The Dragons (4-8, 2-4) scored four straight goals in the fourth quarter to rally for a rivalry win over the Mustangs (3-7, 2-4).
Freshman attackman Jack D'Eufemia scored three goals, freshman attackman Nick Correia dished out six assists, and senior attackman Mike Occhiogrosso had two goals and one assist to lead Brick Memorial. Matt Cohrs and Noah Gambaroney each scored once and Matt Hillin made 12 saves.
Class B North
St. John Vianney 12, Ocean 9
Senior Ian Butler delivered five goals and one assist, and freshman midfielder Max Menkowitz won 23 of 24 face-offs to lead the Lancers (5-6, 1-4) past the Spartans (3-9, 1-5).
William Keegan tallied three goals and two assists, Kyle Dimarco had a goal and three assists, and Jacob Volk made 13 saves. Brendan Allen added two goals and one assist and Khush Mehta scored once.
Vincent Stolowski had three goals and one assist and Ben Girard totaled two goals and two assists for Ocean. Matthew Mosey scored twice, River Pinto made 14 saves, and Ryan Smith and Mickey McGovern had one goal each.
Class B South
Jackson Liberty at Lacey, 3:30 p.m. - postponed
Nonconference
No. 3 Wall 10, Shawnee 9
Junior midfielder Shea Brennan scored three goals and one assist and senior midfielder Connor Moore sank three goals as the Crimson Knights (7-3) outscored the Renegades (7-2) in the fourth quarter to earn a thrilling nonconference victory.
The game was tied 5-5 at halftime and 7-7 entering the final 12 minutes.
Senior attackman John McCurry led all players with five points on a goal and four assists. Sophomore midfielder Michael Hoarle had an excellent game with a goal and two assists while going 16-for-22 at the face-off X. Junior goalie Lucas Seelinger made 10 saves and Pat Donohue and Jack Meyer each scored once.
Salesianum (Del.) 11, No. 4 Manasquan 3
West Windsor-Plainsboro South at No. 9 Holmdel, 4 p.m. - canceled
Ocean City at No. 5 Southern, 4 p.m. - postponed
More From Shore Sports Network