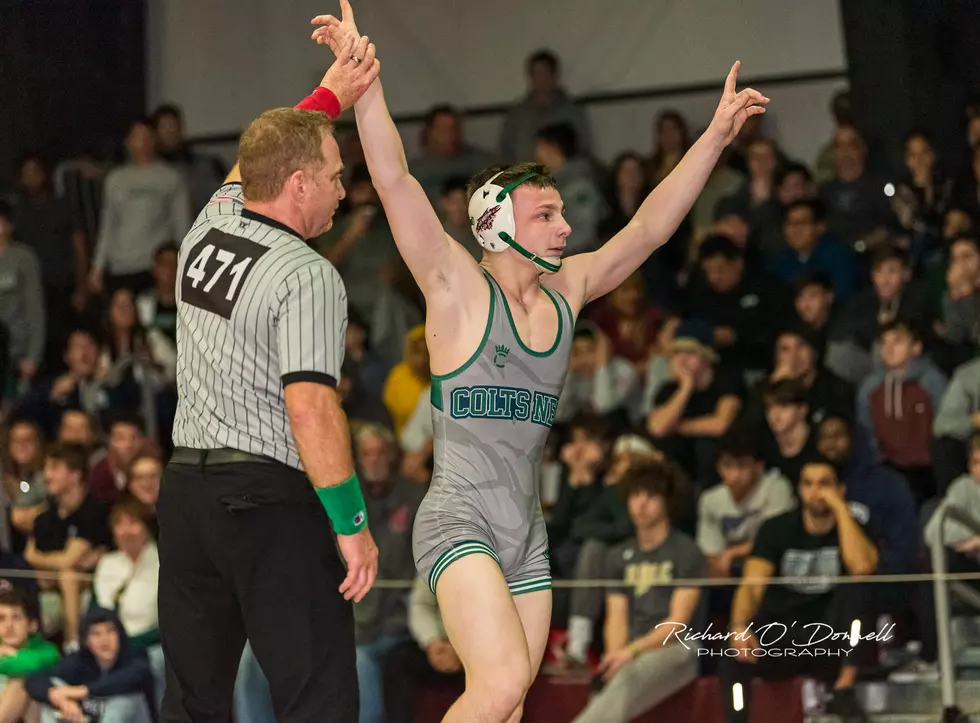 SCT Wrestling Finals: Colts Neck's Logan Waller wins OW, Howell repeats as team champ
Photo by Richard O'Donnell.

Enter your number to get our free mobile app
LITTLE SILVER – A certain Shore Sports Network reporter was chatting with Colts Neck head coach Brett Jankos on Friday evening just before the 2020 Shore Conference Tournament was set to begin when Cougars junior Logan Waller strolled by.
Jankos introduced Waller and the standout 138-pounder was wished well in his pursuit of a conference title in a difficult weight class.
"The plan is to win it," Waller said before doubling back. "Actually, the plan is to get OW (Outstanding Wrestler). Why not, right?"
The statement was not rooted in cockiness, it was Waller expressing his intent to set the highest of goals. A little less than 24 hours later he was accomplishing exactly what he set out to do.
Facing the New Jersey's No. 2-ranked wrestler at 138 pounds, Long Branch's Ryan Zimmerman, Waller was dominant in building a 9-1 lead in the third period before locking up a cradle and finishing off the fall to become Colts Neck's first SCT champion. At the conclusion of the tournament, Waller was voted as the SCT's Outstanding Wrestler.
"It's awesome. The first one in school history, too; there's no better feeling," Waller said. "Just going in the room every day and getting better and knowing that my hard work is paying off, it's unbelievable." 
Waller entered with only one loss on the season, which came to Paulsboro's Jacob Eli-Perez during December's Mustang Classic. It was at that same tournament against the same opponent that Zimmerman made his mark when he pinned Eli-Perez, who was a state finalist last season, to climb high in the state rankings.
With his rangy, flexible frame Zimmerman is exceptionally dangerous on the mat. In the semifinals, he rode Ocean's Alex Poniros, who was a state medalist in 2018, for four straight minutes and turned him once during a 3-0 win. Being underneath Zimmerman or in a scramble with him is not the place to be.
That knowledge often makes wrestlers hesitant, however. That wasn't the case for Waller, who came out with a quick takedown to take a 2-1 lead into the second period. It was Waller's choice and he selected neutral, and from there he took Zimmerman down again, this time right to his back for a two count. While the official was holding the two nearfall points, Waller worked a tilt to get a five count and secure three nearfall points to go up 7-1.
It was Zimmerman's choice in the third and he took top. Waller now had to beat Zimmerman in his best position. Waller got to his feet off the whistle but Zimmerman got a leg in and looked to run a power half. He was a touch high, however, and Waller was able to get to his feet, shake him off and get the reversal to go up 9-1. From there he put Zimmerman in a cradle and pinned him at the 4:30 mark of the match.
"It was about the gameplan and sticking to it and listening to my coaches," Waller said. "We didn't want to give him the chance to scramble and get on the mat. When he picked top it was motivation knowing I had to get out. Working from there I got the turn and stuck it."
Waller was the No. 4 seed in the bracket and had to beat Shore's Al DeSantis, the No. 1 seed, just to reach the final. Waller beat the Blue Devils senior, who is a three-time state qualifier, 7-5 in the semifinals. He won by fall over Middletown South's Nick Holland in the pre-quarterfinals and pinned Howell's Isaiah Fenton in the quarterfinals.
Last season, Waller reached the SCT final at 120 pounds but fell to Jackson Memorial's Vincent Scollo. This year he came back and got the job done, and he's hoping that redemption is mirrored in the state tournament. Waller finished third in Region 6 last season but did not win a bout in Atlantic City. The goal this year is, of course, to not lose at all.
"This is huge but it's not the final goal," Waller said. "The final goal is to get on the top of that podium in March. I always tell my family and my coaches – and they believe me – that I can get up there. Hard work is paying off in the best part of the season and that's what I'm excited for."
Normally, being able to wrestle and defeat the No. 3-ranked wrestler in the country to win a conference title would be a dream scenario. That was not the case for Brick Memorial's Anthony Santaniello.
The match everyone wanted to see was the match that Santaniello and Brick sophomore Evan Tallmadge would have preferred not to wrestle. Santaniello and Tallmadge are close friends and training partners who also happen to be two of the best 106-pounders in New Jersey. Their meeting in the Shore Conference Tournament was inevitable.
As predicted, it was a tremendous match with Santaniello's second-period escape providing the only point of the bout in a 1-0 victory for the Mustangs freshman. Santaniello rode Tallmadge out for the entire third period to win the SCT title.
"It was difficult and I got emotional a little bit after the match," Santaniello said. "Obviously I was happy that I won but it just sucks wrestling a friend. He's coming over my house right after this and we're going to get something to eat. We hang out all the time. It's not fun wrestling your friend. It is fun to have a great battle like that but it's not fun to need to have a winner."
Santaniello will no doubt make a big climb in the state rankings and should also find his name in the national top 20 at 106 pounds, and for that, he can thank a tremendous rideout in the final two minutes. There were several scrambles but Santaniello was able to maintain control against Tallmadge, who is a big and tall 106-pounder. In the closing seconds, Tallmadge appeared to be on the verge of a reversal but Santaniello was somehow able to keep his hips square and maintain control.
"I don't know (how I did it), to be honest," Santaniello said. "He normally does reverse me there. I try to keep that arm but if I do let go for a split second he's so good that he understands to reverse me."
Santaniello's top game was strong in the semifinals, as well, when he rode out Middletown South freshman Jack Zaleski for the entire second period during a 6-2 victory.
In the second period against Tallmadge, Santaniello chose defense and was immediately let to his feet. He wasn't about to make it that easy for Tallmadge in the third.
"I was confident. I knew I could ride him but that it would be more difficult than any kid I'd wrestled. "I was going to go for it and do the best I could, and it paid off."
Brick Memorial senior Joe Colon entered the season excited for his senior year and a new beginning after moving to Brick and transferring from St. Augustine. But just two matches into the year he suffered an unexpected setback.
Colon was leading Point Beach's Jason Sherlock, a fellow state qualifier, 10-5 during the semifinals of the season-opening TCNJ Pride Tournament. Colon took defense to start the third period and Sherlock, as he has done to many opponents, locked in a cradle and pinned Colon. A hopeful matchup with Colts Neck's Luke Rada was going to have to wait (Rada defeated Sherlock, 9-2, in the TCNJ final).
"It was a tough match because I went into the year feeling really excited and the second match I get stuck, so it did leave a sour taste in my mouth," Colon said. "I've been thinking about it for a while so today felt good."
Colon got revenge for the loss and then defeated Rada in the finals to win the Shore Conference Tournament at 182 pounds. In the semifinals, Colon worked an 11-5 decision over Sherlock to reach the finals against Rada. In the championship bout, Colon scored three takedowns and one reversal against Rada while limiting the Colts Neck senior to only one takedown to win 9-6 and become Brick Memorial's first SCT champion.
In the NJ.com state rankings, Rada was ranked No. 2 and Sherlock was ranked No. 3 while Colon was ranked No. 6.
"You have to have matches like that during the season," said Colon, who is a two-time state qualifier. "I planned on wrestling Rada earlier in the season but it didn't work out because I got pinned. Having those matches with high-quality kids gets me ready for those big matches in Boardwalk Hall. So I feel like I'm battle-tested for that now."
Five wrestlers repeated as Shore Conference Tournament champion.
At 120 pounds, St. John Vianney junior Dean Peterson won his third title by rallying past Brick Memorial junior Vincent Santaniello, 5-3, in a marquee battle. Peterson was last season's 113-pound state champion and was the state runner-up at 106 pounds as a freshman. Santaniello was eighth in the state at 106 as a freshman and third in the state at 113 last season.
After a scoreless first period, Santaniello escaped and then took Peterson down to take a 3-0 lead. Peterson clawed back with an escape and a takedown of his own to tie the bout 3-3 heading to the third period. It was Peterson's choice to start the third and he chose defense and escaped to go up 4-3. A second stalling call on Santaniello made it 5-3 and Peterson held on to defeat Santaniello in the SCT final for the third year in a row.
Middletown North senior Tyler Klinsky completed another dominant SCT title run with a 10-3 decision over Toms River North senior Ryan Rosenthal. Klinsky scored a whopping 71 points in four bouts and did not allow an offensive point.
Toms River North senior Nick Boggiano was equally as dominant in taking the 152-pound title. Boggiano won by 10-0 major decision over Shore junior Mike McGhee in the final. Boggiano was eighth in the state at 145 pounds last season and McGhee reached the third round of wrestlebacks. Boggiano scored 42 points in four bouts and did not allow an offensive point.
Howell's Shane Reitsma had an off day by his standards but still found himself atop the medal stand as the SCT champion at 170 pounds for the second straight year. Reitsma won by 11-3 major decision over Jackson Memorial's Hunter Smith in the championship bout. In the semifinals he was tested by Rumson-Fair Haven junior Jack Kelly, who took him down twice. Reitsma was up 10-5 before Kelly escaped with 26 seconds left and took Reitsma down with one second left to make it 10-8.
Reitsma's win over Smith in the final gave him 150 for his career, making him just the ninth wrestler in Shore Conference history to reach 150 wins. He is nine wins away from passing Kyle Slendorn as Howell's all-time wins leader and 16 wins from passing Wall's Rob Kanniard for the all-time Shore Conference record.
At 195, Jackson Memorial senior Kyle Epperly defended his title with an impressive 10-3 decision over Brick Memorial junior David Szuba. Epperly, who finished seventh in the state last season, took Szuba down four times and allowed just three escapes, all of which came in the third period. The Rutgers recruit had pins of nine and 49 seconds in his first two bouts before defeating Colts Neck's Kenny Koenig by 19-8 major decision in the semifinals.
Freehold senior Nico Messina added an SCT title to his resume by defeating Middletown North's Thomas O'Keefe, 6-4, in the 126-pound championship bout. Messina had takedowns in each of the first two periods to earn the close victory. He also earned revenge in the semifinals by pinning Christian Brothers Academy freshman Julian George, who had defeated Messina, 3-2, during a dual meet earlier in the season. Messina is a two-time Region 6 champion who finished top 12 in the state last season.
Ocean's Jack Nies scored an impressive win over Toms River East's Michael Conklin with a takedown in sudden victory to win 6-4 in the 132-pound final. Conklin secured a takedown in the final seconds of the first period to go up 2-0 and then escaped early in the second to take a 3-0 lead, but Nies battled back to but Conklin's lead to 4-2 entering the third period. Nies was on defense to start the third and Conklin was warned for stalling and then called for stalling again to give Nies a point and make it 4-3. Nies then escaped to tie the bout at four and force overtime.
Rumson-Fair Haven junior Max Brignola had a tournament to remember on his way to the 145-pound title. He won by fall in just 22 seconds in the semifinals to earn his 100th career win. In the championship bout he dismantled Manalapan's Hunter Konstantoulas with a 19-7 major decision that included six takedowns and seven nearfall points.
Manalapan senior Matt Benedetti took home the 160-pound SCT title with a 5-1 decision over Rumson sophomore Shay Addison. Both wrestlers entered unbeaten but it was Benedetti who scored a pair of takedowns to secure his conference title. Benedetti was the state sixth-place finisher at 160 pounds last season.
At 220 pounds, Lacey's Vin Ceglie outlasted Toms River North's Mike Nakano to win the title with a 6-5 victory. Nakano scored the first takedown to go up 2-1 after the first period, but Ceglie escaped in the second to make it 2-2 and scored two takedowns in the third period to clinch the championship.
The top two seeds met in the heavyweight final and it was Howell senior Justin Wright, the No. 1 seed, using a third-period takedown to defeat Toms River North's John O'Donnell, 3-2. Wright had previously defeated O'Donnell, 6-2, during a dual meet on Jan. 2.
Championship victories by Reitsma and Wright helped Howell repeat as the Shore Conference Tournament champion. Junior Paul Jakub was third at 152 pounds, junior Nieko Malone placed fourth at 126 and Colin Bradshaw (113), Kyle Nase (120), Isaiah Fenton (138) and Nick Cerulli (182) each finished 5th/6th.
Managing editor Bob Badders can be reached at bob.badders@townsquaremedia.com. Follow him on Twitter @Bob_Badders. Like Shore Sports Network on Facebook and subscribe to our YouTube channel for all the latest video highlights.
More From Shore Sports Network