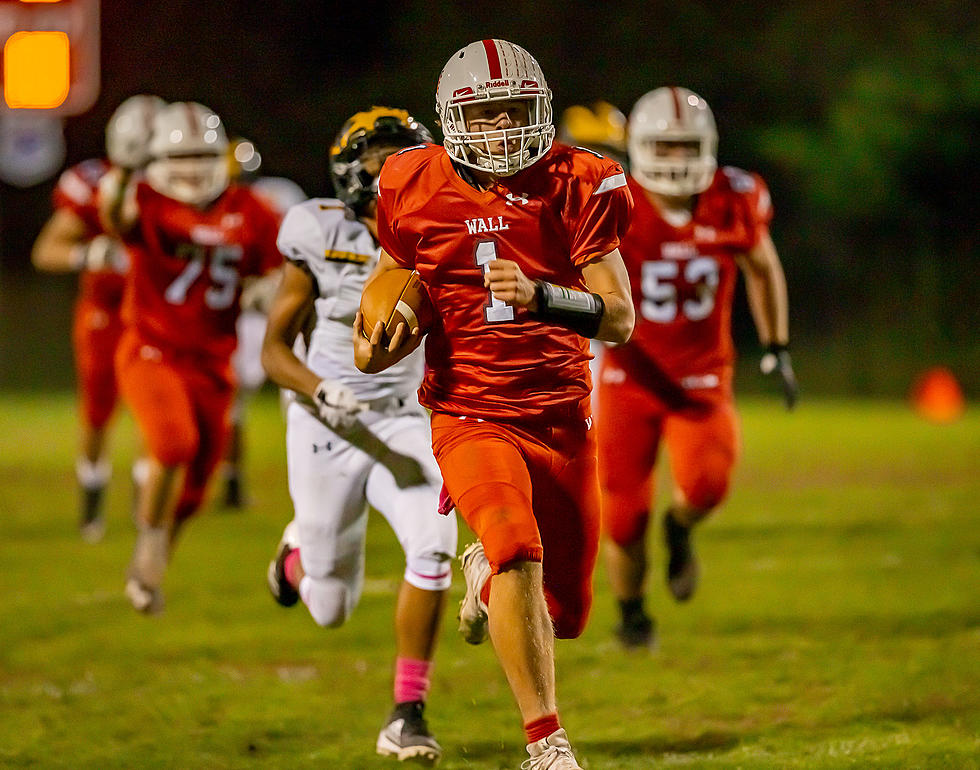 Scanning the Scene with Ed Sarluca: The System Works
Wall junior quarterback Logan Peters. (Photo by Paula Lopez)
One of the objectives of the NJSIAA was to get the best teams into the playoffs.  Well, it looks like it worked as 27 Shore Conference teams will have a chance to win a sectional championship.  The State Playoffs get underway this weekend with Wall (8-0) leading the Shore's large contingent into the first round.  Wall, the Shore's top-ranked team is the only #1 seed team among the 27 and will have a chance to play at home for the three rounds needed to win it all as the higher seed will host through the sectional finals.  Wall plays in Group 3 and has been placed in the Central Jersey bracket.  Also in that bracket are Lacey (6-3), Raritan (5-3), and Rumson(4-4).  Not an easy run for Wall, who by the way drew 8-0 Robbinsville in the first round as the #16 seed.  Also in the Group 3 section but placed in the South bracket are Red Bank (5-3), Holmdel (5-3), and Ocean (8-0).  A definite Shore flavor.
In South Group 5 (the largest school division) some interesting games are possible.  In the Central bracket, the finals could very well be TR North (8-1) vs. Manalapan (5-3) in a rematch from earlier in the season when North won 42-40.  Southern (7-2) landed in the  South bracket and gets a home game. A win against Vineland (4-4) in the first round would send them to Williamstown(8-1), the overall #1 team in Group 5.  Southern will be aiming for their first-ever sectional title.
The other power-packed group is South 4 with 7 shore teams in the field of 16.  To further show how the "system" has worked, 3 of those 7 have under .500 records and Middletown North is .500.  Long Branch (3-5), Brick (3-5), and Middletown South (3-4) are sub .500 teams but played very tough schedules and were rewarded with a playoff spot.  Jackson Memorial (6-2) is the #2 team in the Central bracket and has won 5 games in a row and the Jaguars are on fire as they enter the playoffs.  This program is playoff tough and dangerous...they know how to win.   By the way, Head Coach Vinny Mistretta will be our guest on the Asylum Sports Center Coaches Corner Wednesday night from 7-8 pm at River Rock Restaurant & Marina Bar in Brick.  Join us there or listen on 105.7FM The Hawk, or watch the live stream on shoresportsnetwork.com.  Joining Coach Mistretta will be All-State defensive end Colin McCarthy.
Perhaps the most intriguing team in the Central bracket is TR East (8-1).  The Raiders have been a forgotten team since 2009 but have turned it around with an outstanding season, having already earned a Division Championship. Head Coach Kyle Sandberg, in his 4th year, has turned this program into a winner.  They will play Midd North in the first round and with a win there it gets them to the semis with a possible matchup against Jackson Memorial.  TR East has never won a sectional title in school history.  Brick, Midd South, Long Branch are all playoff tough and must be respected in this group.  Another hot team is Neptune, who at 5-3 and with a very hot QB in junior Nino Bua, sneaked into the last spot and will play #1 seed Shawnee(6-2), who has 8 State titles and 36 overall wins in the playoffs.  Not a good matchup but give the Fliers credit for their late-season run.  You have to be in it to win it.
A very tough Group is Non-Public Group 3.  Donovan Catholic (8-1), RBC (5-3), Mater Dei(6-3) and St John Vianney(4-4) all are capable of winning it all.  They will have to beat #1 seed DePaul to get to the finish line.  This bracket does not begin to play until November 15.
Our Jersey Mike's Game of the Week will be announced in a day or so.
More From Shore Sports Network