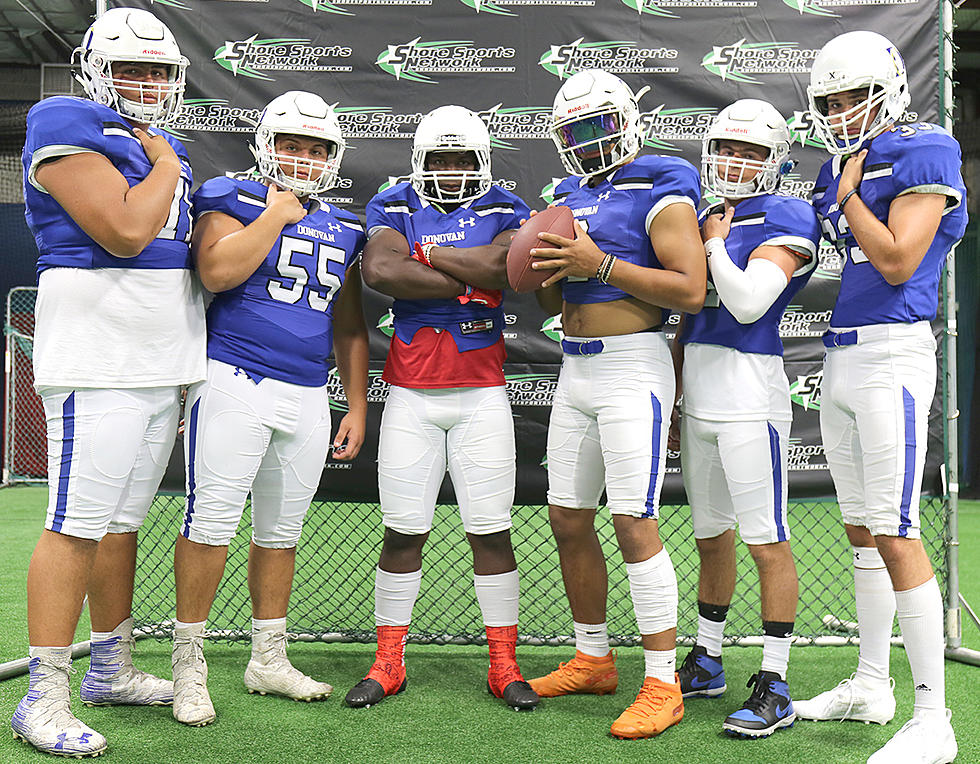 Scanning the Scene with Ed Sarluca: Separation Takes Place
Donovan Catholic's Tom Buxton (71), Elio Siragusa (55), Nasir Calhoun (6), Ryan Clark (2), Jared Helstowski (21) and Chris Aldrich (33).
Photo by Steve Meyer/Townsquare Media NJ
With four weeks in the books, separation has taken place in the Shore Conference.  Mater Dei Prep(4-0), Wall(4-0), Donovan Catholic (4-0) and TR North(4-0) have clearly shown that they are the top teams and in for dream seasons.  In a key game this week, Mater Dei entertains Wall in the Colonial Division with the winner probably winning that division.  TR North entertains RBC(2-2) in an American Division contest that will go a long way to determine that champion.  Donovan Catholic has Red Bank(3-1) this week on the road and a potential championship game against Lacey(4-0) in 3 weeks.  So as you can see it won't be easy for these top 4 teams.
TR East(4-0), Lacey(4-0) and Ocean(3-0) all continued their unbeaten seasons and keep the hope of that dream season alive.  All 3 have played well this year after lackluster seasons in 2018.  Ocean destroyed Barnegat 47-0 as they created 5 turnovers into the easy victory.  Three of those turnovers were interceptions that were returned for TDs.  Chris Carasia returned one for 99 yards and another for 49 yards.  RB Trebor Pena(99 yds rush and a TD) also had a pick 6 for 55 yds.  Lacey won a tight one against Manasquan-7-6 as they used a 4th quarter 5 yard TD by Justin Gorski and a Jack Borel extra point to beat the Warriors.  After the score, Manasquan followed with a 65-yard reverse TD by Robert Pendergist but Lacey blocked the extra point to preserve the win.
In a game I attended on Saturday afternoon TR East traveled to unbeaten Colts Neck(3-1) and came away with a hard-fought 24-20 victory. Playing without their main "stud" Frank Giannetti, due to a knee injury, QB Mike Goodall took over the heavy load and won them the game.  Goodall ran for 88 yards and a key 31 yard TD to give East the lead that they would hold, to take home the 'W".  Also playing a very important part in the win was RB Yusuf Ahmed who rushed for 57 hard-earned yards to augment Goodall's carries.  Goodall threw only 3 passes in the game(1 in the second half) as the Raiders offensive line played big.  Good teams win on the road and on this hot and humid Saturday in Colts Neck the Raiders prevailed.  Colts Neck played well in defeat with a young team.  Matt Ahearn in his second season has the Cougars headed in the right direction. Winnable games down the line will keep them in the playoff hunt.
The game of the week was played in Rumson as TR North won 22-21 in double OT.  With no scoring in the first OT, Rumson(2-2) scored first in overtime number two only to see North score and go for 2 to win it.  HC Dave Oizerowitz said there was no hesitation to go for 2.  "Our kicker was out, we are on the road, they had the momentum, so 2 was the play, it was the only call to make." A great call keeps the Mariners unbeaten.  Another tough one this week for North against RBC at home.  We at the Shore Sports Network will stream this game on our Jersey Mike's Game of the Week on Friday night 7 p.m.
Also on our Wednesday Asylum Sports Center Coaches Corner from the Office Lounge in Toms River, we will have HC Dave Oizerowitz and two of his star players-QB Jake Kazanowsky and LB Vinnie Palmieri with us.  The show starts at 7 p.m.  Join us at the Office.
More From Shore Sports Network