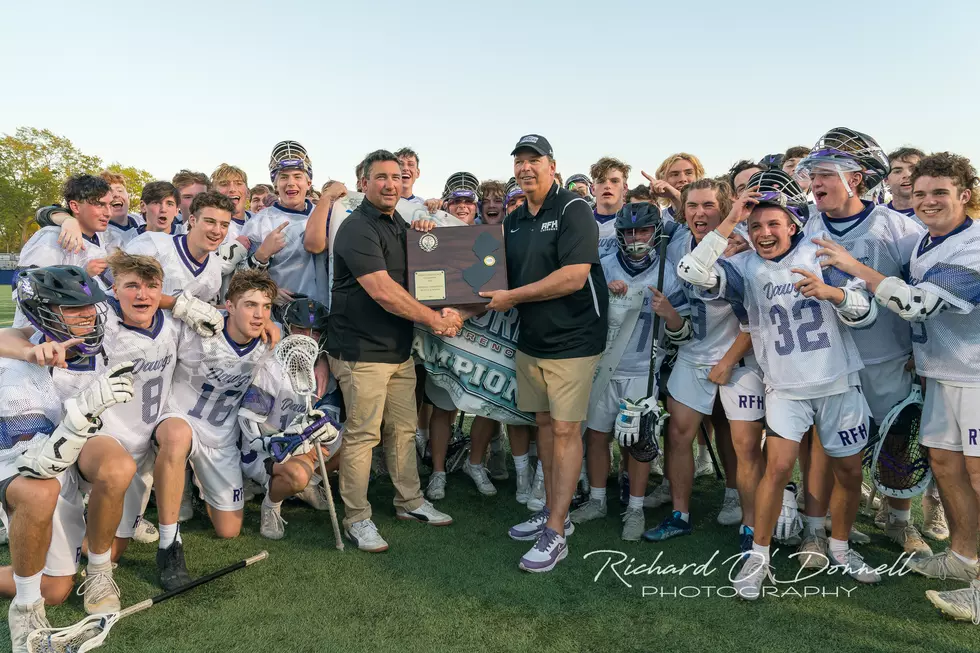 Rumson-Fair Haven Uses Third-Quarter Surge to Beat Wall and Claim 8th Shore Conference Boys Lacrosse Title
Richard E. O'Donnell

WEST LONG BRANCH -- The Rumson-Fair Haven boys lacrosse team enters every season with the expectation that, come the middle of May, it will be hoisting the Shore Conference Tournament championship trophy.
On Tuesday evening at Monmouth University, the gold standard of Shore Conference boys lacrosse added to its trophy case once again.
Senior midfielder Tommy French delivered three goals and two assists, junior attackman Cole Cashion scored three goals with one assist, and junior goalie Will Setteducate made seven saves as top-seeded Rumson-Fair Haven used a third-quarter surge to defeat third-seeded Wall, 12-7, and capture its second straight SCT title at Hesse Field.
Freshman attackman Grayson Goldin sank two goals while junior defenseman Beau Kemler, junior attackman Quinn Stankovits, and senior midfielders Jack McCarren and Philip Passalaqua each scored once for Rumson, which increased its Shore Conference-leading championship total to eight SCT crowns in the 17-year history of the tournament.
"It means a ton to us," French said. "We've made it a habit of getting to this game but we don't think it's good enough to just get here. We want to win it every year and then carry that energy into states."
"It's a great feeling," Cashion said. "We put in a lot of hard work and it's paying off."
Wall led 4-3 late in the first half before a goal by Kemler in transition knotted the score 4-4 heading to halftime. Rumson came out of the break and scored the next four goals in the third quarter to take an 8-4 lead and build a cushion they would not relinquish.
Junior attackman John McCurry had four goals and one assist and senior midfielder Matt Dollive scored twice for Wall, which was making its first SCT championship game appearance. Sophomore midfielder Shea Brennan scored once, senior goalie Aiden Kessler made seven saves, and freshman FOGO Michael Hoarle went 14-for-20 at the face-off X.
"First of all, Wall is a tremendous team," said Rumson head coach Marc Moreau. "How many times have we played them the last few years and they always come to play. They gave us everything we could handle today."
Cashion started the scoring with an unassisted goal at 9:26 and then staked Rumson (16-4) to a 2-0 lead when he scored a man-up goal off a setup by Passalaqua at 7:54. Wall got on the board with 3:12 remaining in the opening quarter when McCurry fed Brennan to cut RFH's lead to 2-1 and the score would remain 2-1 entering the second quarter.
McCurry had the hot hand for Wall in the second quarter and netted two straight goals to give the Crimson Knights the lead. He scored an acrobatic goal to tie it 2-2 when he muscled through multiple checks and then scored as he was falling to the ground at 9:15. Just 40 seconds later, McCurry worked his way topside and found room to beat Setteducate and put Wall in front by one. Rumson won the ensuing face-off and worked the ball around for a great look that was saved by Kessler, but Goldin was there on the crease where he scooped up the rebound and put it back to tie the game 3-3.
With under two minutes to play in the half, sophomore midfielder Will Madden made a great play in the alley to work through a check and get the ball to McCurry, who then dodged an RFH defender and whistled a shot into the net for his third goal of the quarter and a 4-3 Wall lead. The Crimson Knights then had possession and a chance to extend its lead late in the half, but Kemler came up with a huge play to send Rumson into the half with the momentum.
With under 40 seconds on the clock, a pass intended for McCurry was deflected and Kemler, a First Team All-Shore defenseman who is committed to Villanova, won the battle for the ground ball and spun his way into the offensive zone. Wall's defense played the pass and never slid, and Kemler sprinted all the way to the goal where he fired a shot up and over Kessler to tie the game 4-4.
Click here for a photo gallery by Richard O'Donnell
"That was electric and it got us all pumped up," Cashion said. "We kind of got punched in the face there but Beau gave us a lot of energy going into the half."
"That certainly didn't hurt," Moreau said. "He loves playing offense and bringing the ball down and his stick skills are tremendous for a defenseman. He has the green light, so to speak, in those situations."
Whether it was the momentum from Kemler's pole goal, tactical adjustments, or just better execution, Rumson parlayed his late goal into a dominant third quarter that opened up a four-goal cushion. French found room and scored for a 5-4 RFH lead at 9:07 and then gave the Bulldogs a 6-4 lead when he converted a pass from senior attackman Christian Bockelmann at 6:44. It didn't show up on the stat sheet, but Cashion made a great play earlier in the possession to leap and extend to catch a pass and prevent a turnover. Bockelmann, who is committed to Yale, was playing in his first game since suffering an injury in early April.
Cashion added his third goal of the game at 3:57 and McCarren struck for a goal at 1:03 to push Rumson's lead to 8-4. McCurry responded 30 seconds later to trim Wall's deficit to 8-5, but it was nonetheless an explosive quarter for the Bulldogs to take charge of the game.
"They switched to man after running zone the whole first half,
French said of Wall's defense. "We weren't really getting the matchups we wanted but in the second half we were able to get on their short sticks and we attacked."
"I was really us running our offense and not settling for shots and being impatient like we were in the first half," Moreau said. "We didn't have that ball movement and weren't recognizing situations. That's what we do. We needed halftime to get them re-adjusted and to go out and lay the way we do every day in practice, and they did."
Wall did not go quietly as Dollive scored early in the fourth quarter to pull Wall within two goals at 8-6. Rumson continued to have an answer, however, as Goldin followed up with his second goal of the game to put RFH up 9-6. Dollive drove hard to the net and scored his second to make it 9-7 but French completed his hat trick with a laser up top to put Rumson ahead 10-7 with 5:24 left in the game.
With 3:39 left on the clock, Setteducate made a great save when he robbed Jack Meyer right on the crease after a deft pass from McCurry. That save led to Rumson's 11th goal as Stankovits struck at 2:58 to give Rumson an 11-7 lead. Passalaqua added one final goal with three seconds left to complete another conference championship for the Bulldogs.
If there is one unheralded player on Rumson it is probably Setteducate, who has had a very good season as a first-year starter. He finished with seven saves, nearly all of which came at crucial moments when the game was still hanging in the balance.
"They were important and he made some good ones, and he's been like that all year," Moreau said. "He's saving the ones he needs to save and that's really important."
For Wall, the loss in its first SCT final stung, the Knights know they have a chance at redemption if they can reach the South Group 2 sectional final. Wall is the No. 3 seed, Manasquan is the No. 2 seed, and Rumson is the No. 1 seed.
"I told the guys to forget about it, it's already in the past," said Wall head coach Victor Rivera. "The state tournament starts next and just like we had a loss early in the season to Squan and some guys were down, this is motivation to come back and make a name for ourselves. To get to where we want to be it's one game at a time, one practice at a time, and take advantage of the movement to try and get to another state final vs. Rumson. The boys are upset with the result but they're hungry to get back out there."
With SCT title No. 8 wrapped up, Rumson now turns its attention to the NJSIAA Tournament. The No. 7-ranked team in New Jersey by NJ.com will likely have to face either Manasquan or Wall in the sectional final. The winner of the South section will likely play Summit in the Group 2 state final. If Rumson can run that gauntlet then it will be on to the final Tournament of Champions. It's a tough road for sure, but one that Rumson has the talent, toughness, and experience to take all the way to the final day of the season.
"We don't talk a lot, we just go out and play our game," Cashion said. "We know that if we do that it's going to turn out the way we want."
Click here for a photo gallery by Richard O'Donnell
Rumson-Fair Haven vs. Wall 2022 SCT Lacrosse Final
Box Score
1-Rumson-Fair Haven 12, 3-Wall 7
Wall (15-3) 1 3 1 2 --  7
RFH (16-4) 2 2 4 4 -- 12
GOALS -- W: John McCurry 4, Matt Dollive 2, Shea Brennan 1; RFH: Tommy French 3, Cole Cashion 3, Grayson Goldin 2, Jack McCarren, Beau Kemler, Quinn Stankovits, Philip Passalaqua.
ASSISTS -- W: John McCurry, Connor Moore, Will Madden; RFH: Tommy French 2, Cole Cashion.
SAVES -- W: Aiden Kessler, 7; RFH: Will Setteducate 7.
5 Jersey Shore Eateries That Should Be Top 30 In The U.S.
More From Shore Sports Network