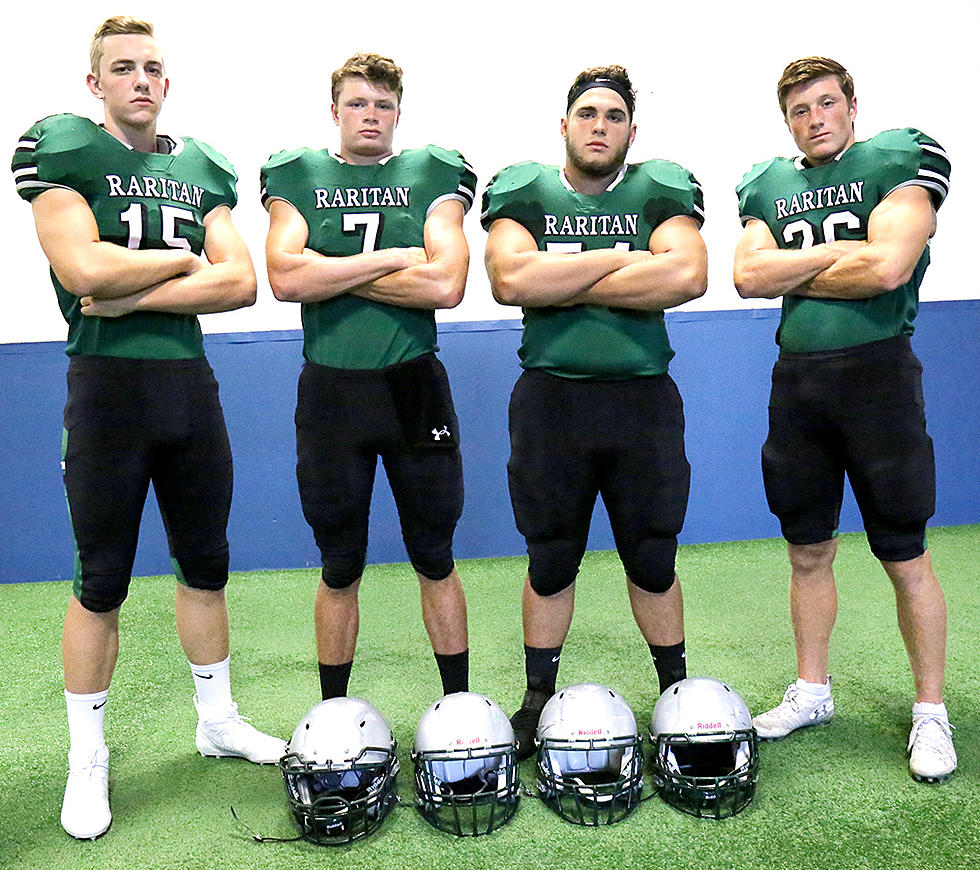 Ready for Takeoff: Raritan 2019 Football Preview
From left: Dan McCormack, Steve Coponi, Kevin Lind, Danny Fiore. (Photo by Steve Meyer)
After his team suffered through its first losing season in four years back in 2017, Raritan head football coach Anthony Petruzzi decided it was time to shake things up. He installed a new offense heavy on the triple-option and with some underclass talent at the skill positions, he was prepared to make it a two-year project.
While there were growing pains, the Rockets also improved, going from 4-6 in 2017 to 5-4 last year with a quarterback and a collection of slots and receivers comprised largely of returning players. Now with more familiarity with the spread triple-option offense, Petruzzi and his players are hoping they can really take off this coming season.
"In our second year in the triple, we look for it to pay dividends because last year we were learning on the fly," Petruzzi said Coaches were being coached up on it, kids were being coached up on it. Now, it's our identity, where as last year we were introducing it. Now it's who we are."
In each of the past two seasons, Raritan lost to the No. 1 seed in the Central Jersey Group III Playoffs – both times in the first round as the No. 8 seed. With a better handle on the offense and some depth throughout the defense, the Rockets are optimistic that they can set themselves up for a more favorable first-round matchup and, in turn, a better outcome in the postseason.
"We are the toughest team out there and everybody knows when you play Raritan, it's not going to be easy," senior Danny Fiore said. "It's going to be a tough battle. We are hard-nosed, blue-collar individuals who go out and work every single play, every single down.
"We have high expectations every year. We are confident in what we are able to do. We have the guys to get stuff done and that's what we are going to do."
Player to Watch: Steven Coponi Jr. (Sr., QB, 5-11, 175)
As a first-year starter running a new system, Coponi had a lot to take in last year and all told, the results were encouraging. He threw for 578 yards on 77 attempts with six touchdowns and six interceptions while running for 647 and five touchdowns. Now a senior with a full season running the offense, Coponi has a full handle on his job as well as the responsibilities of everyone in the offense.
"For me, every read is a lot cleaner this year, a lot faster – more natural process every play," Coponi said. "I'm not trying to learn it anymore. So this year it's been pretty clean, we look good running the ball."
Under the Radar Player: Kevin Lind (Sr., OL/DL)
Lind is one of three returning starters on the offensive line along with Paul DeFalco and Anthony Casiano and is its leader at center. The new offense was a challenge for the lineman as well, with Lind returning this year with a complete handle on the calls at the line and what the unit is trying to accomplish each play. He is also set to be a leader on the defense as well, playing defensive tackle and end in Raritan's base 3-4 defense.
"Kevin Lind is making all the calls and the checks up front now," Petruzzi said. "Paul DeFalco is able to recognize a three-down and a four-down structure, so the little nuances are getting covered this year better than they were last year. They are becoming like coaches on the field."
"We have some lineman who didn't get a chance to show what they could do last year who are ready to step up," Lind said. "We have some players up front still and we have some guys to get the job done."
Petruzzi sees his stable of backs, slot backs and receivers as his most versatile group of players and a good chunk of those players will make up the secondary on the other side of the ball. Senior Danny Fiore will be the captain of the secondary as a safety alongside classmate Kevin Haug, with both players doubling up as slot backs on the offensive side of the ball.
Jaylen Smith, Luke O'Hea and Chris Carton will be the primary cornerbacks and all three will also be key cogs on offense. O'Hea is the lone junior of the bunch and will get snaps at slot back while Smith and Carton are the receivers on the outside.
"The secondary has the ability to make a lot of plays," Petruzzi said. "We have got some smart guys out there, we have guys who can do some stuff. We're trying to maximize their talent and their physical capabilities so they can kind of run around and hit and make plays."
Raritan will be successful if…
The players are catching onto the offense as well as they and Petruzzi believe they are. Raritan doesn't have standout size on the line or overwhelming speed, but the Rockets have a technically-sound, hard-nosed group that is confident it can frustrate defenses with its triple-option look. On top of that, Coponi has shown the ability to air it out and has some big-play potential on the outside with Smith and Carton. In that regard, Raritan could be a multi-layered offense that makes opposing defenses pick their poison.
Practicing against the option is also helping the defense.
"The option has helped us become more physical during practice and I think that has allowed us to play our responsibilities on defense better because I think it's the hardest thing to stop," Petruzzi said. "Since we're seeing it all the time, it allows the guys to play with that reckless abandon you need."
HEAD COACH: Anthony Petruzzi, 10th season
2018 RECORD: 5-4 (4-1 in Liberty Division)
Chris Damian (Off. Coordinator)
Jeff Struble (Off. Coordinator)
Matthew Dempsey (Off. Line)
David Ernst (Skill Positions)
Jerome Dean (Linebackers)
Joseph Schillaci (Def. Line)
Joseph Schroeck (Def. Banks)
Keith Rescorl (Special Teams)
Nicholas Buzzo (Assistant)
Nicholas Sparacello (Assistant)
Michael DeSocio (Athletic Trainer)
OFFENSE: Spread (Triple-Option)
BIG SHOES TO FILL: Dan McCormack (Sr., LB/TE)
Raritan graduated two linebackers from last year in Justin Acevedo and Tom Dorsey, so that level of the defense is where inexperience could play a factor early in the year. McCormack is a returnee at the position and will be needed to step into a leadership role among the linebacking corps. Senior Jason Lind, junior Angel Marquez and senior Anthony Bailey will step into starting spots at linebacker and their acclimation will be a key factor in the success of the defense as a whole.
X-FACTOR: Jaylen Smith (Sr., WR/DB)
In a run-heavy offense, Smith won't get a as many targets as the top threats in a more conventional attack, but he will be a constant threat for defenses to consider. At 6-4, Smith has big play ability down the field and he can turn a short catch into a big gain. For Raritan to maximize its potential, the Rockets will have to be able to hit the big play in the passing game and Smith is its top big-play threat heading into the season.
"Running the triple option, we find that we get a lot more completions out of pass plays just because defenses are so strained to stop the option," Coponi said. "As soon as you drop back to pass you're just looking at a guy who is wide open on a blown coverage."
IMPACT NEWCOMER: Luke O'Hea (Jr., WR/DB)
With senior Mike Fiore sliding from slot to tailback this season with the graduation of P.J. Buccine, with O'Hea filling in the opening left by the positional shift. O'Hea should see some touches on offense along with Mike and Dan Fiore and will also contribute on defense as a starting cornerback.
"Our guys have a lot of different skillsets," Petruzzi said. "You talk about a Danny Fiore, a Kevin Haug, a Luke O'Hea – those guys can carry the ball but they are also great receivers who know how to find open space."
PIVOTAL GAME: Sept. 20 vs. Point Boro
Last year was a retooling year for Point Boro, but beating the Panthers on the road, 21-20, was still a huge win for Raritan. This year, Point Boro will visit Raritan expecting to be an improved team and pay the Rockets back for last year. The showdown marks one of several games that will determine the Patriot Division championship, which looks up for grabs in a seemingly balanced division that also includes Shore, Ocean, Barnegat and Monmouth.
"I think the chemistry is great, especially compared to some other years we have had here," Coponi said. "I think this team works well together and I think we are going to do well this season."