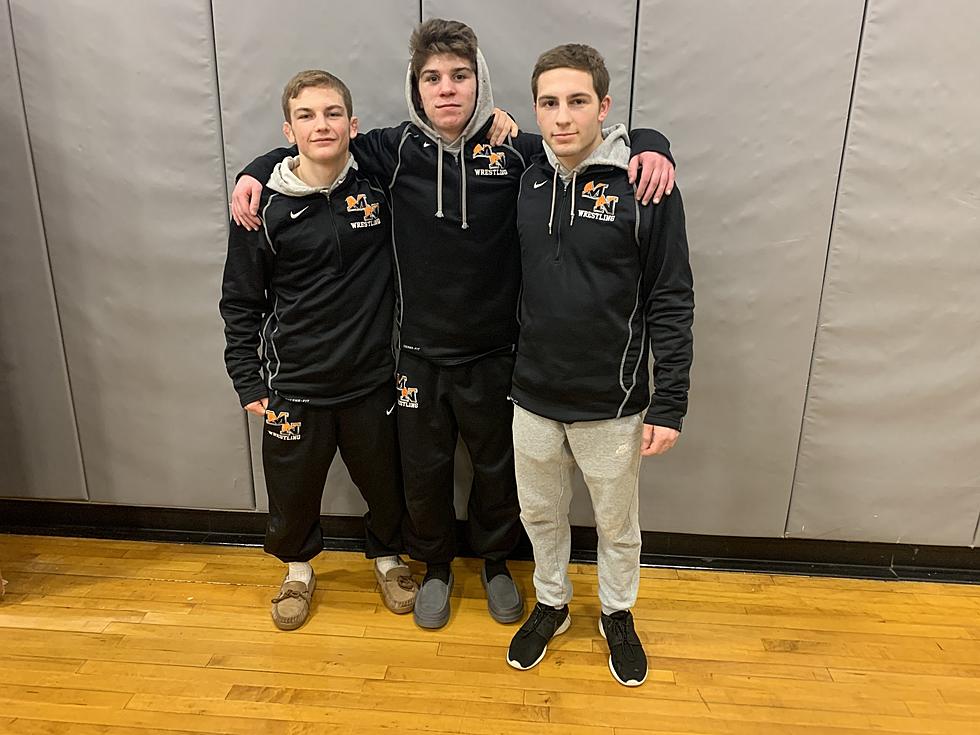 Pride of the Lions: Decorated Middletown North trio chasing greatness in Atlantic City
Photo provided by Matt Sirchio.
Enter your number to get our free mobile app
Matt Sirchio remembers one of the first times he saw what would become one of the greatest trios in Middletown North wrestling history.
Tyler Klinsky, Thomas O'Keefe and Fred Luchs were all of 8-years old when Sirchio, then the third-year head coach at Middletown North, was working out with the grappling neophytes. It was impossible to predict what they would become over the next decade, but early on it was clear they had great potential. As the years went on it was obvious they had the ability to be standouts in high school and all these years later they are on the verge of going down as some of the best to ever put on a Middletown North singlet.
"When we first started here in 2006 Thomas's dad asked if I could do some privates (lessons)so the three of them would come to the high school, Thomas and Freddy would be scrapping and Tyler would be sitting off to the side with his GameBoy not interested," Sirchio reminisced. "They were just a couple of young kids but they kept working and working and have gotten to the point where in high school they've improved at an elite level."
This weekend at historic Boardwalk Hall in Atlantic City, the tremendous trio of Klinsky, O'Keefe and Luchs will try to end their careers with state medals in hand and put the finishing touches on what have already been great careers.
It is rare to get three wrestlers in the same class who have accomplished as much as these three have and rarer yet to have those wrestlers be at three consecutive weights. Klinsky entered the NJSIAA Championships with 164 career victories and as just the seventh wrestler in Shore Conference history to win four region titles. He was a state-runner up a year ago and is ranked nationally at 113 pounds. He will almost certainly pass Wall graduate Rob Kanniard (165) for the most wins in Shore Conference history. Luchs entered the state tournament with 138 wins and won his first region title last week. O'Keefe, who weighed about 90 pounds as a freshman and was behind Klinsky in the lineup, has 120 wins to his credit plus his first district title earned this season. They have a combined 422 victories and counting.
"We've been wrestling together probably since we were like 7-years old and we've always been close in weight; 1-2-3 in a row," O'Keefe said.
Their presence in the lineup together has meant the world to each other and to Middletown North's team. Throughout the last four years and especially the last two years, the trio has churned out bonus points against pretty much every team. For Middletown North to get 15 to 18 points from 106 to 120 or this year, 113-126, was a regular occurrence.
"It's nice being known that when people think of Middletown North wrestling they think of us having tough lowerweights," Klinsky said. "Coming out and getting 15 to 18 every match really helps the team as a whole."
Having each other in the practice room every day has sharpened their skills considerably. All three work tirelessly at their clubs – Klinsky at Triumph Wrestling Club and O'Keefe and Luchs at Shore Thing Wrestling Club – but they know they're getting a test every time they step into the Middletown North wrestling room.
"You see kids who travel across the state to get better training partners and we're all homegrown and five minutes away from each other," Klinsky said. "It doesn't get any better than that."
"There's no (drills) off in here," O'Keefe said. "We're always pushing each other and it's made us that much better."
"I've been really lucky to have guys like that in the room with me," Luchs said. "Other towns don't have that kind of competition in the room and don't have that chance to get better without traveling."
For all that Klinsky, O'Keefe and Luchs have accomplished, they've still yet to accomplish their ultimate goals. The 2019 season had a lot of high moments, but they all left Boardwalk Hall feeling disappointed. Klinsky suffered his only loss of the season in the 106-pound state. O'Keefe reached the fourth round of wrestlebacks where he finished one win short of a state medal. Luchs finished two wins short of a state medal after being eliminated in the third round of wrestlebacks. To say the driving force of their motivation was to take care of unfinished business would be putting it mildly.
"I've been wanting to be on the podium at Boardwalk Hall since I was 7, 8-years old," O'Keefe said. "I've gone down to states every year for the past 10 years. I think the last couple years -  second in districts twice, second in regions, second in Shore Conference, one match away from the podium last year – all those times coming just short make me wasn't to do it that much more this year."
"From last year coming that close, that's all I really think about," Luchs said. "All I've been thinking about is what I can do to get better so I can be in the top eight."
For O'Keefe and Luchs, the road to a state medal could have many paths. For Klinsky, there is only one avenue for achieving his ultimate goal: winning a state championship.
Klinsky was unbeaten last season before falling to Hunterdon Central's Brett Ungar, 13-6, in the 106-pound state final. He has one defeat this season, losing 10-5 to Don Bosco Prep's Kelly Dunnigan at the Sam Cali Memorial Invitational.
The Ungar loss taught him one thing, the Dunnigan defeat another.
"The biggest thing I learned (from last year) is that you can always work harder," Klinsky said. "I thought I worked harder than anybody in the state last year and I still came up short."
As the sensible saying goes, it is better to lose early than late. Klinsky was able to take something positive from his loss to Dunnigan with plenty of time to implement the corrections.
"My coaches right after the match said you have to slow down," said Klinsky, who is known for piling up points and winning by technical fall. "You don't have to tech everybody you wrestle, especially those state-level guys. A win's a win, no one is going to look back the score in the final, they're just going to remember you won."
"Obviously you don't expect to go out and lose but when it happens you have to accept it and focus on how you can get better from it."
All three entered the state tournament as top-10 seeds at their respective weights. Klinsky is the No. 2 seed behind Dunnigan at 113. Luchs, who defeated Allentown's Joey Lamparelli in the Region 6 final after losing to him in the District 22 final, is the No. 7 seed at 120 pounds. O'Keefe was second to Freehold' Nico Messina in Region 6 and is the No. 10 seed at 126 pounds. Now, it's the final push.
"When they say four years is going to go really fast it definitely does go by really fast," Luchs said. "Now, as a senior, it's one last shot."
"It's good looking back to see how good we've become over the years and how we've jumped levels like a family together," Klinsky said.
"I remember being in second and third grade with these guys and being 50 pounds and going to get pizza and ice cream after practice," O'Keefe said. "It's different now and it's crazy how fast it's gone."
"Freddy Luchs was the first kid to come to my open mats when he was 6-years old," Sirchio said. "To see these guys come through has been pretty special."
The storybook ending doesn't happen for everybody, but the goals set forth by Klinsky, O'Keefe and Luchs are not outlandish. Klinsky could absolutely win a state championship on Saturday afternoon. O'Keefe and Luchs are plenty good enough to earn an all-state finish. All that's left to do is wrestle under the bright lights of Boardwalk Hall.
"It would mean everything to me," O'Keefe said. "I've worked really hard to get here and to have it pay off would be a great sense of satisfaction."
"We'd be able to look back on growing up together and working hard together and be able to say we finally did it," Klinsky said. "We'd leave our legacy."
And together they'd enjoy a meal together afterward, only this time it would be a step up from pizza and ice cream.
"For me, that would mean everything to see all three of those guys on the podium," Sirchio said. "We've put so much time in for so many years, so many people have from BYAA (Bayshore Youth Athletic Association) to middle school and then to us. And all three of them have worked so hard and put in so many hours. I told them we'd find the nicest Italian restaurant around."
"But no matter what, to see the three of them competing together one last time is going to be awesome."
Managing editor Bob Badders can be reached at bob.badders@townsquaremedia.com. Follow him on Twitter @Bob_Badders. Like Shore Sports Network on Facebook and subscribe to our YouTube channel for all the latest video highlights.