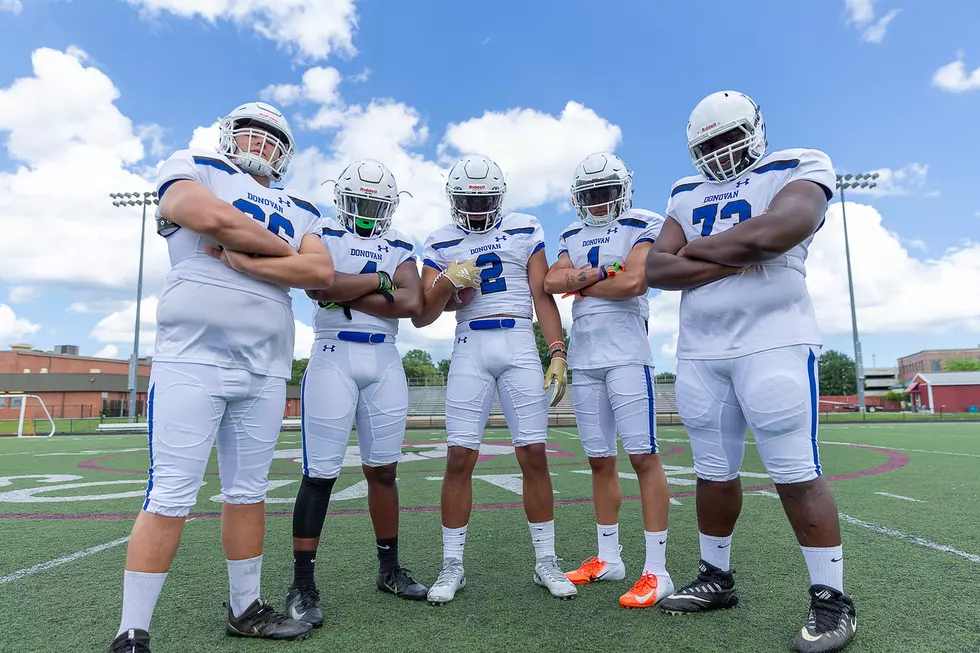 On the Rise: Donovan Catholic 2018 Football Preview
Photo by Paula Lopez/PAL Images
Most teams around the Shore Conference are chockfull of seniors, but not Donovan Catholic. You can count on one hand the number of 12th-graders on the Griffins roster.
To assume that means Donovan is in for a long season would be dead wrong, however. The Griffins may be young, but they are by no means inexperienced. After playing mostly freshmen and sophomores last season and going from 0-10 to 4-6 in the first year under head coach Dan Curcione, they're ready to take the next step in 2018.
"It's been a huge difference since last year where everybody was either a senior or a lowerclassman," said junior quarterback Ryan Clark. "This year I believe we're making long strides."
The Griffins return eight starters on offense and six on defense, and appear poised to contend for the National Division title in what would be a breakout season. Clark, junior wide receiver Andre Laney, senior linemen Nick Kenmure and Bobo Aluko, sophomore running back/linebacker Quamire Green, junior running back Damian Johnson and more return to form the nucleus of one of the more intriguing – and polarizing – teams in the Shore.
"Last year, 4-6 was not the record we wanted," Clark said. "We're really trying to go out this year and make a statement that Donovan Catholic is going to be a powerhouse program."
Clark and Laney headline Donovan's multiple spread offense, which averaged 21 points per game last season. Clark will be entering his third year as a starter and is coming off a sophomore year where he threw for 1,011 yards and seven touchdowns and ran for 950 yards and 15 touchdowns. He has the physical talent and the size (6-1, 215) to be one of the best in the Shore, and his grasp of the offense heading into this season is miles ahead of last year.
"I really like what he's doing in camp, attitude-wise, consistency-wise," Curcione said. "He's using his head to understand the offense more. Everything is more comfortable to him and he seems more relaxed with us as coaches. Those things go a long way."
"The offense has really opened up for me in ways it hasn't before," Clark said. "Last year we couldn't really utilize all the plays and I think that's really going to make a difference."
One of the Shore's breakout stars of last season was Laney, who finished fourth in the Shore in receiving with 36 receptions for 745 yards and six touchdowns. He and Clark form one of the top quarterback-wide receiver tandems in the Shore.
"We've had a connection ever since eighth grade and it transferred over to high school," Laney said. "
"They understand each other and get along with each other, so it's definitely something defenses have to look for when defending us," Curcione said.
Johnson returns as a starting running back after rushing for 492 yards and four touchdowns on an average of six yards per carry. Green, juniors Nasir Calhoun (a Toms River North transfer) and Devin Porsch and sophomores Jahdir Loftland and Dominick Nocero will also see time in the backfield.
Laney and sophomore James Bivins are both returning starters at wide receiver, and the Griffins have several others players who should see time at the third receiver spot: sophomores Yassin Moore and Evyn Menta, junior Elijah Taylor and senior Andrew Schlendorf. Donovan has a pair of returning starters at tight end in 6-foot-4 junior Chris Aldrich and 6-foot-3 sophomore Ethan Capone. Freshman Levi Watkins (6-3, 200) will also see time at tight end.
Kenmore (6-1, 235) and Aluko (6-2, 275) return to anchor the offensive line at center and right guard, respectively. Junior Thomas Buxton (6-4, 290) started a few games last season and will now step into a full-time role at right tackle. At left tackle is 6-foot-5, 300-pound sophomore Cam McNair and at left guard is 6-foot-2, 215-pound freshman Dominick Brogna.
The Griffins had one of the worst defenses in the Shore, statistically, last season in allowing 29.1 points per game, so that is an area of focus to improve in 2018. Donovan's 3-4 alignment has Kenmure as a returning starter at defensive end and Aldrich, who started a handful of games last season, also at defensive end. Aluko saw some action on defense last season and will start at defensive tackle alongside McNair. Also in the mix on the defensive line are Capone, Brogna and junior Elio Siragusa.
Green and Nocera were the Griffins' top two tacklers last season and return as starters at inside linebacker. Calhoun is at one of the outside linebacker spots with Porsch and junior Xavier Ellis working at the other spot. Green made 82 tackles last season as a freshman and is an emerging leader of the defense.
"As the middle linebacker, he's the quarterback of the defense," Curcione said. "He makes our checks, he makes our calls, and he did that as a freshman. He's really grasped the defense and I think he can be a very good defender for us."
Laney is a returning starter at cornerback after pulling down three interceptions last season. Bivins, Menta and sophomore John Schlendorf are the other cornerbacks while juniors Keaon Torres and Jared Helstowski return as the starting safeties. Moore and Andrew Schlendorf could also see time in the secondary.
On special teams, Torres will be the kicker and Clark returns as the punter. Siragusa is the long snapper.
Divisional realignment has the Griffins in the National Division with Holmdel, Asbury Park, Keansburg, Keyport, Manchester and Point Beach. It is there they hope to continue the program's turnaround.
"I want to get better every day," Curcione said. "I didn't sit down and say 'three years from now this is where we want to be'. We just want to run a really good program and one kids enjoy playing in, and coach them up as best we can. We're ultra-competitive as coaches, we want to win, we want to work and the kids see that. Hopefully it rubs off on them."
"I want to watch the first practice and first game and then watch the last game and see we are much better as a team. As long as that happens the wins will take care of themselves."
Head coach: Dan Curcione, second season (fifth overall).
2017 record: 4-6 (4-3 in B South)
Coaching staff: Chip LaBarca Jr. (off. coordinator); Jack Nascimento (QB); Dean Helstowski (RB); Sean McPherson (WR/DB); Jon Power (OL/DL); Ryan Wells (OLB); Pat Dowling, Eric Bruno (freshmen); Bob DiStefano (athletic trainer).
BIG SHOES TO FILL: Xavier Ellis, Jr., LB and Devin Porsch, Jr., LB
The tandem will be stepping in at outside linebacker where last season Sal DiSalvo made a team-high seven sacks and was one of the Griffins' top all-around players.
The Griffins scored 21 points per game last season and that number figures to get even better. The defense, however, allowed nearly 30 points per game and has to get better if Donovan is going to continue its progression.
IMPACT NEWCOMER: Nasir Calhoun, Jr., RB/LB
A transfer from Toms River North, Calhoun will start at outside linebacker and also see time in the backfield amongst a deep group of running backs.
PIVOTAL GAME: Oct. 5 vs. Holmdel
The Griffins and the Hornets, along with Asbury Park, look to be the top contenders for the National Division championship. A fellow Group 3 school, Holmdel also has several returning starters and is eyeing its best season in a decade. It should be a fun night under the lights on the Griffins' brand-new turf field.
Managing editor Bob Badders can be reached at bob.badders@townsquaremedia.com. Follow him on Twitter @Bob_Badders. Like Shore Sports Network on Facebook and subscribe to our YouTube channel for all the latest video highlights.
More From Shore Sports Network