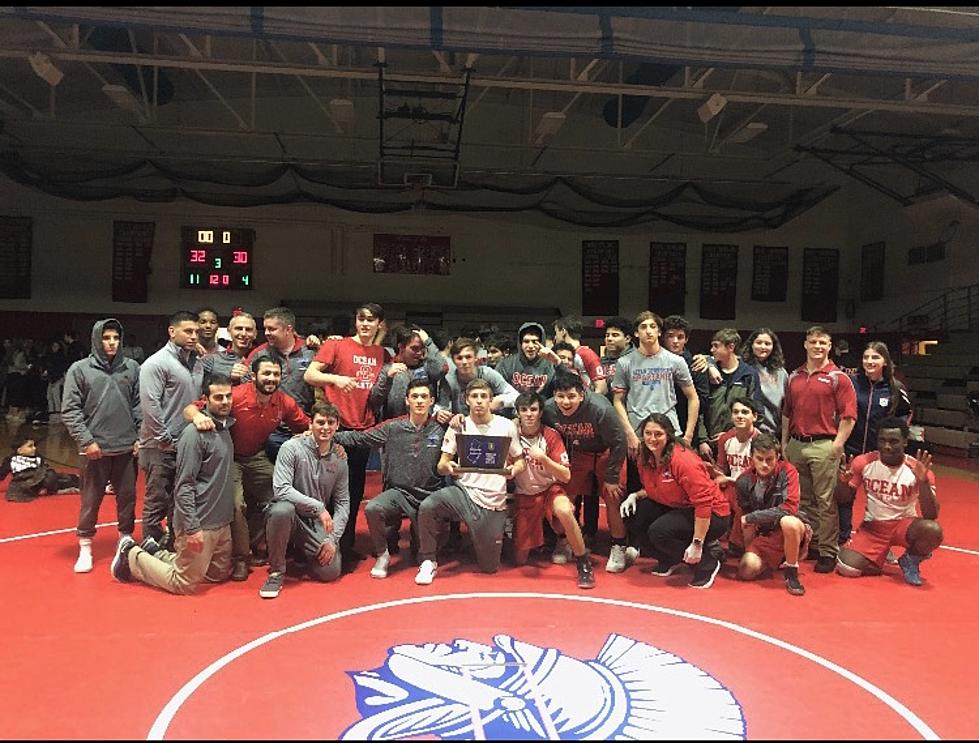 Ocean defeats Hopewell Valley to win Central Jersey Group 3 title
Photo provided by Ocean wrestling.
From the moment the NJSIAA sections were realigned and perennial juggernaut South Plainfield was moved from Group 3 to Group 2, Ocean head coach Cippy Apicelli knew his team had a realist chance to win a state title.
On Friday night, the Spartans hosted Hopewell Valley in the Central Jersey Group 3 sectional final, and he reminded his squad of the opportunity ahead of them.
"The message was that this is something we've known [we could accomplish] for months and it's right here tonight," Apicelli said. "You have to wrestle the best six minutes of your life."
The Spartans seized the moment with bonus points in five of their seven wins, including a match-turning pin by senior Ryan Moran at 195 pounds, to defeat the Bulldogs, 32-30, and capture the program's seventh sectional title. Nick Benner (132) and Joe Teresi (285) also won by fall while Jack Nies (138) and Alex Poniros (145) won by major decision to help provide the winning margin. Anthony Esposito bumped up to 170 and delivered a 4-0 decision and Will Tisony clinched the title with an 11-4 decision in the penultimate bout.
Ocean was leading 17-6 halfway through the match when Moran squared off with Christian Cacciabaudo. After a scoreless first period, Moran escaped with 30 seconds left in the second period and held a 1-0 lead heading to the third. Cacciabaudo took defense in the third and Moran rode him for about 90 seconds before a stalemate was called.
"Then all hell broke loose," Apicelli said. "The kid is rolling around and he sits out to his butt and is about to get out, but Moran just reacts and sticks him to his back."
The fall came just before the buzzer, turning what could have been an overtime bout to a monstrous pin and six team points for Ocean, which now led 23-12. Not a bad week for Moran, who signed with Monmouth University for football on Wednesday.
"That's a kid who wasn't going to wrestle but he sucked it up for the team," Apicelli said. "He's a tough kid. Thank god he bought into what we were selling him because we don't win without him.
Benner started the match by pinning Larry Kennedy in 1:47 at 132 pounds. Nies followed with a 14-5 major decision over Aaron Longo in a matchup of region qualifiers at 138 pounds and Poniros produced a 12-4 major decision over Heath Trainor at 145 pounds to open up a 14-0 lead. Poniros, who was seventh in the state at 132 pounds, returned to action on Monday in the quarterfinals. He had been out since December with a shoulder injury.
"It was a very nerve-racking week of practice because you're dealing with a kid who's hurt, but he had to get ready," Apicelli said. "He's one of the tougher kids we've had and he battles. He's going to fight you, he doesn't care who you are. He's going to give you a war."
In addition to the bonus-point wins, Ocean was also able to limit the bonus points by Hopewell Valley. The two teams wrestled earlier in the season with Ocean winning 38-28. Both teams were without key wrestlers in that match – Poniros for Ocean and two-time state qualifier Chris Lanciano for Hopewell. In that match, Jared Tracey lost by 19-7 major decision to Region 5 fifth-place finisher Justin Venezia, but this time held him to a 6-2 decision at 152. Tah-Jay Phillips fought off his back on the line to limit Sean Santora to an 11-5 decision at 160 pounds and Dino Poniros held region qualifier Brian LaCross to a 3-2 decision at 220.
"Losing small won us the match as much as Moran's pin," Apicelli said.
Teresi won by fall over John Snyder in 1:33 at heavyweight to give Ocean a 29-15 lead with four bouts left. The cushion allowed the Spartans to absorb a 5-2 win by Christian Micikas over Blake Tarnowski at 106 and Jacob Venezia pinning Demetri Poniros in 5:20 at 113. Tarnowski won 2-1 in the first meeting and Venezia won 1-0 in the first meeting.
Leading 29-24, Ocean only needed a win of any kind by Tisony at 120, and he delivered with an 11-5 decision over Joey Vannozzi to clinch the sectional championship. The Spartans forfeited to Lanciano at 126.
Ocean is the No. 1 seed in the Group 3 tournament, which begins with the semifinals at 11:30 a.m. on Sunday at RWJBarnabas Health Arena on the campus of Toms River High School North. The Spartans will take on West Essex while Montville and Delsea will meet in the other semifinal. Ocean has seven sectional titles in its history – all since 2004 – but has never won an overall Group 3 title
"It's absolutely there for us," Apicelli said. "West Essex is very good, but I've been looking at their lineup and we can beat them, and I'm not just saying that. I believe in my kids."
1-Ocean 32, 2-Hopewell Valley 30
*7th sectional title and first since 2012*
132

Nicholas Benner (Ocean) over Larry Kennedy (Hopewell Valley) (Fall 1:47)

138

Jack Nies (Ocean) over Aaron Longo (Hopewell Valley) (MD 14-5)

145

Alex Poniros (Ocean) over Heath Trainor (Hopewell Valley) (MD 12-4)

152

Justin Venezia (Hopewell Valley) over Jared Tracey (Ocean) (Dec 6-2)

160

Sean Santora (Hopewell Valley) over Tah-Jay Phillips (Ocean) (Dec 11-5)

170

Anthony Esposito (Ocean) over Josh Beigman (Hopewell Valley) (Dec 4-0)

182

Brandon Bowman (Hopewell Valley) over Evan Romein (Ocean) (Fall 3:50)

195

Ryan Moran (Ocean) over Christian Cacciabaudo (Hopewell Valley) (Fall 6:00)

220

Brian LaCross (Hopewell Valley) over Dino Poniros (Ocean) (Dec 3-2)

285

Joseph Teresi (Ocean) over John Snyder (Hopewell Valley) (Fall 1:33)

106

Christian Micikas (Hopewell Valley) over Blake Tarnowski (Ocean) (Dec 5-2)

113

Jacob Venezia (Hopewell Valley) over Demetri Poniros (Ocean) (Fall 5:20)

120

William Tisony (Ocean) over Joey Vannozzi (Hopewell Valley) (Dec 11-4)

126

Chris Lanciano (Hopewell Valley) over Unknown (For.)
Managing editor Bob Badders can be reached at bob.badders@townsquaremedia.com. Follow him on Twitter @Bob_Badders. Like Shore Sports Network on Facebook and subscribe to our YouTube channel for all the latest video highlights.