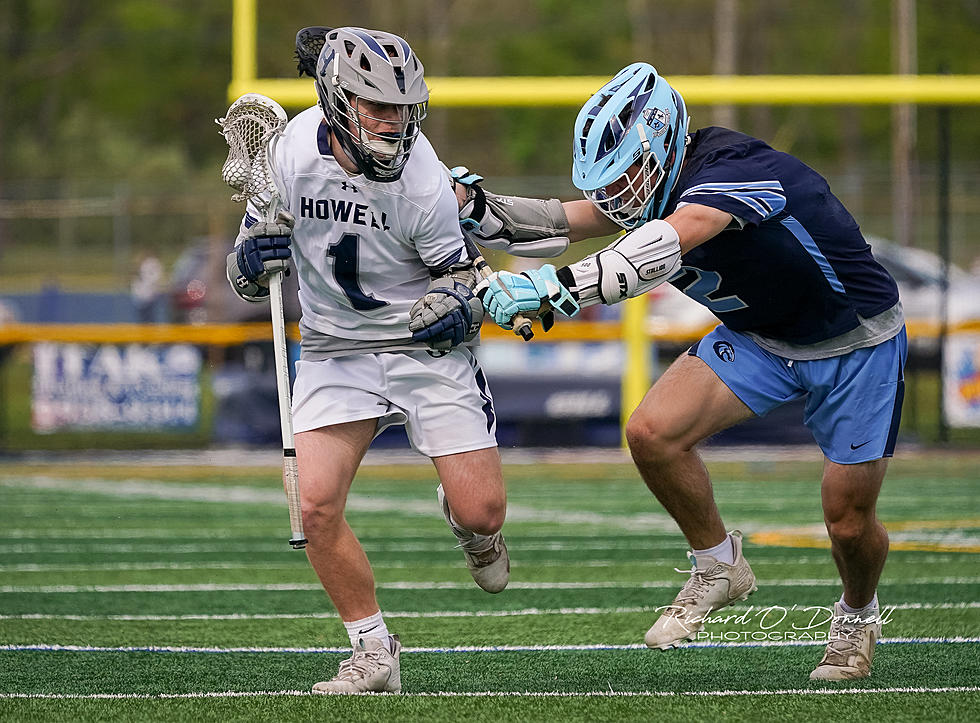 No. 7 Howell's Offense Erupts in Second Half to Surge Past No. 8 Middletown South
Richard O'Donnell

FARMINGDALE -- When everything is working to its potential as it did on Wednesday afternoon, the Howell boys lacrosse team is one dangerous opponent.
A tight game at the half was blown wide open in the third quarter as the host Rebels, ranked No. 7 in the Shore Sports Network Top 10, erupted for seven goals in the third quarter and 10 total strikes in the second half, closing the game with eight unanswered tallies to surge past No. 8 Middletown South, 14-5, and earn a huge Class A North victory.
Senior midfielder Tyler Burns had his best game of the season with three goals and two assists and junior attackman Jack Marich had the hot hand with a game-high four goals. Howell has multiple offensive options and all of them made an impact as senior attackman Vin Burns also had a hat trick, senior midfielder Doug MacKenzie had two goals and one assist, and junior attackman Nate Lorenzo and sophomore midfielder Ian McDow each tallied a goal and an assist.
"We just wanted to move the ball around and get it going fast," said Tyler Burns. "Coach told us we can beat this team, we can run by them, and that's what we did."
Arguably more impressive was the play of Howell's defense, which settled down after the first quarter to allow just two Middletown South goals over the final 36 minutes of play. Senior defenseman Shayne Hughes and freshman defenseman Colin Finnegan each had two caused turnovers and senior goalie Colin Fay stood tall during the fourth quarter, making six high-quality stops to finish with a total of 11 saves.
"At halftime I pulled the defense aside and told them we have to toughen up," Fay said. "We have to slide better, slide to the body, figure out who the 2 is and not leave a guy in the middle. Just clean up the little things, really."
It all added up to a thorough victory against a fellow ranked team that enabled Howell to keep pace atop the Class A North standings. With victories over Manalapan and Middletown South in the division, Howell has overcome two big hurdles. If the Rebels can take care of business in games they will be heavily favored they will set themselves up to play No. 6 CBA for the division title when the teams meet on May 3.
"We made a lot of the little plays that were there to be made, had some tough 50/50 ground balls, had some tough man-down stops, and took the ball away when the opportunity presented itself," said Howell head coach Anthony Bonjavannij. "What we keep saying to the kids is to keep making the play that's there, and then go make another one."
Burns gave Howell a 1-0 lead at the 6:59 mark of the first quarter but Middletown South answered with three straight goals to take a 3-1 lead. John Beyer dodged two defenders to tie the score at 1-1 before Colin Gallagher set up Luke Rohrmann inside for a goal at 2:54 that put the Eagles on top. With time winding down in the first quarter, Rohrmann found a ground ball just north of the crease and whipped it past Fay just before the buzzer to send the Eagles into the second quarter with momentum.
From there, it was all Howell.
The Rebels scored three times in the second quarter to take a 4-3 lead into halftime as Tyler Burns, Vin Burns, and March all scored to put Howell ahead for good, Tyler Burns made it 3-2 when he used some quick dodges to get his hands free and fire a shot into the net. Vin Burns tied the score when it spin to the creases from X and tucked one past Middletown South goalie Lucas Campos. The go-ahead goal came when Tyler Burns absorbed a big hit to set up Marich for a goal.
The teams traded goals early in the third quarter as Gallagher buried a slick feed from Brendan Gilbert to tie the score, MacKenzie answered to make it 5-4, and then set up Marich 43 seconds later to give Howell a 6-4 lead. Middletown South stayed close and trimmed its deficit to 6-5 when defenseman Owen Richter ran through half the Howell team for a goal.
Howell began to pull away when Vin Burns made a great play to knock the ball away from Campos, who was out of the crease and dunk it in for a 7-5 lead. Howell pushed for a goal to make it a three-goal cushion and finally found it when MacKenzie blasted a shot from just inside the box off a pass from Lorenzo. The lead was now 8-5 and that's when the flood gates began to open. Lorenzo scored off a pass from Chris Calafior to make it 9-5 and McDow intercepted a pass at midfield and sent a long setup pass to Burns on the crease for a tap-in goal that made it 10-5. With three seconds left in the third quarter, Tyler burns curled around the crease and stretched up to slip the ball into the net, pushing Howell's lead to 11-5 heading into the final quarter.
"It felt really good (to get that three-goal lead)," Tyler Burns said. "Once we got that one goal we were all feeling it and we just kept putting them it. We have a bunch of kids who can do everything and that's what's so good about our offense. We have depth and we can all finish."
The fourth quarter was more of the same with McDow scoring his first and Marich scoring twice in the final three minutes to put the game away.
Middletown South had its best chances during the fourth quarter with seven high-caliber scoring chances, but Fay was there to turn them aside each time, most notably with a point-blank stop on Rohrmann to squash any chance of a Middletown South comeback.
"That's what we practice," Fay said. "Probably see 100 shots every day in practice and in warmups and that's what we go through, all those situations."
"Colin is a great goalie and we can always rely on him," Tyler Burns said. "Right on the crease he made a couple big saves. He really wanted to win this game and he showed it right there in the fourth quarter."
"Goalies are like face-off guys and shooters in that when you're hot, you're hot," Bonjavanni said. "That's why we hold him to the standard we do because we know what he's capable of."
What Howell did on Wednesday was showcase its potential. The offense was balanced and fast, the defense continued to grow, face-off specialist Glenn Giordano had a workmanlike day, and Fay was excellent in goal. There's a reason why the 2022 season has been one the program has been looking forward to.
"We have a lot of seniors and we all want to make it far," Tyler Burns said. "And we have great coaching to help push us there."
Box Score
No. 7 Howell 14, No. 8 Middletown South 5
Midd. South (5-2, 3-2) 3 0 2 0 --  5
Howell (4-2, 4-0)         1 3 7 3 -- 14
GOALS -- MS: Luke Rohrmann 2, John Beyer, Colin Gallagher, Owen Richter; H: Jack Marich 4, Tyler Burns 3, Vin Burns 3, Doug MacKenzie 2, Nate Lorenzo, Ian McDow.
ASSISTS -- MS: Colin Gallagher, Brendan Gilbert; H: Tyler Burns 2, Doug MacKenzie, Nate Lorenzo, Chris Calafiore, Ian McDow.
SAVES -- MS: Lucas Campos, 6; H: Colin Fay, 11
SHOTS -- Howell, 35-27
FACE-OFFS -- MS: Beau Servidio, 11-for-22; H: Glenn Giordano, 11-for-22
EMO -- MS: 0-for-4; H: 0-for-2
The 5 Worst Monmouth County, NJ Traffic Roads
More From Shore Sports Network