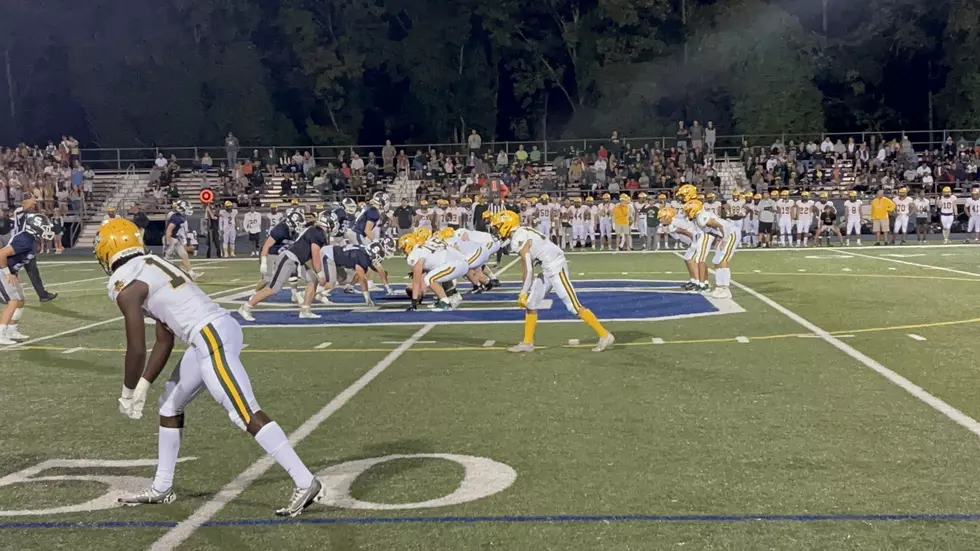 No. 1 Red Bank Catholic Cruises to Shutout Victory over No. 3 Middletown South
Robert Badders

MIDDLETOWN -- Offense, defense, specials teams; Red Bank Catholic had it all going on Friday night at The Swamp in a dominant victory over Middletown South.
Junior wide receiver Emanuel Ross caught a pair of touchdown passes and the defense allowed under 100 yards of offense as the Caseys, ranked No. 1 in the Shore Sports Network Top 10, rolled to a 35-0 Shore Conference American Division victory over the No. 3 Eagles.
Sophomore quarterback Frankie Williams threw touchdowns of 17 and 38 yards to Ross and also tossed a 15-yard touchdown pass to senior wideout Najih Rahman. Senior running back Torin Harmon had a 4-yard touchdown run and senior running back Sabino Portella had a 14-yard touchdown run. Senior Robert Stolfa made several impact plays on special teams, one of which was a long punt return to set up a touchdown. He also had a 41-yard catch that led to a score.
RBC (4-0, 2-0) surrendered just a handful of first downs and limited Middletown South (2-1, 1-1) to 89 yards of offense. Senior linebacker Michael Palmieri recorded a sack while senior defensive back Christian Ungemah and junior defensive lineman Lorenzo Portella each posted tackles for loss.
Both teams' defenses owned the first quarter until an excellent punt by RBC junior VJ Muscillo was downed inside the Eagles' one-yard line. That led to Middletown South punting and giving the ball back to RBC deep in Eagles' territory. Harmon polished off the short drive with a 4-yard touchdown run on third-and-goal and the Caseys were off and running from there.
The lead grew to 14-0 in the second quarter when Williams connected with Rahman over the middle for a 15-yard score with 8:04 left in the first half. RBC would add two more touchdowns in those eight minutes, starting with Stolfa's long punt return setting up Williams to find a wide-open Ross in the corner of the end zone for a 17-yard score. On the Caseys' next offensive possession, Stolfa got behind the defense for a 41-yard catch and Portella scored on a 14-yard run on the next play. Ross closed the scoring when he took a short pass and turned it into an impressive 38-yard touchdown with 2:53 left in the third quarter.
These 10 New Jersey Colleges Were Ranked Best In The Country
So what are the ten New Jersey Colleges and Universities that made the list of best in the country according to US News' 2022 list?
More From Shore Sports Network