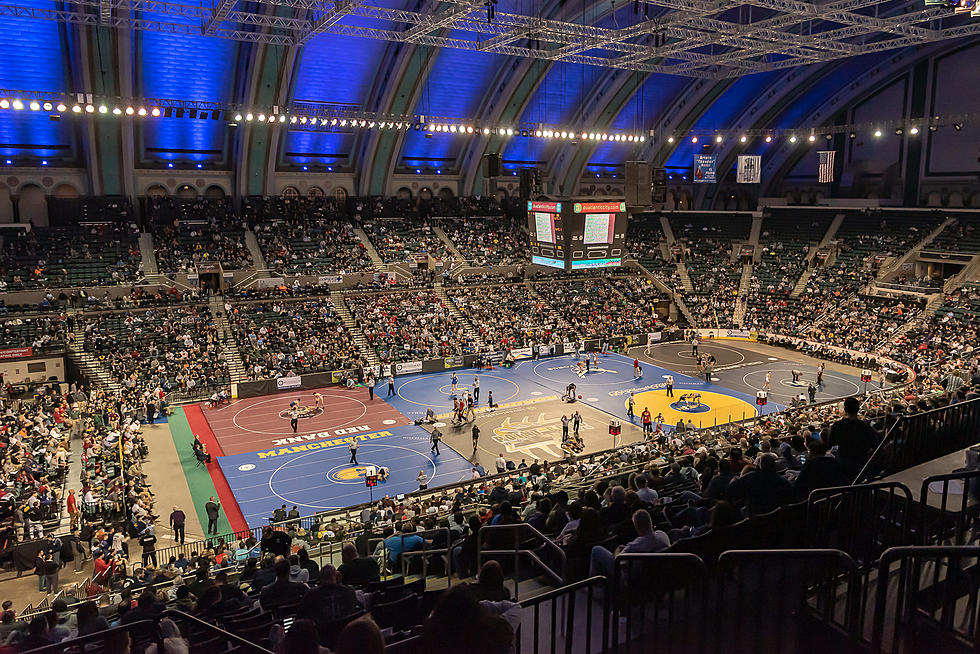 NJSIAA Wrestling Championships: 16 semifinalists, 31 total medalists for the Shore Conference
Photo by Richard O'Donnell.

Enter your number to get our free mobile app
ATLANTIC CITY – The Shore Conference has 16 state semifinalists who will wrestle Friday night for a spot in the state finals and a total of 31 state medalists following the first session of action on Friday at the NJSIAA Wrestling Championships at Boardwalk Hall.
The Shore has semifinalists at 106, 113, 120, 152, 160, 170, 182, 195 and heavyweight and state medalists in every weight class except 220 pounds.  The 182-pound weight class leads the way with three semifinalists and five total all-state wrestlers. The Shore has two semifinalists at 106, 120, 160, 170 and heavyweight and three medalists at 106, 120, 138, 160, 195 and heavyweight.
Brick Memorial leads the way with four state semifinalists – Freshman Anthony Santaniello at 106, junior Vincent Santaniello at 120, senior Joe Colon at 182 and junior David Szuba at 195. The Mustangs have the most semifinalists of any public school and are tied for third with St. Joseph (Montvale) behind Delbarton (6) and Bergen Catholic (5).
Southern and Howell have two semifinalists each. Seniors Robert Woodcock (160) and JT Cornelius (285) are in the final four for the Rams while the Rebels have seniors Shane Reitsma (170) and Justin Wright (285) two wins away from a state title.
Wrestlers who reach the semifinal round can finish no lower than sixth. Wrestlers who won in the fourth round of wrestlebacks can finish between third and eighth.
Santaniello and Brick's Evan Tallmadge each won their quarterfinal bouts and will face each other for the second time this season. Santaniello won the battle of best friends and training partners, 1-0, in the Shore Conference Tournament final. Santaniello won by 10-0 major decision over Butler's Brett Redner and Tallmadge defeated Southern's Conor Collins, 7-3.
Middletown North senior Tyler Klinsky won by 21-6 technical fall over Northern Burlington's Garrett Totten to reach the 113-pound semifinals. Klinsky was a state finalist at 106 pounds last season and is the Shore's all-time wins leader with 167 and counting. He has won by technical fall in all three of his bouts. He is the No. 2 seed and will take on Bergen Catholic's Joe Cangro, the No. 3 seed, in the semifinals.
Returning state champion Dean Peterson, a junior at St. John Vianney, won 7-0 over Paulsboro's Georgio Mazzeo to reach the 120-pound semifinals. He will face Bergen Catholic's Nick Kayal and look to reach his third straight state final.
Also at 120, Brick Memorial's Vincent Santaniello outlasted Randolph's Matt DiStefano, 4-2 in double overtime, to reach the semifinals for the second straight year. He will square off against Emerson/Park Ridge senior Nick Babin, who is 42-0. Babin was the state runner-up at 113 last season and defeated Santaniello in the semifinals, 3-2. Santaniello wrestled back to finish third.
Toms River North senior Nick Boggiano won 5-0 over St. Joseph-Montvale's Stefano Sgambelione to reach the 152-pound semifinals. He will face the top seed, Lyndhurst/North Arlington junior Dylan Weaver.
At 160, Manalapan senior Matt Benedetti advanced to the semifinals for the second straight year with a 3-2 victory over Bergen Catholic's Nate Camiscioli. Benedetti will face standout High Point sophomore Brian Soldano. Joining him in the semifinals is Woodcock, who won 3-0 over Camden Catholic's Harrison Hinojosa. Woodcock will square off against the No. 1 seed, Delbarton's Dante Stefanelli.
Reitsma, the No. 1 seed, won 1-0 over Haddonfield's Luke Benedict in the 170-pound quarterfinals to get back to the semifinals. Reitsma was a state finalist at 170 last season and is a three-time state medalist. He had defeated Benedict in the Region 7 final last weekend, 3-2.
Rumson-Fair Haven junior Jack Kelly won by fall in just 65 seconds over Piscataway's Marcus Petite to reach the 170-pound semifinals as the No. 12 seed. He will face Reitsma for the second time this season. Reitsma won 10-8 in Shore Conference Tournament semifinals but Kelly opened eyes by scoring a takedown in the second period and another with one second left to keep it close.
The Shore Conference had five quarterfinalists at 182 and saw three punch through to the semifinals. Colon scored a takedown and three back points in the closing seconds of the match to win 8-3 over Point Beach's Jason Sherlock and clinch his first state medal. Wall junior Jake Whitworth won 7-3 over Shawnee's Isaac Dean and Colts Neck's Luke Rada won 6-4 over Fair Lawn's Benjamin Liss on a takedown with 27 seconds left.
St. John Vianney's Blake Clayton lost by fall to the No. 1 seed, Colonia senior and Rutgers recruit John Poznanski.
Colon will face Poznanski and Rada will take on Whitworth in the semifinals.
At 195 pounds, Szuba won the rubber match with Jackson Memorial senior Kyle Epperly, 11-8, to reach the semifinals. Szuba led 2-1 after the first period, scored a takedown and two back points in the second to lead 6-5 and used a reversal and a takedown in the third to make it to the final four. Epperly had defeated Szuba in the SCT final, 10-3, but Szuba won by fall in the Region 7 semifinals.
Szuba has Delbarton's Luke Chakonis in the semifinals.
One of the biggest upsets of the tournament came courtesy of Wright at heavyweight when he defeated the West Essex senior Bardhyl Gashi, 3-2 in double overtime, on an escape and a locking hands infraction. Gashi was the No. 1 seed and a state finalist last season.
Also at heavyweight, Southern's JT Cornelius took out a returning state medalist as the No. 7 seed, beating the No. 2 seed and returning sixth-place finisher Marcus Estevez of Franklin, 8-2.
Wright will wrestle St. Joseph (Montvale) freshman Jim Mullen and Cornelius will get the heavyweight Cinderella, Dwight Morrow's Hector Lebron. The No. 14 seed, Lebron defeated Ocean's Joe Teresi (3 seed) and Barnegat's Griffin Jackstadt (6 seed) to reach the semifinals.
Coming through the consolation bracket to earn All-State status were as follows:
106 – Jack Zaleski, Fr., Middletown South
113 – Ryan Rosenthal, Sr., Toms River North
120 – Fred Luchs, Sr., Middletown North
126 – Nico Messina, Sr., Freehold
132 – Jack Nies, Sr., Ocean
138 – Ryan Zimmerman, Sr., Long Branch
138 – Eddie Hummel, Jr., Southern
138 – Al DeSantis, Sr., Shore
145 – Max Brignola, Jr., Rumson
160 – Shay Addison, So., Rumson
182 – Jason Sherlock, Sr., Point Beach
182 – Blake Clayton, Jr., St. John Vianney
195 – Kyle Epperly, Sr., Jackson Memorial
195 – Patrick O'Dwyer, Sr., Long Branch
285 – Griffin Jackstadt, Sr., Barnegat
Zaleski pinned Williamstown's John Hildebrandt to become Middletown South's first state medalist since Charlie Croce in 2009 and the Eagles' first freshman since Glenn Pritzlaff in 1991 to earn a state medal.
Rosenthal outlasted Rahway's Kaelan Fancois 7-6 in double overtime.
Luchs used a five-point move in double overtime to win 11-7 over Don Bosco Prep's Mike Tandurella.
Messina finally broke through in his fourth try to earn a state medal and become Freehold's first all-state wrestler since Carlos Fontanez in 1964. He defeated St. Peter's Prep's Sean Rendeiro, 12-8.
Nies won 4-1 over Kingsway's Jake Gentile.
Hummel earned revenge on Woodstown's Hunter Gandy with a thrilling 3-1 victory in sudden victory overtime. Gandy had defeated Hummel in the Region 8 final, 8-3, to hand him his first loss. Hummel was the No. 7 seed but lost in the first round on Thursday night. He won four straight bouts in the wrestlebacks to clinch his second straight top-8 finish.
Zimmerman won 5-2 over Hunterdon Central's Tanner Peake and DeSantis used a four-point move in the third period to defeat Perth Amboy's James Rodriguez.
Brignola won 11-8 over Camden Catholic's Dante Monaco and Addison won 5-2 over Cherokee's Nathan Lapinski to give Rumson three state medalists for the first time in program history.
Sherlock won 5-4 over Montville's Michael Conrad and Clayton pinned Piscataway's Nicholas Lodato in 42 seconds.
At 195, Epperly pinned Manalapan's Gavin Claro in 1:37 to lock up his second straight medal. O'Dwyer completed an improbable podium run as the No. 19 seed when he scored a takedown in sudden victory to defeat Pequannock's Tommy Goodwin, 3-1.
At heavyweight, Barnegat's Griffin Jackstadt became the Bengals' first state medalist in program history by defeating Fair Lawn's Jakob Shapiro, 9-6.
Managing editor Bob Badders can be reached at bob.badders@townsquaremedia.com. Follow him on Twitter @Bob_Badders. Like Shore Sports Network on Facebook and subscribe to our YouTube channel for all the latest video highlights.
More From Shore Sports Network