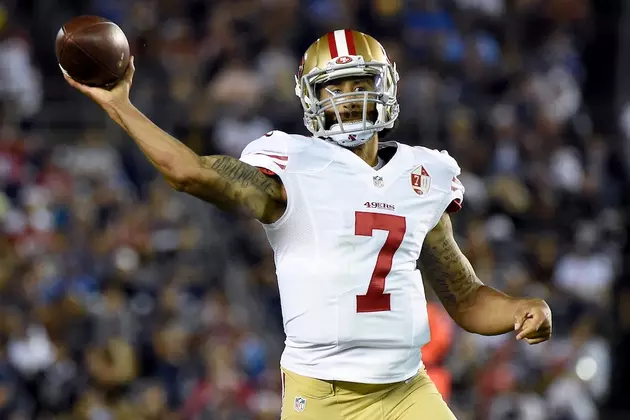 NFL Week 6 Preview: Colin Kaepernick Gets a Start
Getty Images
This week's NFL schedule is loaded with crucial early-season matchups. Here's a preview of Week 6:
Colin Kaepernick Stands for Progress for the Niners
San Francisco at Buffalo | New Era Field, Buffalo, N.Y.; 1 p.m. (ET) on Fox
Did anyone believe that Blaine Gabbert wouldn't require a replacement sooner than later? Niners coach Chip Kelly finally figured it out, so he'll start backup Colin Kaepernick for struggling San Francisco (1–4) against resurgent Buffalo (3–2) on Sunday.
If the Bills can get to Kaepernick and wear down San Fran's defense — something running back LeSean McCoy would love to do — they could nicely position themselves in the thick of the (still early) AFC playoff race.
The Bengals Picked the Wrong Week for a Must-Win Game
Cincinnati at New England | Gillette Stadium, Foxboro, Mass.; 1 p.m. (ET) on CBS
An AFC regular-season powerhouse for the past five years, Cincinnati (2–3) is on the verge of having its window of contention slam shut. Already behind Pittsburgh and Baltimore in the AFC Central, the Bengals must rescue their season against New England (4–1) and the very driven Tom Brady. The Cincy defense must also guard against being so worried about Brady that they allow LeGarrette Blount to gash them like Dallas's Ezekiel Elliott did last Sunday. Either way, Bengals head coach Marvin Lewis may want to start getting his resume in order.
Julio Jones vs. Richard Sherman = Must-See Football
Atlanta at Seattle | CenturyLink Field, Seattle; 4:25 p.m. (ET) on Fox
A few years ago — January of 2013 to be exact — the Seahawks and the Falcons were both young and talented NFC playoff teams on the verge of greatness. Despite that loss, Seattle (3–1) has fulfilled its potential, winning a Super Bowl and becoming one of the NFL's best teams. Atlanta (4–1) did not. Thanks to the re-emergence of quarterback Matt Ryan and receiver Julio Jones, the Falcons seem ready to be a force again.
Currently ranking third in the NFL in receiving yards, Jones has been un-coverable this season. He'll draw plenty of attention from Seahawks all-world cornerback Richard Sherman this Sunday. The downfield duel is likely to determine if Atlanta can win — and will therefore be deemed a real NFC contender. If Seattle can keep winning while its line develops in front of quarterback Russell Wilson, these teams could find themselves meeting again this January.
Is Dak Prescott the Future of the Cowboys?
Dallas at Green Bay | Lambeau Field, Green Bay, Wis.; 4:25 p.m. (ET) on Fox
While Cowboys first-round draft pick Ezekiel Elliott leads the NFL in rushing, it's quarterback Dak Prescott who has truly overachieved for Dallas (4–1) thus far in 2016. The rookie fourth-round pick is second in the league in opponent-adjusted QBR at 84.1, and he has yet to throw an interception — setting an NFL record with 155 pass attempts without a pick to start his career. Prescott should extend that streak this Sunday against Green Bay (3–1), a team that has just two interceptions on the season (tied for 25th).
Does all of this mean Prescott is Dallas's quarterback of the future? Well, no. It's hard to imagine injured veteran Tony Romo not getting his job back once his back heals, so maybe Prescott can serve as a really capable backup? As long as the Cowboys keep their incredible offensive line together in front of the skill players, Dallas should stay winning, which is really what the NFL is all about.
The AFC South Title Game: Part I
Indianapolis at Houston | NRG Stadium, Houston; 8:30 p.m. (ET) on NBC
Can we all agree that the AFC South title is going to come down to the Colts vs. the Texans? Unless the Titans improve quickly, the division crown is likely to be decided by the clashes between defensive-minded Houston (3–2) and the high-powered offense of Indianapolis (2–3). The teams meet for the first time in 2016 this week, with the Texans still smarting from the loss of J.J. Watt — and from a 20-point drubbing last week against the Vikings.
Colts quarterback Andrew Luck has piled up the passing yards this season, tying him for fourth in the NFL. He's also been sacked an NFL-high 20 times, which indicates how this game may turn out...SPOILER: (•_•) / ( •_•)>⌐■-■ / (⌐■_■) Un-Luck-y.
This division is Houston's to lose, even without Watt. Part II of this battle is scheduled for December 11 in Indy.
Other Games
Thursday, October 13
Denver at San Diego | Qualcomm Stadium, San Diego; 8:25 p.m. (ET) on CBS
Sunday, October 16
Philadelphia at Washington | FedEx Field, Landover, Md.; 1 p.m. (ET) on Fox
Cleveland at Tennessee | Nissan Stadium, Nashville; 1 p.m. (ET) on CBS
Baltimore at N.Y. Giants | MetLife Stadium, East Rutherford, N.J.; 1 p.m. (ET) on CBS
Carolina at New Orleans | Mercedes-Benz Superdome, New Orleans; 1 p.m. (ET) on Fox
Jacksonville at Chicago | Soldier Field, Chicago; 1 p.m. (ET) on CBS
Los Angeles at Detroit | Ford Field, Detroit; 1 p.m. (ET) on Fox
Pittsburgh at Miami | Hard Rock Stadium, Miami; 1 p.m. (ET) on CBS
Kansas City at Oakland | Oakland Coliseum, Oakland, Calif.; 4:05 p.m. (ET) on CBS
Monday, October 17
N.Y. Jets at Arizona | U of Phoenix Stadium, Glendale, Ariz.; 8:30 p.m.(ET) on ESPN
Bye Week
Minnesota, Tampa Bay
More From Shore Sports Network