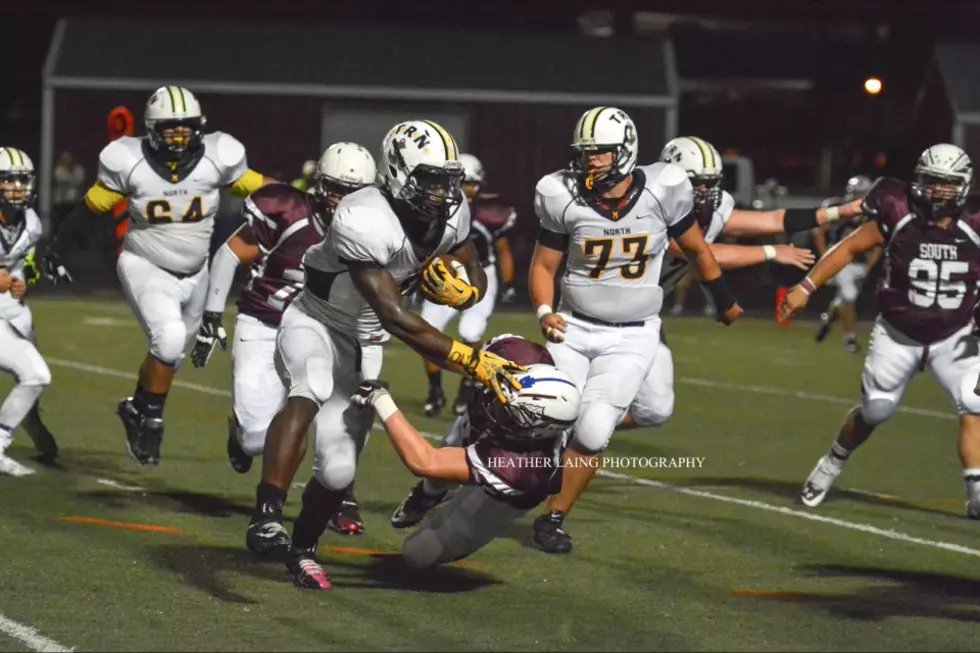 Moorer, Husni Lead TR North's Comeback Win Over No. 5 TR South
Toms River North junior running back Asante Moorer ran for 200 yards and four touchdowns on 31 carries to power the Mariners to a 44-34 victory over rival Toms River South and earn Sport Clips Player of the Week honors. (Photo credit: Heather Laing Photography)
TOMS RIVER — It would seem unwise for a team that scored just 14 points in a Week Two loss to enter a game with the plan of winning a shootout against an opponent averaging over 40 points per game, yet that was Toms River North's strategy when it invaded Detwiler Stadium on Friday night.
Game audio at the end of this report
"The gameplan was to come in and run the ball and be physical," Mariners head coach Dave Oizerowitz said to his team following the latest edition of the "Civil War". "We said we were going to come in here and outscore them. No one thought we could do that, but that's what we did tonight."
In a game defined by big plays and lightning-quick scoring drives that kept the scoreboard bulbs popping, unranked Toms River North stunned No. 5 Toms River South with a wild 44-34 come-from-behind Shore Conference Class A South victory.
Junior running back Asante Moorer was a human battering ram with 200 yards rushing and four touchdowns on 31 carries, including the go-ahead touchdown from four yards out with 4:05 left in the game. Sophomore quarterback Mike Husni supplemented Moorer's power running with 185 yards passing and two touchdowns, both to senior tight end Jordan Craig, while also picking up some key first downs with his legs. It all added up to the Mariners improving to 2-1 on the heels of a 1-9 season while taking out a top-five team in the Shore.
"This is very huge," Husni said. "Last week was a tough loss (16-14 to Brick Memorial) on everyone, but especially the offense because we couldn't get the job done. This week we had something to prove. We couldn't afford to go 1-2, and we just came out and played North football."
"The whole bus ride we were amped but stayed calm, we kept our heads in the game," Moorer said. "This is our biggest rival we have, and it's for respect in town. We needed this win."
Toms River South senior quarterback Tymere Berry nearly won the game by himself for the Indians (2-1, 1-1) by rushing for 131 yards and five touchdowns on 24 carries and also intercepting a pass on defense. Senior running back Khaleel Greene added 122 yards rushing on 15 carries, which included runs of 45 and 47 yards.
In the battle of the backfields it was the Mariners (2-1, 2-1) who came out on top this time, however. Husni and Moorer combined for 418 yards and all six Toms River North touchdowns, leading a pair of second-half comebacks for the program's biggest victory since Oizerowitz took over as head coach last season.
"I'm just so proud of our boys and I'm just trying to soak it in," Oizerowitz said. "They're so strong in character and ability. There's no quit in these boys, for sure."
Coming out of a long halftime break trailing by three, Toms River South got on track quickly in the third quarter to immediately grab a double-digit lead. After forcing a three-and-out, the Indians took a 20-16 lead when Berry scored on a 16-yard run to cap an 8-play, 81-yard drive. The Indians were aided by 35 yards in penalties by the Mariners on the drive, which included two 15-yard penalties on the same play.
Two plays later the Indians would get the ball again after Moorer fumbled and South junior linebacker Jaden Kosh pounced on it at the North 26-yard line. It took the Indians just three plays to capitalize when Berry scrambled and somehow found room for a 27-yard touchdown run on third-and-11 to put Toms River South up 27-16 midway through the third quarter.
The way the momentum had rapidly swung, all signs seemed to point to the Indians pulling away and winning easily. But Toms River North had other ideas.
On the second play of the ensuing drive, Husni rolled to his left before finding Craig deep down the field. Craig got behind the secondary to make the catch, then used his 6-foot-5, 225-pound frame to hold Greene off on his way to a 65-yard touchdown to cut North's deficit to 27-23.
"I think there was a moment (where the game turned) and that pass to Jordan was big for us to get right back in it," Oizerowitz said.
"That was a play we really needed to at least boost our attitude," Moorer said. "Nobody gave up or had their heads down."
A defensive stop after four plays gave Toms River North the ball back at its own 19-yard line with 1:48 left in the third quarter. Ten plays and 81 yards later, the Mariners were in the end zone and leading again for the first time since the second quarter.
This was Husni's drive to show off his playmaking ability. He connected with sophomore wide receiver Darrion Carrington for 29 yards to move the ball into South territory, then scrambled for a four-yard gain on third-and-three. He finished off the drive by lofting a pass to Craig, who leaped over a defender to haul in a 30-yard touchdown that gave the Mariners a 30-27 lead early in the fourth quarter.
"Jordan was begging for the football but we were waiting for the right matchup," Oizerowitz said. "He's made big plays for us. He did it against Brick Memorial, and he did it again tonight. That's a Division I tight end."
"Husni is a dynamic player, he's special," Oizerowitz added. "In two years I think we'll be talking about him like we talk about Berry now."
Speaking of Berry, he and the Indians weren't done yet. On the very next play from scrimmage, Greene found room up the middle for a 47-yard gain down to the Mariners' 12-yard line. Two plays later Berry scored on an eight-yard run to snatch the lead right back, 34-30.
Yet again, the Mariners had an answer, and this one was final.
Starting at their own 25-yard line with 7:06 left in the game, the Mariners marched 75 yards over 12 plays for the go-ahead and ultimately game-winning touchdown on a four-yard run by Moorer. North churned its way down the field on runs by Moorer and sophomore Parker Day before Husni hit junior tight end Calvin Jackson for 30 yards down to the Toms River South 8-yard line. Three plays later on third-and-goal, Moorer powered in from the four to give North a 37-34 lead.
"Asante Moorer has everybody's trust, we all know what he's capable of," Husni said. "You get a one-on-one and most of the time Asante's going to win that."
The Mariners defense then stopped Toms River South on four straight plays with junior lineman Dashon Copes providing the exclamation point by dropping Greene for a one-yard loss on fourth down. Moorer sealed the victory with a 13-yard touchdown - his fourth of the game - with 2:39 left.
Toms River South had struck first in the opening quarter when Berry intercepted Husni and returned it 31 yards to the North 19, setting up his own two-yard run for a 6-0 lead. A 22-yard field goal by sophomore Kyle Bayha would cut the deficit to 6-3, and Moorer would then give the Mariners their first lead, 9-6, when he broke five tackles on his way to a 38-yard touchdown run with 6:53 left in the second quarter.
A fumble recovery by junior linebacker Christian Lynch set up Moore's second touchdown, a seven-yard run that polished off a 7-play, 30-yard drive with 2:45 left in the first half to give North a 16-6 lead. South would come right back to make it 16-13 at halftime on a one-yard touchdown by Berry that was set up by a 45-yard run by Greene.
One week after a last-second loss to Brick Memorial, Toms River North is riding high after a thrilling comeback in front of a capacity crowd on its biggest rival's home field. A season that could've starting trending downward suddenly looks a lot different. And behind this young and talented backfield, North could be on its way to big things.
"This is where the season will turn around," Husni said.
"This tells us North is back," Moorer said.
Toms River North 44, No. 5 Toms River South 34
| | | |
| --- | --- | --- |
| | Toms River North | Toms River South |
| First downs | 18 | 13 |
| Rushes-yards | 52-258 | 40-264 |
| Passing | 6-7-1 | 3-11-0 |
| Passing yards | 185 | 79 |
| Fumbles-lost | 4-1 | 3-1 |
| Penalties-yards | 6-55 | 1-5 |
Toms River North (2-1, 2-1) 3 13 7 21 – 44
Toms River South (2-1, 1-1) 6 7 14 7 – 34
TRS – Berry 2-yard run (Shiffer kick)
TRN – Bayha 22-yard field goal
TRN – Moorer 38-yard run (kick failed
TRN – Moorer 7-yard run (Bayha kick)
TRS – Berry 1-yard run (Shiffer kick)
TRS – Berry 16-yard run (Shiffer kick)
TRS – Berry 27-yard run (Shiffer kick)
TRN – Husni 65-yard pass to Craig (Bayha kick)
TRN – Husni 30-yard pass to Craig (Bayha kick)
TRS – Berry 8-yard run (Shiffer kick)
TRN – Moorer 4-yard run (Bayha kick)
TRN – Moorer 13-yard run (Bayha kick)
Rushing – TRN: Asante Moorer 31-200, Mike Husni 7-33, Parker Day 14-25; TRS: Tymere Berry 24-131, Khaleel Greene 15-122, Jaden Kosh 1-11.
Passing – TRN: Mike Husni 6-7-1 185; TRS: Tymere Berry 3-11-0 79
Receiving – TRN: Jordan Craig 2-95, Bryce Watts 2-31, Calvin Jackson 1-30, Darrion Carrington 1-29; TRS: Javion Harris 2-70, Francis Hearn 1-9.
Interceptions – TRS: Tymere Berry 1-31.
---
GAME AUDIO
Click on the PLAY button to hear the segment. LEFT CLICK on the DOWNLOAD link to download a free MP3 file of the segment.
More From Shore Sports Network