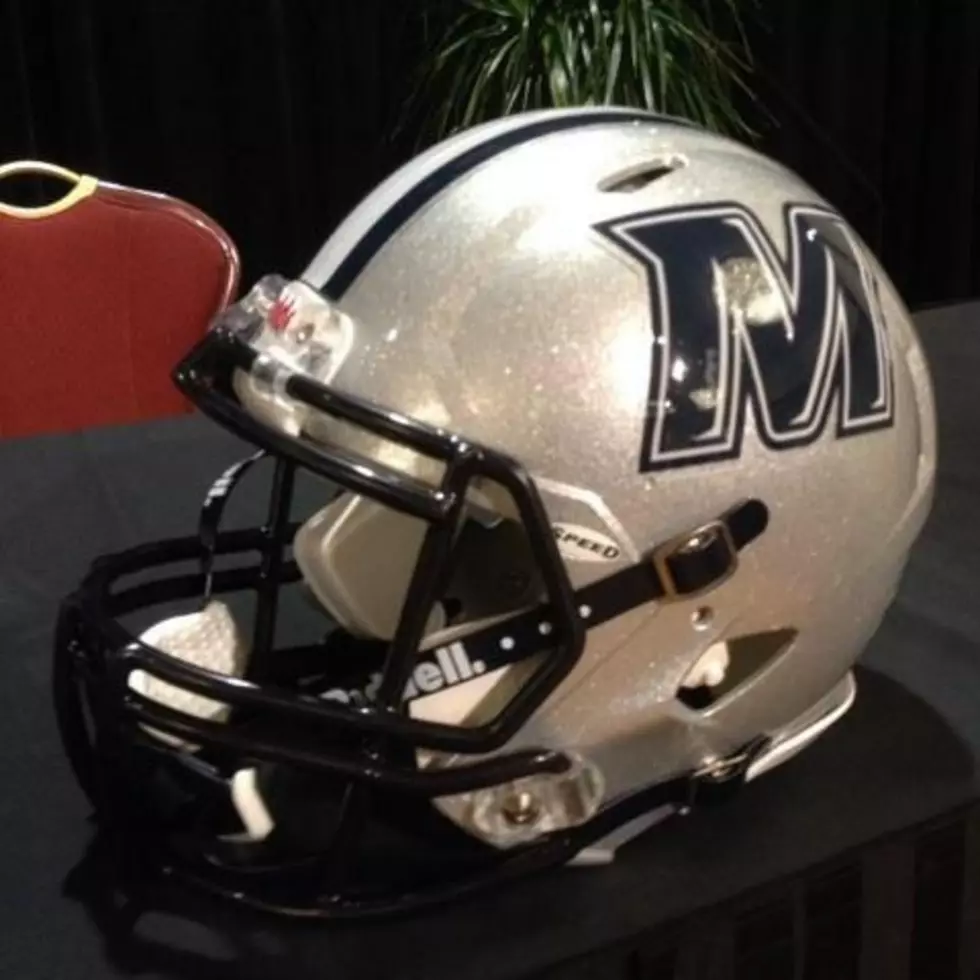 Monmouth Football Earns Big South Championship with 47-10 Win at Campbell
Monmouth University football helmet (Monmouth Athletics)
#15 Monmouth Hawks (9-2, 5-0 Big South) – 47
Campbell Camels (6-4, 3-2 Big South) - 10
BUIES CREEK, NC – Dominating the final three quarters, the #15 Monmouth University football team defeated Campbell, 47-10, to earn the 2019 Big South Championship and the league's automatic bid to the FCS playoffs.
Junior running back Pete Guerriero (Lyndhurst, NJ/Lyndhurst) had a historic day, setting the program record for all-purpose yards with 303 on a career-high 237 rushing yards and four total touchdowns.
The defense gave up just three points after the first quarter and forced four turnovers, led by senior linebacker Da'Quan Grimes' (Gaithersburg, MD/Damascus) 18 total tackles. Grimes also recovered a fumble forced by senior defensive lineman Nick Shoemaker (Dunmore, PA/Dunmore).
Senior linebacker Evan Powell (Marlton, NJ/Cherokee) totaled six tackles and an interception, and junior defensive back Justin Terry (Brooklyn, NY/Christ the King) compiled six tackles and a sack.
Fifth year quarterback Kenji Bahar (Baltimore, MD/Calvert Hall) completed 11 of 20 passes for 205 yards and two touchdowns, and became the first player in program history to amass over 3,000 total offensive yards in a single season.
Junior Lonnie Moore IV (Sicklerville, NJ/Paul VI) caught three passes for 73 yards and a touchdown in the win, while fifth year running back Devell Jones (Iselin, NJ/Lincoln) added 74 rushing yards on just six carries.
Monmouth improves to 9-2 (5-0 Big South) on the season, and extends its winning streak to seven games.
NOTES AND QUOTES
"I couldn't be happier about the way our guys played today. We talked to them about coming out here with a high level of intensity and focus. We fell behind early 7-0 in the first quarter but there was never any doubt that our guys would respond and continue to play and come back. We got tougher longer throughout the day. That's something this team has done all season long." – Monmouth head coach Kevin Callahan
"The defense played outstanding all day, including a really good job against the run. They clamped down against the pass after the first quarter. They came away with some opportunistic turnovers that the offense was able to convert into points. Anytime you are playing like that, in terms of offense and defense complimenting each other it's a going to be a good day."
-Monmouth Head Coach Kevin Callahan
"We've been relying on Pete all season long and the weather conditions made it difficult to throw the ball at times. We knew we were going to have to rely on Pete and Devell and the offensive line. I thought the offensive line did an outstanding job. We got ourselves into some run plays that could work and then Pete did a great job physically breaking those runs."
-Callahan on the run game
"It was one of those days where big time players make big time plays as an offensive unit we were able to step up as a team and get this win. The entire line is strong up front and they work hard each and every day and that's what has gotten us to this point. They are the heart of this offense. As the season goes on they just keep getting stronger and stronger and stronger." Pete Guerriero on the offensive line
-After the Monmouth defense forced a punt on the first drive of the game, the offense was faced with a third-and-15. Bahar found TE Gene Scott for a short pass, and the junior broke multiple tackles for a 19-yard gain. Mosquera eventually missed a 28-yard field goal wide right.
-Late in the first quarter, Campbell used a 14-play, 80-yard touchdown drive to take a 7-0 lead.
-On five straight rushing plays in the second quarter, Guerriero and Jones combined for 77 yards. After the Hawks' drive stalled, senior kicker Matt Mosquera put the Hawks on the board with a 28-yard field goal. With 7:45 left in the second, Monmouth trailed 7-3.
-Campbell QB Hajj-Malik Williams rushed up the middle, and Shoemaker came from behind to knock the ball out. Grimes recovered the fumble and Monmouth took over on its own 43.
-One play later, Guerriero sprinted up the middle for a 57-yard touchdown run.
-On the ensuing kickoff, WR Zach Tredway took advantage of the strong winds and jumped on a muffed catch. A play later, Bahar launched a 36-yard touchdown to Moore IV down the left sideline. Monmouth scored 14 points in seven seconds to go ahead 17-7.
-After receiving the second half kickoff, Bahar found Tredway and Moore IV for back-to-back 28 yards gains. Guerriero punched it in from two yards to give Monmouth a 24-10 advantage.
-Late in the third quarter, the Hawks were stopped on a fourth-and-1 from the Campbell 1. The Monmouth front seven then stuffed the Camels running back for a safety and 26-10 lead.
-After the safety, Bahar hit Guerriero on a screen pass, and the junior did the rest en route to a 50-yard touchdown.
-Early in the fourth quarter, Guerriero cut to the left on a misdirection and went down the sideline for a 75-yard touchdown to make it 40-10.
-After senior Russell Davidson recovered a fumble, the Hawks got back in Campbell territory. On a high snap, Bahar picked up the ball and rolled out to the right for a six-yard touchdown run and a 47-10 advantage.
-Powell sealed the win with an interception on the next possession, and the Hawks ran out the clock with 28 total rushing yards from sophomore James Fara.
NUMBERS CRUNCH
-Monmouth wins its first ever Big South Championship and will return to the FCS playoffs for the second time in three years.
-HC Kevin Callahan wins his seventh career conference title.
-Over the seven game winning streak, Monmouth has outscored opponents 237-86 and is averaging 33.9 points per game.
-Monmouth outgained the Camels 538-277.
-Monmouth is now 2-0 against Campbell all-time.
-Bahar became the program leader in career games for a quarterback (45). He increased his program records in passing yardage (8,537), total offense yards (3,112), passing completions (741), and passing touchdowns (63).
-Guerriero now has 3,407 career rushing yards (2nd all-time) and 29 rushing touchdowns (t-4th all-time).
-Moore IV continues his career year, and is up to 55 receptions for 796 yards and eight touchdowns in 2019.
-Sophomore Ryan Kost had a 53-yard punt.
-The Hawks had 25 first downs to Campbell's 15.
-Monmouth totaled 333 yards rushing.
UP NEXT
The Hawks will host Hampton next Saturday for the regular season finale. Monmouth leads the all-time series 2-0, including a 56-28 win last season in West Long Branch. Bahar threw for 326 yards and three touchdowns, while Guerriero rushed for 209 yards and three touchdowns in the victory.

Enter your number to get our mobile branded app
More From Shore Sports Network