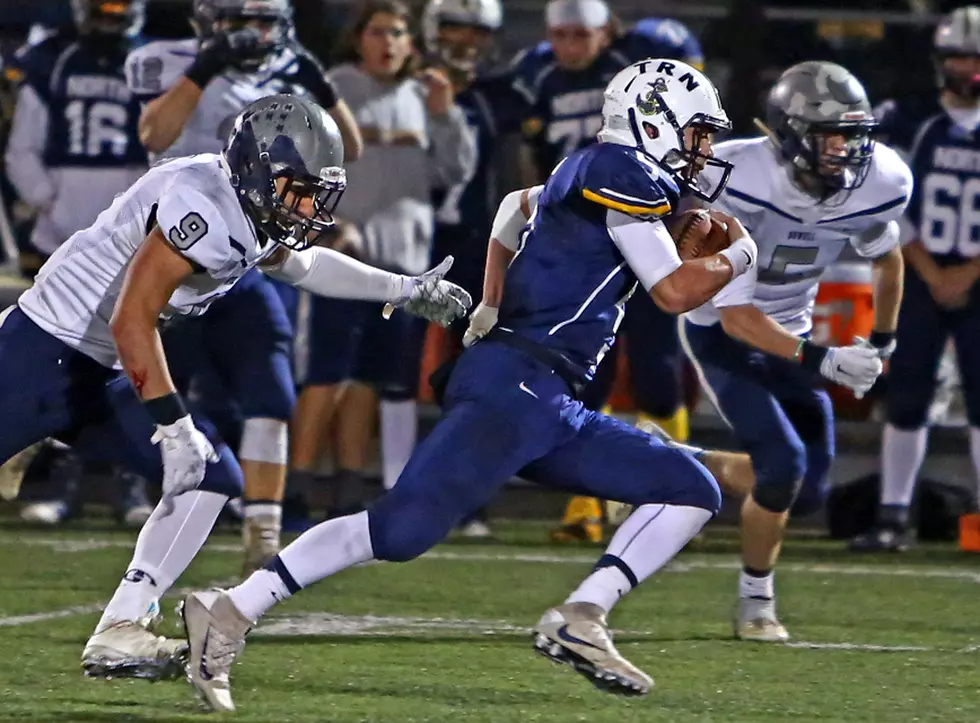 Mike Husni, Parker Day Lead Unstoppable Toms River North Offense Past Howell to Reach South Jersey Group V Final
Senior quarterback Mike Husni and Toms River North are back in the South Jersey Group V title game after a 62-34 win over Howell. (Photo by Ray Richardson).
TOMS RIVER — A week after a lackluster showing and an escape from a near upset, Toms River North's record-setting offense returned to form, and with it the Mariners are heading back to an NJSIAA state final.
Senior quarterback Mike Husni was brilliant yet again with 387 total yards and five touchdowns while senior running back Parker Day ran for 200 yards and four touchdowns as the top-seeded and undefeated Mariners overwhelmed fifth-seeded Howell, 62-34, in the semifinals of the South Jersey Group V tournament on Friday night at Gernard Field.
The Mariners (11-0) ran for 385 yards behind a dominant performance by their offensive line and posted a ridiculous 592 yards of total offense to match their season high in points. Husni was 9-of-10 for 207 yards passing and three touchdowns while also rushing for 180 yards and two touchdowns on 15 carries. Senior wide receiver Darrion Carrington added five catches for 134 yards and a touchdown and senior wide out Bryce Watts had three receptions for 70 yards and two touchdowns.
"The media was questioning us because of the (Atlantic City) game (27-20 win) and that put a bigger chip on our shoulder," Husni said. "And we knew we had to come out and perform if we wanted to beat a good Howell team that has been on a pretty nice run. We came together as a team."
"The way we practiced was the difference," said Toms River North head coach Dave Oizerowitz. "Last week we weren't sharp and our execution was off. We needed a sense of urgency and this week we had it. We executed as well as we have all year."
Toms River North has now won 21 games in a row and will try to become the first Mariners team to win back-to-back state titles when they take on third-seeded Millville in the championship game, tentatively scheduled for Saturday Dec. 3 at Rowan University. Millville topped second-seeded Rancocas Valley, 32-15, in the other semifinal.
Howell had its resurgent season under third-year head coach Luke Sinkhorn come to an end, but went down swinging with a high-scoring offense of its own. Junior quarterback Eddie Morales was sensational in defeat with 214 yards passing and a touchdown and 147 yards rushing and two touchdowns. Junior wide out Naz Brantley caught seven passes for 79 yards, Ryan Mazik had a touchdown grab and seniors Mekai Gandy and Joe Curto had touchdown runs as the Rebels finished 6-5.
Toms River North's offense was once again unstoppable in averaging 13.7 yards per play and scoring on nine of 11 drives. A penalty forced a punt on one drive, and the first half clock ran out on the other. Howell hung around until the fourth quarter when the Mariners scored 21 points and opened a 35-point lead before Howell scored a late touchdown against the a mostly second-string defense. Twice the Rebels were able to cut Toms River North's lead to seven points, but each time the Mariners demoralized them with touchdowns on the very next offensive play to make sure the momentum never left the home sideline.
"We just go drive-by-drive and try to score every possession," Husni said. "We know sometimes a defense will hold us or there will be penalties or turnovers, but today was almost the perfect game. Hopefully in two weeks at Rowan we'll get that perfect game."
"It was a nice day out and coach opened the playbook," Carrington said. "We all had some, and when that happens we're hard to stop."
It began with a five-play, 65-yard scoring drive to open the game for Toms River North. A 22-yard run by Day moved the ball into Howell territory and Husni found Watts for a 33-yard touchdown on third down for a 7-0 lead. After Howell went three-and-out, Toms River North needed just four plays to add to its lead. Husni hit Watts for seven yards then ran for a first down with a four-yard gain, Day gained 14 yards on a run and Husni broke free on a 36-yard touchdown run to put the Mariners up 14-0 just 5:09 into the game.
Howell came right back with an 11-play, 76-yard drive to get on the board and prevent Toms River North from making it an early rout. Running back Nick Chambers took a swing pass 24 yards into Toms River North territory, then converted a fourth-and-2 by recovering his own fumble and gain just enough to move the chains at the Mariners' 33-yard line. Morales connected with Brantley for 16 yards down to the 2-yard line before punching it in himself on a quarterback sneak to make it 14-7 with 1:46 left in the first quarter.
Toms River North's answer was immediate, as Husni hit Carrington in stride for a 69-yard touchdown. The extra point was no good, but the Mariners were back up by two scores at 20-7.
"We didn't plan it that way and say we had to score on the next play, but that's the best way to do it," Carrington said. "Coach made and good call and we executed it."
A sack by senior nose guard Joe Nardoza on third down forced Howell to punt, and the Mariners cashed in on another drive to take a 27-7 lead. Five straight runs covered 60 yards with Day polishing off the march with a 35-yard touchdown run where he broke free from a pile of players.
Howell took over near midfield on its next possession and used the good field position to get to the Toms River North 36, but came up short on fourth-and-three to turn the ball over on downs. Toms River North moved into Howell territory quickly, but a holding penalty on third down squashed a scoring chance and forced a rare Mariners punt.
Howell took the opportunity and went 83 yards in 10 plays to close to within 27-14. A 17-yard run by Morales coupled with a personal foul against Toms River North put the ball at midfield, and Morales made two great plays to convert after a penalty put the Rebels in second-and-29. Brantley had a 23-yard catch-and-run and then an eight-yard catch to put Howell at the Toms River North 39. Morales scrambled for a first down on third-and-seven, then ripped off a 25-yard run down to the 3-yard line. Two plays later he powered in from the 1-yard line to make it a 13-point game heading to halftime.
Getting the ball to begin the second half gave Howell another opportunity to make it a one-score game, and the Rebels did just that with a seven-play, 62-yard drive to make it a 27-21 game. A great 43-yard catch by senior wide out Dan Cacciatore set up Mazik's seven-yard touchdown reception.
Toms River North returned the squib kick to midfield, and needed just one play to get back into the end zone as Husni ran a quarterback power play to the left side and scored on a 50-yard run to put the Mariners up 34-21. He screamed, 'THEY CAN'T STOP US!' as he ran back to the sideline. He was right.
"I think he's one of the greatest high school football players the Shore Conference has ever seen," Oizerowitz said. "He can spin it and he can run it as well as anyone who's ever laced 'em up."
The Mariners' defense stopped Howell on three straight plays to get the ball back, and Toms River North then went 65 yards in nine plays to go up 41-21. A 14-yard run by Husni and a 15-yard pass to Carrington put the ball at the Howell 25-yard line, and an 11-yard run by Day moved it to the 15-yard line. Day's five-yard touchdown run gave the Mariners a 20-point lead.
Toms River North's offensive line was dominant in paving the way for 385 yards on an average of 11.3 yards per carry. The Mariners entered averaging 300 yards on the ground and have two players over 1,400 yards rushing.
"They played fantastic today, probably the bet they've played all season," Husni said.
"They're as good an offensive line as there is in the Shore Conference, and in my opinion they're the best," Oizerowitz said. "They give us the confidence to run the ball whenever we want to."
Howell refused to go quietly and closed to 41-27 on Gandy's three-yard run, but Toms River North had enough of a cushion and would score on its final three possessions.
Day scored his third touchdown to make it 48-27 early in the fourth quarter and Husni connected with Watts on a crossing route for a 30-yard touchdown and a 55-27 advantage. Day's 30-yard touchdown run, his fourth of the game, made it 62-27.
Howell put in some backup seniors late in the game and were able to get Joe Curto in the end zone on a seven-yard run with under a minute to play to provide the final scoring margin.
The statistics are off the charts for Toms River North through 11 games. The Mariners are averaging 46.9 points per game and have scored at least 40 points in 10 of those game. Husni now has 1,977 yards passing and 25 touchdowns and 1,540 yards rushing and 18 touchdowns. His 43 touchdowns are one away from tying the Shore Conference single-season record of 44 set by Mater Dei Prep's Christian Palmer in 2014. Day has 1,410 yards rushing and 23 touchdowns, while Carrington and Watts are arguably the best wide receiver tandem in New Jersey. Carrington has 34 receptions for 909 yards and 15 touchdowns and Watts has 30 catches for 765 yards and 10 touchdowns. There's even gaudy statistics on the defensive side with senior linebacker Pete LaQuaglia having amassed over 150 tackles.
The Mariners know none of that will matter if they don't finish the job against Millville in two weeks. Immortality is at their doorstep, and they're ready to cement their legacy as an all-time great program in the Shore Conference.
"We have one more game for our seniors and this is everything we wanted, to play 12 games and finish off our careers (with another state title)," Husni said. "We're going to go down to Rowan in two weeks and play Mariners football."
"Since the day after states last year coach said we have to get back," Carrington said. "The week after we were lifting and getting work in. This is what we dreamt of, and we're back."
(1) Toms River North 62, (5) Howell 34
| | | |
| --- | --- | --- |
| | HOWELL | TOMS RIVER NORTH |
| First downs | 21 | 21 |
| Rushes-yards | 42-215 | 34-385 |
| Passing | 17-29-0 | 9-10-0 |
| Passing yards | 214 | 207 |
| Penalties-yards | 4-40 | 6-50 |
| Fumbles-lost | 2-0 | 0-0 |
Howell (6-5)                      7 7 13   7 — 34
Toms River North (11-0)  20 7 14 21 — 62
TRN — Bryce Watts 33-yard pass from Mike Husni (Kyle Bayha kick)
TRN — Mike Husni 36-yard run (Kyle Bayha kick)
H — Eddie Morales 2-yard run (Pat Handy kick)
TRN — Darrion Carrington 69-yard pass from Mike Husni (kick failed)
TRN — Parker Day 35-yard run (Kyle Bayha kick)
H — Eddie Morales 1-yard run (Pat Handy kick)
H — Ryan Mazik 7-yard pass from Eddie Morales (Pat Handy kick)
TRN — Mike Husni 50-yard run (Kyle Bayha kick)
TRN — Parker Day 5-yard run (Kyle Bayha kick)
H — Mekai Gandy 3-yard run (kick failed)
TRN — Parker Day 2-yard run (Kyle Bayha kick)
TRN — Bryce Watts 30-yards pass from Mike Husni (Kyle Bayha kick)
TRN — Parker Day 30-yard run (Kyle Bayha kick)
H — Joe Curto 7-yard run (Pat Handy kick)
RUSHING — H: Eddie Morales 17-147, Joe Curto 7-43, Nick Chambers 12-18, Mekai Gandy 4-21, Team 2-(-14); TRN: Parker Day 16-200, Mike Husni 15-180, Bryce Watts 3-5.
PASSING — H: Eddie Morales 17-29-0 214; TRN: Mike Husni 9-10-0 207.
RECEIVING — H: Naz Brantley 7-79, Nick Chambers 4-43, Dan Cacciatore 2-48, Ryan Mazik 2-24, Pat Handy 1-13, Ean Craig 1-7; TRN: Darrion Carrington 5-134, Bryce Watts 3-70, Parker Day 1-3.
Football editor Bob Badders can be reached at badders@allshoremedia.com. Follow him on Twitter @Bob_Badders. Like Shore Sports Network on Facebook and subscribe to our YouTube channel for all the latest video highlights.