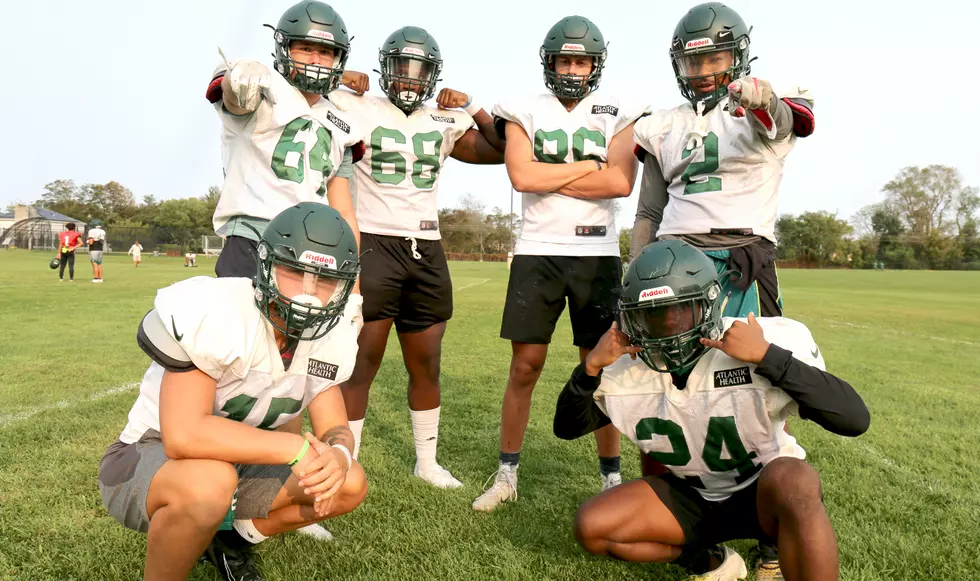 Long Shots: 2020 Long Branch Football Preview
Photo by Steve Meyer.

Enter your number to get our free mobile app
Since the Shore Conference changed its alignment and scheduling formula in football, Long Branch has been a program grouped with the other upper-echelon programs at the Shore Conference. After all, the Green Wave were a top-five team in the Shore Sports Network in back-to-back seasons in 2017 and 2018.
Now, Long Branch has its most inexperienced team since 2016 but the schedule is not any more forgiving. With only six games on the schedule, it might be even more difficult than the Green Wave have experienced over the past two seasons: four of the seven teams that beat Long Branch last year are on this year's schedule, one the Long Branch beat (Middletown South) and the sixth is against non-public power Mater Dei Prep.
"I think we're going to be a team that's got some speed and we're going to better than a lot of people expect up front," Long Branch coach Dan George said. "The problem is sometimes you can't tell how much guys are improving when you're constantly going up against the kind of teams that are on our schedule. Rumson might have the best D-Line in the Shore. RBC is not far behind. Mater Dei has guys going to Notre Dame and Michigan. Middletown South is always tough. That's about as tough as you're going to find and we're mostly a new starting lineup."
Throw in an unusual, limited preseason as well as the transfer of standout receiver Jayon Farrar to Donovan Catholic and George and his team will have their hands full in 2020. Long Branch, however, has thrived in difficult conditions in recent years and its longtime head coach is hoping the challenging circumstances inspire his players to rise to the occasion.
"We were told the schedule was going to be more local and yet, we're not playing Neptune and Ocean but we're going to Rumson and Mater Dei and Neptune is playing two teams from Jackson," George said. "Then you take a team that has a lot of new guys, you give us a restricted preseason and offseason, you have parochial schools recruiting our kids away from the program and then you make us play six of the best teams in the Shore. Schedules can destroy a program, or at least set a program back. But we've been here before, I have the best coaching staff in the Shore and I think all the adversity, it's a rallying cry for the kids."
Projected Starters (RS=Returning Starter)

QB: Michael Bacon, Sr.; Christian Rodriguez, Jr.
RB: Bobby Lawrence, Sr.; Sekou Kamau, So.
WR: Jayden Farmer, Jr. RS
TE: Jayson Presley, Jr.; Dave Rodriguez, Sr.
RT: Andrew Conklin, Sr. RS
C: Deiondre McCullers, Jr.
RG: Anthony Santana, Jr.; Marcelo Barboza-Santiago, Sr.
DT: Israel Delgadillo, Jr.
DE: Melvin Moultrie, Sr. RS
WLB: Bobby Lawrence, Sr. RS
SLB: Andrew Conklin, Sr. RS
RLB: Dave Rodriguez, Sr. RS
CB: Jayden Farmer, Jr. RS
FS: Christian Rodriguez, Sr. RS
K: Anthony Eugenio-Flores, Sr.
P: Anthony Eugenio-Flores
Head Coach: Dan George, 21st season
Assistant Coaches: Chad King (Def. Coordinator/DB), Ben Woolley (Off. Coordinator/OL), Greg Penta (Off. Coordinator/QB/WR), Shawn Brown (LB), Ryan Burgess (DL), Terrence King (RB), Jamel Pitts (Freshman), Devron Clark (Freshman), Kim Smalls (Athletic Trainer)
Player to Watch: Jayden Farmer, Jr., WR/CB
Even with standout receiver Farrar leaving for Donovan Catholic, Long Branch will remain strong at the wideout position thanks to a deep mix of returnees and newcomers. Farmer broke into the lineup last season and coming back this year in good shape and prepared to assume a leadership role as a junior. He and senior Ba-Sean Fraser will lead the receivers while Farmer will also join Logan Davis as Long Branch's starting cornerback duo.
"Farmer had a great preseason and he looks like he is ready to take a major step up for us on both sides of the ball," George said. "Ba-Sean Fraser is a stud too, so we're still very good at the receiver position."
Player Under the Radar: Melvin Moultrie, Sr., DE
Moultrie got some time on the defensive line as a junior and, according to George, came back for his senior year two inches taller (6-3) and 30 pounds bigger (240), ready to do damage on defense.
"Melvin Moultrie had an awesome offseason," George said. "He trained with his dad, who is a retired NYPD detective and he turned himself into a guy who has the size to play at the next level.
Impact Newcomer: Kai Coleman, So., LT/DT
Only senior Andrew Conklin returns from last year's starting offensive line and the Green Wave are putting together a new group that George said has been a pleasant surprise so far. One key to the line is the sophomore Coleman, who along with junior center Deiondre McCullers, has made an early impression with their preseason work.
Top Position Group: Linebackers
On an inexperienced team, Long Branch's linebackers stand out as a unit that brings some stability and experience to the defense. Conklin and fellow seniors Dave Rodriguez and Bobby Lawrence are all back and will be key in holding together a Long Branch defense that has some promise on the line and in the secondary, but little experience. All three linebackers are also offensive contributors – Conklin on the line, Rodriguez at tight end and Lawrence in the backfield.
Big Shoes to Fill: Sekou Kamau, So., RB/SS
Jermaine Corbett turned in three big seasons as Long Branch's tailback and now the Green Wave will go back to the factory to find their next standout in the backfield. Kamau looks like another promising runner who is capable of becoming the team's feature back as a sophomore to set off what could be a productive three-year career, if the success of Long Branch's recent running backs is any indication.
"Kamau has looked really good at running back and at free safety so we're anticipating him being a factor this year," George said. "We have about four or five sophomore skill players who look like their ready to contribute this year."
Long Branch has gotten more-than-solid play out of the quarterback position during the past three seasons, but this season, the position is more of an unknown than it has been during that time. Junior Christian Rodriguez and senior Michael Bacon have been competing for the job during camp and Rodriguez, in particular, has caught George's eye with his multi-dimensional skillset.
"Christian looks like he's taken control of the situation and he's good some upside," George said. "He has a strong arm, he's athletic and he adds a different dimension that wasn't really part of the position last year. We got really solid play at the position but Christian is going to bring some more speed to the position."
Friday, Oct. 2 at Middletown South, 7 p.m.
Friday, Oct. 9 at Rumson-Fair Haven, 7 p.m.
Friday, Oct. 16 vs. Middletown North, 7 p.m.
Saturday, Oct. 24 at Mater Dei Prep, 1 p.m.
Friday, Oct. 30 vs. Red Bank Catholic, 7 p.m.
Friday, Nov. 6 vs. Red Bank, 7 p.m.
More From Shore Sports Network