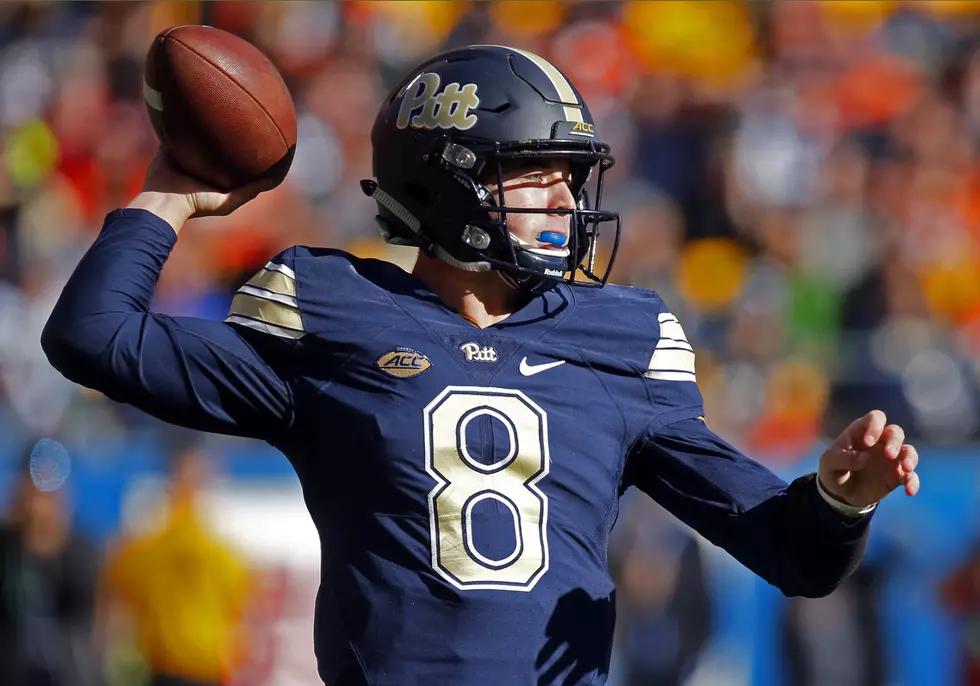 Kenny Football: Former Ocean Township Star QB Kenny Pickett Leads Pittsburgh to Upset of No. 2 Miami
Getty Images
Shore Conference coaches universally raved about quarterback Kenny Pickett last season when he starred for Ocean Township, and on Friday he showed the nation what area coaches saw for the past three seasons.
Pickett, a true freshman making his first start for the University of Pittsburgh, led the charge for the Panthers in their shocking 24-14 upset of No. 2 and previously-undefeated Miami by throwing for 193 yards and a touchdown and rushing for a team-high 60 yards and a touchdown.
"You don't think your first start is going to come against the No. 2 team in the country and you upset them at home. It's an unbelievable feeling and I'm real happy we got it done for the seniors," Pickett told the Associated Press.
Pickett's 22-yard touchdown run came on a fourth-and-6 and fooled everyone on the field, including his own teammates. Only Pickett, head coach Pat Narduzzi and offensive coordinator Shawn Watson knew Pickett would pull the ball from Ollison and take off, the AP reported.
"I was just going to get the first down and get down, but I turned the corner and when I looked, no one was there," Pickett said.
Pickett graduated early from Ocean last December and was a mid-year enrollee at Pitt last winter. He started the season third on the depth chart behind Max Browne and Ben DiNucci with the plan being to redshirt Pickett. That plan took a weird turn in an Oct. 7 game at Syracuse when Browne suffered a shoulder injury during the game and DiNucci took over as the starter. The Panthers were trailing, 27-24, with just seconds left in the game when DiNucci's helmet came off on the second-to-last play. By rule, DiNucci had to come out of the game, and with Pitt having zero timeouts remaining they were left without a quarterback. They burned Pickett's redshirt to have him throw one pass, a Hail Mary attempt from the Panthers' own 15-yard line.
DiNucci started next week's game against North Carolina State, but Narduzzi made the flip to Pickett in the fourth quarter with the freshman throwing for 61 yards on 5 of 13 passing. DiNucci started the next three games with Pickett remaining on the sideline, but in a Nov. 18 game against Virginia Tech Pickett saw plenty of time in relief and nearly led the Panthers to the upset. He completed 15 of 23 passes for 242 yards in a 20-14 loss, but that was enough to earn him the start against Miami.
"He's not that far removed from us and that was one of the proudest moments I've had in my coaching career, no doubt," said Ocean head coach Don Klein. "To watch a kid you've coached represent the program so well and play so well on a big stage is extremely impressive. It brought a lot of pride to our program."
From the moment he stepped onto the field in game action for Pittsburgh, Pickett had the respect of his teammates with his calm and cool demeanor.
"I think he handled it great," redshirt junior left tackle Brian O'Neill told the Pittsburgh Post-Gazette following the North Carolina State game. "He came in and was like, 'What's up? Let's go.' As a lineman, you're kind of excited about that with a freshman coming in. He doesn't care about the moment. He didn't get all rigid and scared and nervous; he let it fly. That's kind of how he is. I give him a lot of respect for that."
As much as Pickett's 6-foot-2, 215-pound frame, big arm and athletic ability earned him a scholarship to Pitt, Klein knew his mature presence was as much a factor in his success.
"He's always been that way, he' just a kid that has great confidence and belief in himself," Klein said. "He does a great job of compartmentalizing stressful situations. Kenny is a kid that is going to take it play-by-play and play within the system, and he can do a great job compartmentalizing all the outside things we see. For him, it's just like having a catch at (Ocean's) Carelli (Field)."
Even with all Pickett's physical talent and confidence, getting it done against the No. 2 team in the country in his first career start is a feat that defied even the loftiest expectations.
"You know Kenny is talented and how hard he works, but you don't know until you're put in that situation and at that level competing against the No. 2 team in the country on national television," Klein said. "Talking to him during the week, he just manages it very well. Narduzzi is on record as saying Kenny is the most prepared freshman he's been around and that's a credit to him and how seriously he's taken his football career."
Even with Friday's monumental win, Pitt is not bowl-eligible with a 5-7 record. The Panthers enter the offseason with plenty of momentum, however, and given Pickett has three years of eligibility left, the Pittsburgh fan base and alumni have plenty to be excited about. Future Hall of Fame defensive back Darrelle Revis, who starred at Pittsburgh, was among many touting Pickett's potential.
Managing editor Bob Badders can be reached at bob.badders@townsquaremedia.com. Follow him on Twitter @Bob_Badders. Like Shore Sports Network on Facebook and subscribe to our YouTube channel for all the latest video highlights.