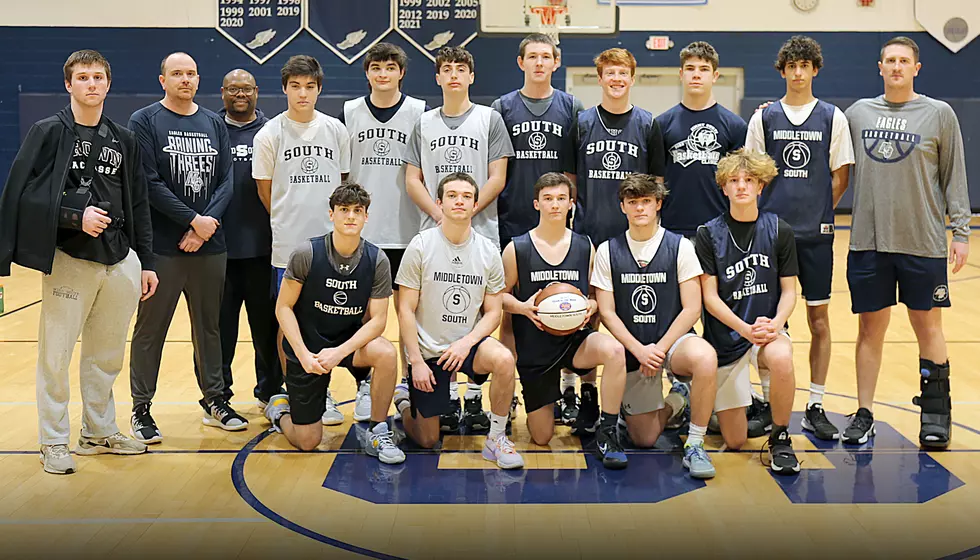 Jersey Mike's Week 3 Boys Basketball Team of the Week: Middletown South
Photo: Steve Meyer

Four games into the 2022-23 high school basketball season, the Middletown South boys squad was winless and wondering if the ball was ever going to bounce its way.
The Eagles took each of those first four games down to the wire, but seemingly found a way to lose all of them: none of the games were decided by more than six points and Middletown South's average margin of defeat was 3.5 points in those four losses.
Since then, it has been Middletown South's opponents that can no longer figure out how to win. Once the Eagles finally won once, the wins have kept coming.
Last week, Middletown South extended its winning streak to 10 games and did so by beating two of the Shore's most consistent winners over the past several seasons -- Red Bank Catholic and Rumson-Fair Haven. Now in the midst of an 11-game winning streak and closing in on at least a share of the Shore Conference Class B North championship, Middletown South is the third Jersey Mike's Boys Basketball Team of the Week of 2023.
Red Bank Catholic and Rumson-Fair Haven were two of the teams that beat Middletown South during the Eagles' four-game losing streak to open the season and last week, Middletown South go its revenge.
First up was Red Bank Catholic, which Middletown South picked apart in a 71-61 win in the the Eagles' gym. Senior Pat Brown led four players in double-figure scoring with 11 points and classmate Dylan Csik distributed 13 assists to go with his 11 points to lead the way to victory on Jan. 17.
Two nights later, Middletown South had a chance to pull into a first place tie on its home floor by beating division-leading Rumson. A back-and-forth game left the score tied with 1.2 seconds left and the ball at midcourt and Middletown South executed a wild play to end it. Brown fired a baseball pass off the backboard and Ryan Denery grabbed it in the air off the ricochet and, in one motion, put up a shot that dropped at the buzzer for a 68-66 Eagles win.
Brown and Csik turned in big performances again in a Middletown South win, with Csik going for 19 points, nine rebounds and eight assists, while Brown posted 17 points, five rebounds and three assists.
Middletown South closed its 3-0 week with a 58-34 win over Lincoln in an Autism Awareness showcase at Union City High School, with Brown scoring 25 points to lead the way.
The Eagles extended their winning streak to 11 games by topping crosstown rival Middletown North, 58-53, with Brown sidelined by a mild ankle sprain. Middletown South's remaining division games are against Red Bank and Colts Neck, with two wins guaranteeing the Eagles no worse than a share of the division championship.
Things People Are Constantly Googling About NJ
"Why is New Jersey...?"
This is what people are searching about the Garden State.
More From Shore Sports Network