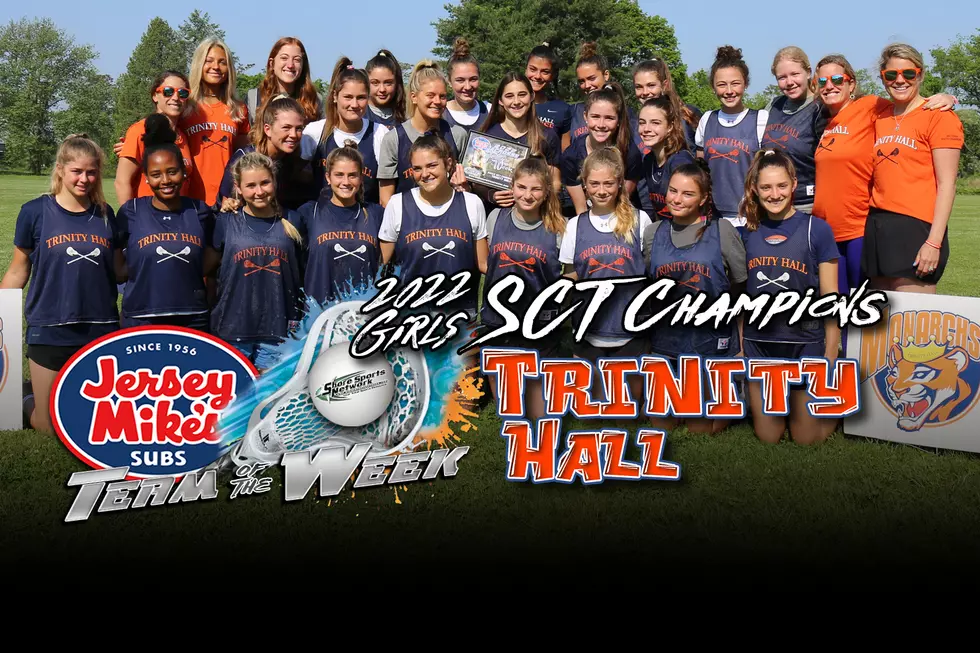 Jersey Mike's Shore Conference Girls Lacrosse Team of the Week: Trinity Hall
Steve Meyer

Throughout the spring season, Jersey Mike's and Shore Sports Network have teamed up to select a Lacrosse Team of the Week based on its performance over the past seven days.
The Jersey Mike's Team of the Week for Week 7 is the Trinity Hall girls lacrosse team, which made history by capturing the 2022 Shore Conference Tournament championship with a dominant victory over eight-time defending champion Rumson-Fair Haven. Shore Sports Network stopped by practice to present the Monarchs and head coach Dana Lenneper with a Team of the Week certificate and a $250 Jersey Mike's gift card.
Trinity Hall has steadily climbed the lacrosse ranks both in the Shore Conference and statewide, and their journey to the top of the Shore culminated on Tuesday, May 17 when the Monarchs emphatically defeated Rumson-Fair Haven, 17-7, to claim the program's first SCT lacrosse championship. Rumson entered the game as the eight-time defending SCT champions and with nine overall titles in program history. Trinity Hall faced Rumson in the 2021 SCT final with the Bulldogs winning, 8-6.
This time it would vastly different as the Monarchs started strong and never let up. Trinity Hall initially raced out to a 3-0 lead before Rumson answered with three straight goals of its own to deadlock the score midway through the first half. The Monarchs set the tone for the rest of the game, however, by scoring the final four goals of the first half to lead 7-3 at halftime. They continued to pull away in the second half to build leads of 10-4 and 14-5 to cement their historic victory and end Rumson's legendary streak.
Senior Mary Kate Allingham was tremendous with a game-high four goals and three assists while senior Paige Nolan delivered three goals and one assist plus nine draw controls. Peyton McGuire and Alex Popham also registered three goals and one assist, Charlotte Webber had two goals and one assist and Mary Catherine O'Connor and Lilly Wood each scored once. Isabelle Darman made seven saves, including a few key stops in the first half when it was still anybody's game.
Even more impressive is that Trinity Hall reached the milestone without star senior Haven Dora on the field all season. Dora, who is committed to Princeton University and is one of the top players in the state, had 81 goals and 59 assists for 140 points as a junior but suffered an injury during the preseason that knocked her out for the year. Trinity Hall regrouped and put together another great regular season before avenging their defeats and taking down Rumson in the SCT final.
Trinity Hall now turns its attention to the NJSIAA Tournament. The Monarchs won last season's Non-Public B state championship but are now aligned in the mighty Non-Public A bracket with fellow state juggernauts Oak Knoll, Pingry, and Kent Place. Trinity Hall earned the No. 3 seed and will host Donovan Catholic in the opening round. To win another state title they will likely have to get through two teams they have lost to this season in second-seeded Pingry (17-14) and top-seeded Oak Knoll (17-8), but if there's one thing this team has proven it's that it knows how to handle adversity.
Archive
20 Restaurants You Want To Eat At This Summer In Monmouth County
More From Shore Sports Network