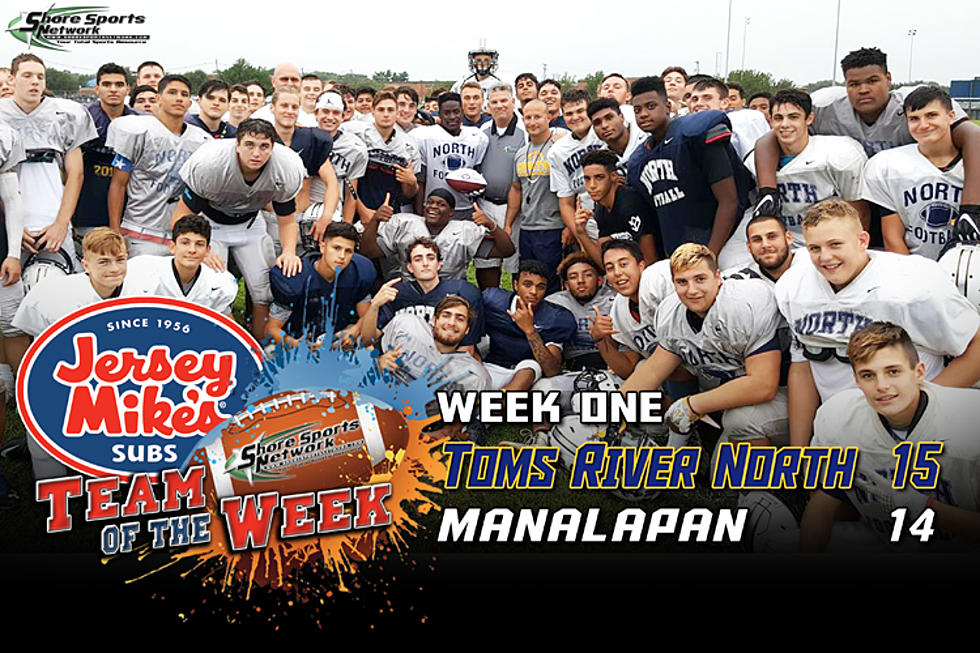 Jersey Mike's Football Team of the Week: Toms River North
Artwork by Steve Meyer/Townsquare Media.
Every week this fall, Jersey Mike's and Shore Sports Network will be selecting a Team of the Week based on its performance over the past weekend.
The Jersey Mike's Team of the Week for Week 1 is Toms River North, which defeated Manalapan, 15-14, with a thrilling rally in the final minute. Shore Sports Network was at practice on Tuesday to present the Mariners and head coach Dave Oizerowitz with a special game ball and a $500 Jersey Mike's gift card.
Coming off a 1-9 season, Toms River North faced a tough test right out of the gate in a Manalapan program that was 20-2 over the last two seasons and ranked No. 7 in the Shore Sports Network Preseason Top 10. The Braves were poised to emerge victorious after Nico Santorelli busted loose on a 73-yard run that set up Dale Sieczkowski's 1-yard touchdown run with 46 seconds left, giving Manalapan a 14-7 advantage.
Toms River North responded immediately, however, when Dashawn Wilder returned the ensuing kickoff 94 yards for a touchdown to trim the deficit to 14-13. The Mariners were an extra point away from improbably tying the game, but Oizerowitz had other ideas. Toms River North decided to go for the 2-point conversion, and it was Wilder who secured the winning points when he hauled in the conversion pass from sophomore quarterback Jake Kazanowsky.
Jarrod Pruitt led Toms River North with 96 yards rushing and a touchdown on 25 carries. He scored from 13 yards out in the first quarter to give the Mariners a 7-0 lead. The Mariners pass rush also played a big role by sacking Manalapan quarterback Sean Kehley four times. Ray Carlson also contributed on defense with an interception.
Toms River North's victory snapped Manalapan's 16-game Shore Conference winning streak and also bounced the Braves from the SSN Top 10. The Mariners now find themselves in the rankings at No. 7 and will look to build on their upset win when they visit Howell on Friday night.