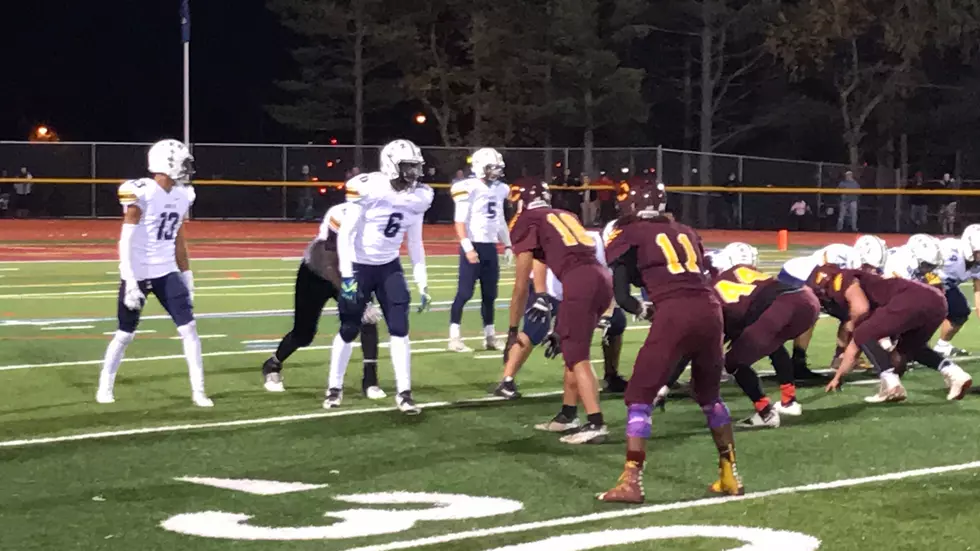 Husni Leads No. 1 Toms River North Past No. 9 Central to Claim Class A South Title
Photo by Robert Badders.
BERKELEY TOWNSHIP — With so many offensive options at his disposal, Toms River North head coach Dave Oizerowitz hasn't had to lean squarely on star quarterback Mike Husni at any point this season. That time came Friday night, however, and it's no surprise the record-setting senior delivered another monster game.
Husni continued his incredible season by rushing for 213 yards and 2 touchdowns on 18 carries and throwing for 167 yards and a touchdown to lead the Mariners, ranked No. 1 in the Shore Sports Network Top 10, to a 34-7 Shore Conference Class A South victory over No. 9 Central that clinched the outright division title and kept their perfect season going.
Toms River North put the ball in Husni's hands on 31 of 48 plays and he did what is expected of a player who entered the week with a mind-bending 36 total touchdowns and over 2,500 total yards. His 31-yard touchdown pass to senior wide out Darrion Carrington tied the score at seven in the second quarter and his 33-yard touchdown run gave the Mariners (9-0, 7-0) the lead for good. He added a highlight-reel 30-yard touchdown run in the fourth quarter when Toms River North pulled away for its 19th straight win.
"I pulled him aside during the week and said I suspect this may be the first time this year we call upon him 20 to 30 times and really pound it with him," Oizerowitz said. "When we asked him to he delivered, and there's never a doubt he's going to. He's done that throughout his whole career. Nothing surprises me with him. There are some plays that no other player can make."
Carrington finished with five catches for 113 yards and a touchdown and senior running back Parker Day shook off an early lost fumble to run for 103 yards and a touchdown on 12 carries. Junior Daryn Blackwell added a 14-yard touchdown run and Toms River North's offensive line dominated the trenches to pave the way for 344 yards rushing and 511 yards of total offense.
Toms River North's defense has also come to life after a dicey first six games. The Mariners held Central standout running back Mike Bickford under 100 yards with 87 yards on 29 carries and surrendered just 156 total yards. Junior safety Mickey Maldonado was outstanding in keep Bickford from breaking any runs to the outside and finished with double-digit tackles and three tackles for a loss. He funneled the runs inside where senior linebacker Pete LaQuaglia, who also had double-digit tackles and two tackles for a loss, was waiting to clean up the play. Cornerback Janaire Bradley and Blackwell each had a sack and a forced fumble and senior nose guard Joe Nardoza had a fumble recovery.
"The whole key was sending (Bickford) back inside and letting the linebackers clean everybody up," LaQuaglia said.  "Defensively, we feel like we're all on the same page now."
"So many guys played well defensively but Mickey certainly stood out," Oizerowitz said. "I think he's the best defensive back in the Shore and one of the best tacklers in the Shore in the open field. He was awesome. We gave him the assignment on (Central tight end Denis Corbin), who is a really good player in the passing game catching those waggles and tight end corners, and he shut him down. He's an All-Shore defensive back."
Central was playing in its final game of the season because it was disqualified from the playoffs for having three players ejected in a Week 1 win over Toms River East, so the Golden Eagles were treating it as their state championship game. They entered the game with a 7-1 record and without a loss in Class A South, making Friday night's game at Joseph J. Boyd Memorial Field the defacto division title game.
A fumble recovery by senior defensive end Jared Gaimo off a botched handoff on the first series led to the Golden Eagles (7-2, 6-1) striking first on a 15-yard touchdown pass from sophomore quarterback Joe Fowler to junior tight end Blake Horgan. A fumble recovery by Bickford on the next possession short-circuited a Toms River North drive that had reached the Central 15-yard line after a 48-yard catch by Carrington. Toms River North's defense made sure Central didn't capitalize, however, by forcing punts on then next four series while its offense got on track.
Those two turnovers coupled with 14 penalties for 143 yards against Toms River North made for a bizarre game. Central was flagged 13 times for 123 yards as the teams combined for an unheard of 27 penalties for 266 yards.
Toms River North started its string of 34 unanswered points when it took advantage of a short field to score in two plays and tie the game. A tackle for a six-yard loss by Maldonado on third down forced Central to punt from its own 14-yard line, and the return gave the Mariners excellent field position at the Central 36-yard line. On second down Husni lofted a pass down the left side which Carrington hauled in for a 31-yard score.
On their next drive all the Mariners did was go 97 yards over eight plays to pull ahead, 14-7. Husni's 33-yard touchdown put the Mariners in front for good with 3:59 left in the half. The clock was the only thing that prevented Toms River North from extending its lead, as Husni scrambled for 25 yards on the final play of the half to move the ball to the Central 14-yard line.
"We all knew we had to turn it up," Husni said. "We probably played our worst offensive game all year and that's scary because we still put up 34 points. If we get our best performance from everybody, good luck."
The Golden Eagles received to begin the second half but couldn't get anything going. Junior defensive back Neil Harrington intercepted Husni in the end zone when his pass for Carrington was deflected by Anthony Holloway to keep the deficit at seven, but with the Eagles' offense unable to move the ball it only delayed the inevitable. An 11-play drive by Central was halted at the Toms River North's 30-yard line when Husni broke up a pass on fourth down, and that led to an eight-play, 70-yard drive for a 21-7 lead. Blackwell capped the drive with a 14-yard touchdown run with 9:10 left in the game.
Toms River North put the game away by forcing two straight three-and-outs and scoring on consecutive five-play drives. Husni's great 30-yard touchdown run where he cut back across the field stamped a 74-yard drive for a 27-7 lead, and Day's 2-yard run, set up by a 29-yard catch by Bryce Watts, made it 34-7 with 4:16 to play.
The division title is first outright championship for Toms River North since 2008. The Mariners shared the Class A South title with Brick and Brick Memorial last season. Toms River North is the defending South Jersey Group V sectional champion and will defend its title as the No. 1 seed.
"Our No. 1 goal was to win the division and our No. 2 goal was to get into the playoffs," Oizerowitz said. "The teams down there, there are four or five and it's a crapshoot. It's all about draw and matchups, so it will be a battle. That's why it was important for us to see a 7-1 team coming in with everything on the line to see how we would react. We really believe our team has tremendous mental toughness in a big spot."
"Next week we're 0-0," Husni said. "If we lose we're done, so it's all about going 3-0 and finishing it off."
Toms River North 34, Central 7
| | | |
| --- | --- | --- |
| | Toms River North | Central |
| First downs | 21    |            11 |
| Rushes-yards | 34-344 | 39-141 |
| Passing | 9-13-1 | 1-9-0 |
| Passing yards | 167 | 15 |
| Fumbles-lost | 3-2 | 4-1 |
| Penalties-yards | 14-143 | 13-123 |
Toms River North (9-0, 7-0) 0 14 0 20 — 34
Central (7-2, 6-1)                 7   0 0   0 —  7
C — Blake Horgan 15-yard pass from Joe Fowler (Shane Black kick)
TRN — Darrion Carrington 31-yard pass from Mike Husni (Kyle Bayha kick)
TRN — Mike Husni 33-yard run (Kyle Bayha kick)
TRN — Daryn Blackwell 14-yard run (kick blocked)
TRN — Mike Husni 30-yard run (Kyle Bayha kick)
TRN — Parker Day 2-yard run (Kyle Bayha kick)
TRN: Mike Husni 18-213, Parker Day 12-103, Daryn Blackwell 2-17, Bryce Watts 2-11; C: Mike Bickford 29-87, Kavon Chambers 5-37, Denis Corbin 3-20, Joe Fowler 2-(-3).
Passing - TRN: Mike Husni 9-13-1 167; C: Joe Fowler 1-9-0 15.
Receiving - TRN: Darrion Carrington 5-113, Bryce Watts 2-38, Parker Day 2-16; C: Blake Horgan 1-15.
Interceptions - C: Neil Harrington 1-20.
Football editor Bob Badders can be reached at badders@allshoremedia.com. Follow him on Twitter @Bob_Badders. Like Shore Sports Network on Facebook and subscribe to our YouTube channel for all the latest video highlights.