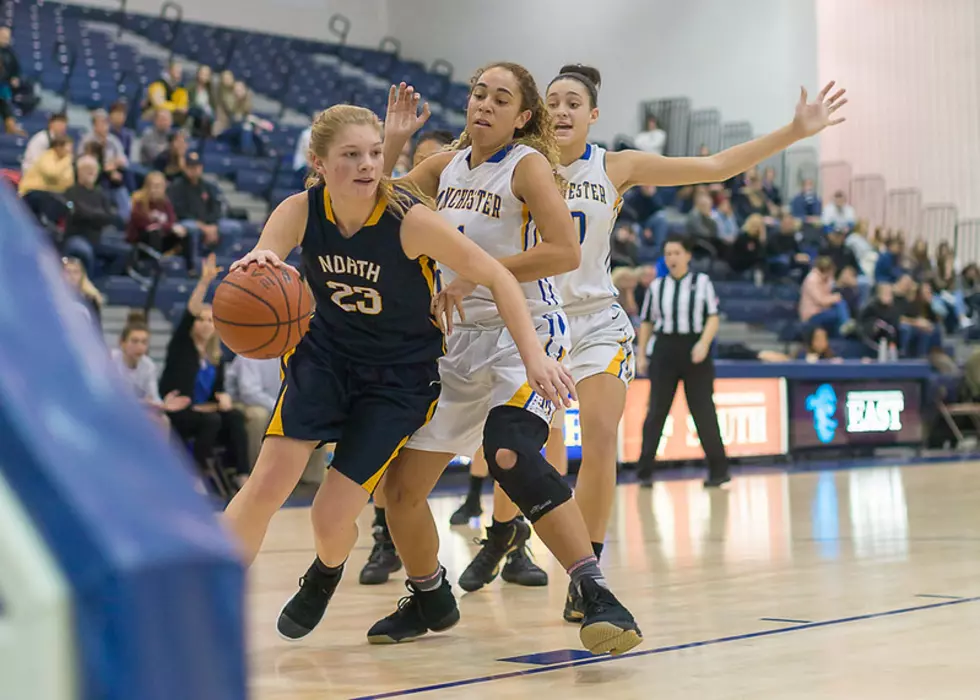 GROUP 4 STATE SEMIFINAL PREVIEW: TOMS RIVER NORTH VS. HUNTERDON CENTRAL
Jenna Paul of Toms River North (Photo by Paula Lopez)
Thursday, March 8, 5:30 p.m.
Toms River North (27-3) vs. Hunterdon Central (17-11)
Toms River North Road to the State Semifinals: Defeated 14-Atlantic City, 64-49, 6-Millville, 61-47, 7-Shawnee, 47-45 and 1-Cherokee, 41-34 for its first South Jersey sectional title since 2004.
Hunterdon Central Road to the State Semifinals: Defeated 9-North Brunswick, 42-31, 16-Hillsborough, 47-18, 4-Marlboro, 59-45 and 2-Montgomery, 32-26 for its first Central Jersey sectional title since 1995.
Projected starting lineup
14-Brielle Bisogno (Jr. G 5-5)
20-Amanda Johnson (Sr. G/F 5-9)
21-Kristina Johnson (So. G/F 5-9)
23-Jenna Paul (Jr. G/F 5-10)
34-Lindsay Cabey (Sr. F 5-7)
12-Khamyia Spence (Sr. G 5-6)
22-Krystal Hund (Sr. G 5-5)
33-Paige Farley (So. G/F 5-6)
Projected starting lineup
3-Sarah Kolody (Sr. G/F 5-9)
11-Ashley Mitrow (Sr. G 5-7)
13-Christina Mitrow (Sr G 5-3)
20-Danielle Cornetta (Jr. G 5-7)
25-Cecelia Kracht (Sr. F 6-0)
23-Michaela Mastriano (Jr. G/F 5-9)
33-Peyton McNally (Sr. G 5-7)
Keep doing your thing: Because it's working for Toms River North. From junior Brielle Bisogno's coast-to-coast, buzzer-beating layup that lifted the Mariners over Shawnee, 47-45, in the South Jersey, Group 4 semis to its unyielding defense that has yet to allow 50 points in the post season, everything has clicked into place at the ideal time. North sells out on defense and surrenders a mere 39.9 points a game. That resistance has to be firm against Hunterdon Central's Danielle Cornetta (8.7 ppg.), who can be lethal when she finds her groove. The junior guard stung Marlboro for a career-high 25 points in a 59-45 victory in the Central Jersey semifinals.
Box out: Hunterdon Central hits the boards hard at both ends. That's okay. North has its own collection of hungry rebounders. Amanda Johnson (5.6 rpg.), Jenna Paul (4.9 rpg.), Lindsay Cabey (4.3 rpg.) and Brielle Bisogno (3.3 rpg.) all can pound the glass. Collective presence underneath is a must.
Spread 'em out: Not a problem for Toms River North. Bisogno (13.0 ppg., 52 3-pointers) and Kristina Johnson (7.0 ppg., 42 3-pointers) pose perimeter problems but neither hesitates to drive inside. Amanda Johnson (8.8 ppg., 14 3-pointers) and Jenna Paul (17.2 ppg., 30 3-pointers) materialize from every conceivable angle in the halfcourt and Cabey is an underrated option in the low post.
Play with poise: It's how Toms River North has conducted its business in the state tournament. The Mariners have displayed invaluable composure to close out tight contests in their last two outings.
Prediction: Toms River North
More From Shore Sports Network