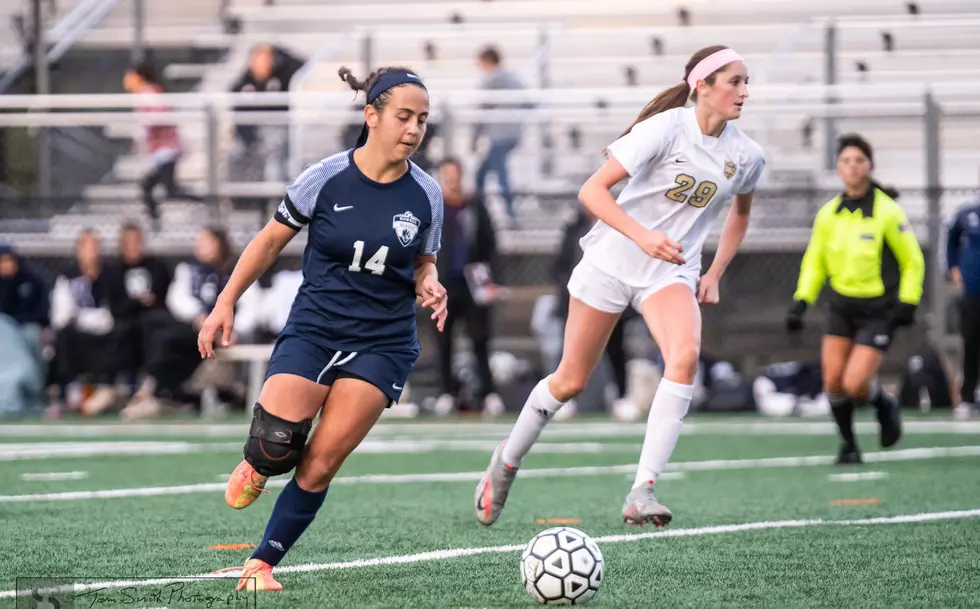 Girls Soccer – Howell's Dream Season Carries Rebels to Shore Conference Tournament Final
Howell senior Riley Borenstein. (Photo: Tom Smith | tspsportsimages.com)

NEPTUNE -- Upon ending her team's 2021 season ending with an NJSIAA Tournament loss to Manalapan, current Howell girls soccer senior Riley Borenstein and her fellow returning players approached then-first-year coach Miguel Arroyo and told him their intentions for the offseason.
"As soon as that game against Manalapan was over, the girls came up to me and said 'We're ready to work,'" Arroyo said. "Riley asked 'Do you mind if I work with the girls? I want to put them in a summer league.' I said 'Of course, go for it.'
"They worked hard the whole year with the captain's practices and they came in first day of practice believing this was their season and she (Borenstein) really set the level."
Knowing the amount of improvement it would take to leap the likes of Middletown South, Manalapan and Freehold Township, Borenstein and her teammates got right to work, have not stopped since and continue to show the value of that work.
"We definitely re-evaluated over the summer," Borenstein said. "We changed the culture of our team. Everyone was out on the field from 8 (a.m.) until 11 and even staying after to shoot more. We worked hard throughout the summer and it's paying off."
Borenstein scored within the first four minutes of Wednesday's Shore Conference Tournament semifinal against Point Pleasant Boro and assisted another first-half goal by sophomore Ashley Smith as Howell -- seeded No. 6 in the tournament -- used a fast start to upend the No. 7 Panthers, 2-1, to reach the SCT final for the first time in program history.
Borenstein struck in the fourth minute off a cross from junior Leila Oshira from the left corner, with Borenstein settling the ball right in front of the goal and finishing the play with a point-blank poke past sophomore goalkeeper Ava Bjorndahl.
Howell stayed on the attack over the next 20 minutes and added some cushion before the half. Sophomore Ashley Smith extended the Howell lead to 2-0 in the 26th minute when a rebound off an initial shot by Borenstein fell to her feet and Smith tapped it in for the second Rebels goal.
"When we got here, our goal was to play hard, play fast, play strong and I think we accomplished that," Borenstein said. "I think we are showing all the people that said Howell was going to be just another team that we are going to prove them wrong, so this feels amazing, especially for my senior year."
The Rebels appeared to be squeezing the life out of Point Boro, which generated very little on the attack in the first half, but the intermission was a chance for the Panthers -- seeking to reach the SCT final for the first time in 32 years -- to regroup.
Midway through the first half, neither team had a close call until Borenstein had a chance to extend the lead to 3-0. Bjorndahl knocked the ball away out of a scrum and right to Borenstein, but she missed a shot from inside the six while surrounded by a a host of bodies near the goal.
"We're so close at that point and if I put that in, it would have been awesome," Borenstein said. "But we held them off."
Just minutes later, Point Boro cashed in on its best opportunity. It started with a corner kick by senior Madison Bjorndahl, whose initial service was returned back to her after being punched out by Howell junior keeper Madison Smith. Bjorndahl played it back into the box and freshman Elise Viggiano pounced on the loose ball and fired it into the goal for Point Boro's first goal in the 65th minute.
"I knew they were deadly on corner kicks," Arroyo said of Point Boro. "That's how they scored against (Red Bank Catholic), that's how they scored against (Toms River) North and we were trying to defend against it. So I wasn't happy with the one-goal lead and I wasn't even comfortable with a two-goal lead. The third goal was a chance to be a little more comfortable, because I knew at any point, they could do what they did and make it a game again."
"We definitely needed to settle down after they scored that goal," Borenstein said. "We looked around and said 'We need to kick it back into gear.' We just wanted to get the ball in their half and keep it there and we held them off."
Now working with just a one-goal lead and with Point Boro gaining confidence on both ends of the field, Howell had to scrap over the final 15 minutes to hold the lead and advance. The Rebels did not come close to scoring the dagger, but they also clamped down on the Panthers and kept Smith protected in goal.
"With the boys, you can take control of the car a little bit, but with these girls, sometimes you just have to let them drive," said Arroyo, who was a longtime assistant for Howell's boys team before taking over the girls varsity job in 2021. "It might cut my life short, but they seem to just rally around those moments and the come together when it's time to finish off a win. I'm fortunate to have stepped into a good team."
Howell held a one-goal lead for 60 minutes against rival Manalapan in the SCT quarterfinals on Saturday and had similar results vs. Marlboro, Brick and Trinity Hall -- all one-goal victories.
While those experienced might have helped them close out Wednesday's win, the Rebels will have to dig even deeper to win their first ever Shore Conference title. They will take on a Freehold Township side that beat Howell, 3-0, on the Rebels' home field and will enter Saturday's championship game with a 14-1 record and no losses to teams inside New Jersey. The Patriots are also the defending champion in this tournament and the runner-up in Group IV with most of its starting lineup from 2021 back in the fold this year.
Despite the long odds, Borenstein and her teammates will find confidence in that offseason work that they committed to, completed and used as a springboard to a historic run. On Saturday, they will look for, far and away, their most historic win yet.
"We played them tough the first game," Arroyo said. "We had opportunities, just like we did today. They are our rival school, so we tend to retreat but then we realized that they are not as strong as last year and we are better than we were last year. They are still a great team, but I think our girls believe in themselves more than they ever have and we're ready to go 100 percent on Saturday."
10 Words That Are Guaranteed to Annoy a New Jerseyan
Don't even think of saying one of these words in front of someone from New Jersey.
More From Shore Sports Network