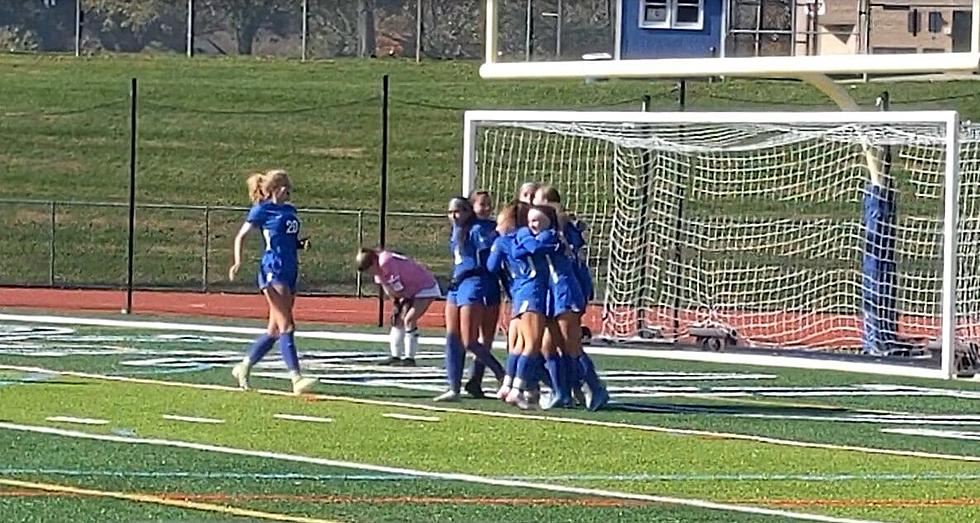 Girls Soccer – Big Second Half Helps Holmdel Clear Major Hurdle In Championship Chase
Holmdel celebrates the last of its four goals Friday vs. Rumson-Fair Haven. Photo by Matt Manley

HOLMDEL -- The 2020 season had all the makings of a special one for the Holmdel girls soccer team, but for reasons well outside of the control of any high school student or athlete, that opportunity came and went.
The Hornets had a similar opportunity for a memorable run in the 2021 Shore Conference Tournament, but that dream ended in disappointing fashion -- this time on the field and in a close loss to rival Red Bank Catholic.
Those two setbacks -- a withdrawal from the 2020 postseason due to COVID-19 protocol and the only on-field loss for Holmdel of the past two seasons -- have served to fuel the Hornets on their push for their first NJSIAA Group II championship since 2014.
On Friday afternoon, second-seeded Holmdel took a significant step in its title march by burying another Shore Conference Class A Central rival in a 4-1 win over No. 7 Rumson-Fair Haven in the NJSIAA Central Jersey Group II quarterfinals.
"I am almost glad we we lost when we did because if we would have lost later, I think we might not have been able to give the girls some time to rest, recover and regroup," second-year Holmdel coach John Nacarlo said. "We obviously would have liked to win the Shore Conference Tournament, but I don't know if we would have been able to bounce back as well as we have if we lost in the final instead. It took us some time to get out of our funk and we got some needed rest and I think it's going to be a motivator for us the rest of the way."
If a 2-1 home loss to Red Bank Catholic in the Shore Conference Tournament quarterfinals was not enough to "wake up" Holmdel's players, the start to Friday's game was.
Within the first minute of action, Rumson's ultra-athletic senior striker Katie Aglione broke free for a one-on-one opportunity that Holmdel senior goalkeeper Katrina Walier denied with a crucial save.
In the eighth minute, however, Aglione got another chance and cashed in when she volleyed home a pass from junior Janey Sypeck.
Just 36 seconds after Rumson grabbed the lead, senior forward Taylor Bielan erased it by running down the ball on a breakaway and finishing the chance to equalize. Right after her team gave up the game's first goal, Bielan was audible in imploring her team to raise its level of play and she immediately backed up her talk with action.
"I just knew that was going to be a wake-up call for us," Bielan said. "As soon as I put the ball in the back of the net, I knew there was going to be a second one for us. I'm glad we were able to work together and I was able to put the ball in the back of the net, but I knew as soon as it went in, we were able to start playing together and the goals would follow."
Holmdel generated multiple opportunities before halftime, but could not grab the lead while playing with the wind. Senior Julianna Kolbasovsky had two of the best ones, first touching a free kick from sophomore Isabel Weiner past Rumson senior goalkeeper Ava Kalman, but could not catch up to it before it went out of bounds just to the left of the left post.
Kolbasovsky got a one-on-one with Kalman again in the 32nd minute, but again slid her shot wide of the left post.
"I honestly think we were more encouraged by (the misses) because we saw we were able to generate opportunities and we know if we get enough of them, we are eventually going to start finishing them," Bielan said.
Despite playing into the wind during the second half, Holmdel asserted itself even more in the second half and Kolbasovsky did not let her opportunities pass her by during the second 40. In the 46th minute, the senior midfielder one-timed a near-post cross from Bielan into the goal.
"I really wanted one in the first half," Kolbasovsky said. "I had a bunch of them that I feel like I should have scored. In the second half, I was really focused and I just make sure I finished it. I got two perfect balls and I scored."
In the 60th, Kolbasovsky capped the scoring with her second goal, a second-chance finish off a corner kick by freshman Lily Reardon.
Senior Katie Vassilakos delivered Holmdel its third goal when she ran down a well-paced through-ball from Reardon and finished with power inside the near right post in the 52nd minute.
With the scoring touch emerging in the second half, Holmdel's defense, led by Adriana Morales and Nicole Worobel, shut down Rumson's attack.
"We recently moved Worobel to center back and pushed Lexi (Wojie) up to the midfield and that's added another dimension to us," Nacarlo said. "Nicole Worobel and Adriana did a great job controlling everything back there and we just had to have them play a little deeper than usual. Once we fixed that, I think things started to settle down."
In a Central Jersey Group II bracket that has been turned upside-down according to the seeds, Holmdel may have passed its toughest challenge on the way to what the team hopes will be its third sectional championship in eight seasons and first since 2015.
"We always say, 'Finish it together,'" Kolbasovsky said. "We started it last year and we weren't able to finish it. Now, we want to make sure we go all the way."
Rumson beat Wall -- the No. 8 seed and one of the other three semifinalists in Central Group II after handling top-seeded Metuchen, 3-1, on Friday -- to win a sectional championship in 2021 and has been ahead of the Crimson Knights in the rankings for most of the season. The same holds true for fourth-seeded Point Boro, which will host Wall after downing Delran on Friday.
That leaves Holmdel to face Manasquan, a young, emerging squad that failed to qualify for the Shore Conference Tournament and lost to Holmdel, 7-0, on Sept. 20, but has scored 11 goals in two tournament road wins as the No. 14 seed in the section.
"We know we can't take any team for granted," Kolbasovsky said. "Just because we beat a team earlier in the season doesn't mean we can just beat them again without working for it."
If Holmdel can finish off the final two games, it will have a tournament championship to further validate a dominant two-year stretch. Nacarlo took over the program before 2020 and the Hornets have gone 30-1-1, including a perfect 15-0 last season. Prior to 2020, Holmdel's last winning season was 2015, when the Hornets reached the Group II final for the second straight year and lost to Ramapo.
"We lost a few girls from last year, but a lot of sophomores and freshmen have stepped up," Bielan said. "I'm just hoping we can finish it together, not only for us, but for the girls last year that didn't get the opportunity because of COVID."
More From Shore Sports Network