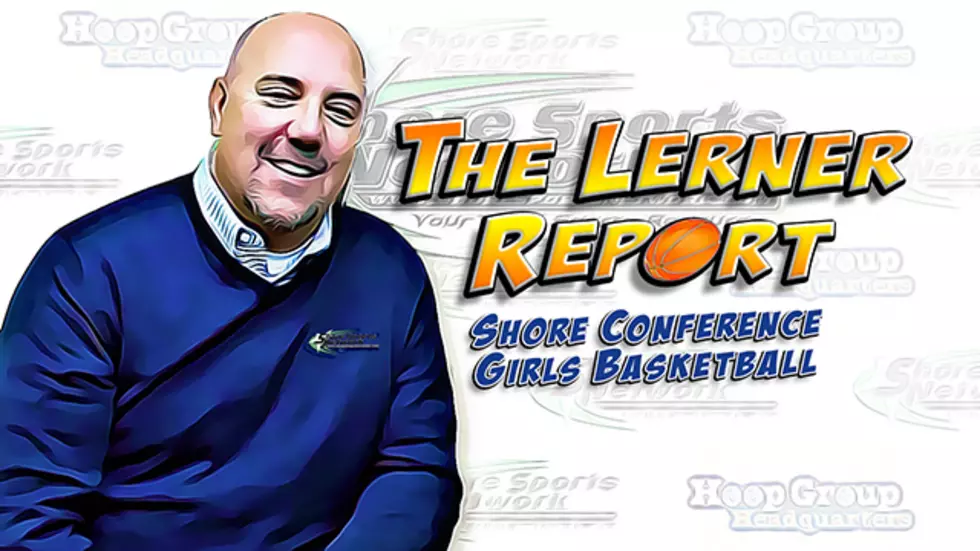 GIRLS BASKETBALL – SHORE SPORTS NETWORK TOP 10, FEB. 7
The Lerner Report
Jumping in midstream, but the Shore Sports Network is happy to dive in by debuting the Girls Basketball Top 10. With the seeding meeting for the upcoming Shore Conference Tournament set for Sunday, there's no shortage of viable contenders eager to ascend  the throne. Isn't that exactly what makes the tournament championship arguably the most difficult to attain and so wildly entertaining?
St. John Vianney, with an unprecedented 13th SCT banners wallpapering its hallowed gym, resides atop the poll despite suffering its first loss...against an unbeaten national powerhouse. Defending champion St. Rose, seeking a fourth overall title and its third in six years, and Manasquan, bidding for its fourth SCT championship appearance in five years, loom large but before they can turn their attention to the event, have a little business to take care on Saturday in an epic showdown that's quickly developed into one of the state's fiercest rivalries.
1. St. John Vianney (19-1, 11-0)
The Lady Lancers rallied from a 13-point deficit in the second half to close to within three in the final minute before suffering their first setback, bowing to unbeaten New York power and nationally-ranked Christ the King, 60-53, on Tuesday in Middle Village. Junior forward Sajada Bonner topped St. John Vianney with 20 points, including four 3-pointers, and junior point guard Sarah Karpell scored 11.
Shifty senior point guard Mikayla Markham deposited 20 points, including the 1,000th of her career, in a triumph over Henry Hudson and netted 16 on Tuesday when the Purple Roses upended Trinity Hall for the second time in four days, 65-40, to inch closer to securing another Class B Central crown. St. Rose is riding a 16-game win streak and will travel to neighboring No. 3 Manasquan on Saturday for a highly-anticipated showdown in what's become one of the state's premier rivalries.
3. Manasquan (18-2, 12-1)
Senior guard Dara Mabrey balanced her 24 points by energizing a stout defensive showing on Saturday as the Warriors stormed past No. 6 Rumson-Fair Haven, 84-54. The Warriors limited RFH standout senior point guard Tori Hyduke (28.7 ppg.) to a season-low 12 points. Junior forward Faith Masonius, who recently committed to Maryland, and junior guard Lola Mullaney each finished with 20 points. The Warriors host No. 2 St. Rose on Saturday in a matchup that will direct bearing when the committee convenes on Sunday to seed the upcoming Shore Conference Tournament.
4. Red Bank Catholic (16-4, 11-2)
The Caseys have rattled off five straight wins, stamped by a 67-24 decision against Middletown South on Tuesday. Rose Caverly (13 points), Amanda Hart (11 points), Katie Rice (10 points) and Hayley Moore (eight points) celebrated their Senior Night by fueling the offensive showing.
5. Manchester (18-2, 12-1)
The Hawks rebounded from losses to No. 10 Donovan Catholic and defending Tournament of Champions winner Franklin by topping Lakewood, Barnegat and Jackson Liberty in B South clashes. Talented freshman 6-3 swing Destiny Adams is averaging 15.8 points and 8.2 rebounds per game.
6. Rumson-Fair Haven (14-6, 10-1)
After absorbing an 84-54 loss to No. 3 Manasquan on Saturday, the Bulldogs got an uplifting boost with the return of senior Mikaela McGarvey from a torn ACL just in time for Senior Night. Her presence inspired a 67-44 victory against Shore on Tuesday that featured 26 points from senior guard Tori Hyduke. Sophomore forward Lucy Adams, who's rapidly progressed into an interior force, chipped in with 13 and freshman guard Cortland McBarron added 12.
7. Toms River North (18-2, 13-1)
Junior forward Jenna Paul poured in a season-high 25 points while clearing seven boards and classmate Brielle Bisogno collected 10 points, five assists and four rebounds to steer the Mariners to an impressive 56-48 win over Rancocas Valley on Saturday. Toms River North has pocketed three straight victories since falling to No. 8 Jackson Memorial.
8. Jackson Memorial (15-2, 11-2)
Beware of the Jaguars. This prowling band has notched five consecutive wins, the most notable a 54-41 verdict against No. 7 Toms River North that avenged a 59-38 loss on Jan. 15 and marked its steady progression. Sophomore Kristina Donza (12.8 ppg.), freshman Rachel Capua (10.4 ppg.), junior Dani Evans (9.3 ppg.), senior Allison Wanzor (6.5 ppg.) and sophomore Bianca Giordano (5.9 ppg.) thrive through their offensive balance.
Of its six losses, two were administered by No. 1 St. John Vianney and a pair came at the hands of No. 6 Rumson-Fair Haven. Dynamic 5-5 senior playmaker Christina Antonakakis is scoring at a 19.6 clip with 45 3-pointers while sophomore Carson Fontana and freshman Ryann Taylor offer additional punch along the arc. The Hornets boast impressive non-conference wins over Bloomfield Tech and Teaneck.
10. Donovan Catholic (17-3, 12-1)
Few teams are hotter than the Griffins, who ran their win streak to 15 on Monday with a 74-22 victory against Lakewood. Within its current run, Donovan Catholic got a measure of revenge by toppling No. 5 Manchester, 50-49, after succumbing to the Hawks, 67-63, on Dec. 18. The backcourt combination of Alyssa Hirschy (12.1 ppg, 42 3-pointers) and Molly Collins (12.6 ppg., 44 3-pointers) can light it up from long range.
Colts Neck (14-5, 10-1) - The Cougars, who have secured at least a share of the A North crown, had a nine-game win streak snapped in a 45-43 loss to No. 10 Donovan Catholic.A combination of taxing defense (37.0 ppg.) and the scoring efficiency of Camryn Foltz and Cara Volpe drive this cast.
Marlboro (13-6, 10-2) - Mustangs dropped both encounters with A North foe Colts Neck but have pursued an ambitious schedule with non-divisional losses against No. 1 St. John Vianney, No. 3 Manasquan and No. 6 Rumson-Fair Haven. Senior swing Jess Broad (16.4 ppg.) and junior guard Gisella Romeo (13.1 ppg.) set the tone.
Southern (13-6, 9-4) - While No. 7 Toms River North and No. 8 Jackson Memorial have created some buzz while vying for A South supremacy, the Rams have quietly won six straight and eight of their last 10 outings, including a 45-40 triumph against Jackson Memorial.
Long Branch (11-9, 6-8) - Credit the Green Wave, who've won four straight, for holding their own in the grueling B North. Angelique Gathers (13.3 ppg.) is a consistent scoring threat while Keidy Mar Laureano has posted four straight double-doubles, averaging 13.5 points and 16.7 rebounds during that tear.
Middletown North (11-7, 8-5) - The Lions strung together five straight victories before dropping back-to-back encounters with surging Long Branch and No. 3 Manasquan. Kiera Williams (13.4 ppg.) gives Middletown North a reliable option around the basket.
Trinity Hall (18-2, 12-2) - The Monarchs opened eyes with a blistering 17-0 start before bowing to No. 2 St. Rose twice in a span of four days. Senior Bridget Andree (17.9 ppg., 9.8 rpg.) is one of the Shore's best-kept secrets.
Barnegat (12-7, 9-4) - Sparked by versatile senior Shannon McCoy (21.7 ppg. 50 3-pointers, 9.2 rpg., 3.3 apg., 2.4 spg.) and rugged senior Ginalee Erskine (7.4 ppg., 9.6 rpg.), the Bengals have gone 8-3 over their last 11 contests, with respectable showings in losses against No. 5 Manchester and No. 10 Donovan Catholic, the B South frontrunners.
More From Shore Sports Network