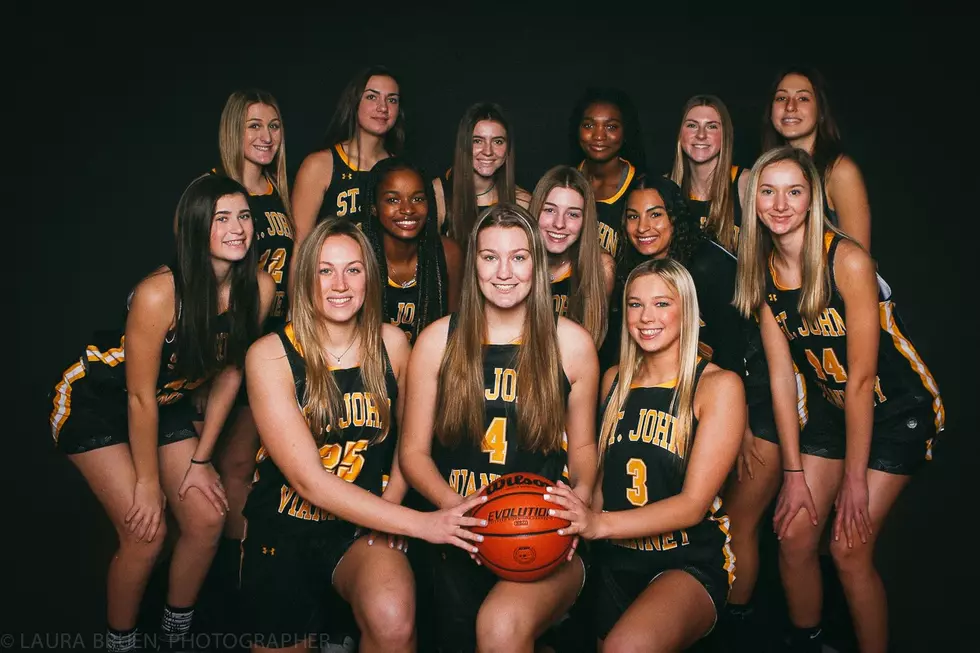 Girls Basketball Final Top 10: St. John Vianney Goes Wire-To-Wire Again
St. John Vianney
St. John Vianney's thrashing of Red Bank Catholic in the finals of the Shore Conference's Championship Pod was more than a victory...it was a coronation for a team that lived up to all the heavy expectations placed on them following a championship 2019-20 season.  The Lady Lancers like many others had to navigate through the COVID-19 minefield which delayed the start of their season but there was never really a doubt as to who was the best team in the Shore Conference and in the case of SJV they were also the top team in New Jersey for a second straight year.
All the teams in the final Top 10 deserve praise and congratulations for shining during the most challenging basketball season ever.  For the seniors, a "thank you" for hanging tough and giving us all you had during your careers and leading by example over the last couple of months.  For those coming back, well let's hope for a full season with fans in the stands and masks a thing of the past.
Thanks to the coaches who helped throughout the season with our weekly Top 10 and here is the final one for 2021.

Enter your number to get our free mobile app
1. St. John Vianney (14-0)  Preseason:  1 
Not much more to say as Dawn Karpell's group dominated their shore rivals with 17 points their narrowest margin of victory.  They also handled NJ heavyweights Saddle River Day, Paul VI and Trenton Catholic.  Emma Bruen, Katie Hill and Sianna Bradley will graduate but the brilliant Madison St. Rose, Meg Cahalan, Ashley O'Connor and Ashley Sofilkanich all return.
2. Red Bank Catholic (10-2) Preseason: 2
If not for Vianney then RBC would be celebrating a championship season...so what else is new when it comes to Shore Conference bluebloods.  Winning the SCT is often more difficult then winning a state title and the Caseys should not hang their heads following a season in which they beat four teams ranked in the final Top 10.  Joe Montano losses some key players in Lucy Alberici, Tony Panayides and Sophia Sabino but back is the inside/outside combo of Ally Carman and Justin Pissott who averaged a combined 30 points per game.
 3.  Manasquan  (13-2)  Preseason:  5
After splitting with St. Rose to open the season the Warriors won 11 straight before falling to St. John Vianney in the postseason semifinals.  Even without junior Brooke Hollawell (ACL) they came back to win the rubber match with the Purple Roses to earn the #3 spot.  The best news is all their key players return including Mary Elizabeth Donnelly, Georgia Heine, Dorothy Loffredo, Hope Masonius and hopefully Hollawell.
4.St. Rose  (11-4)  Preseason:  3
Another solid season for the Purple Roses who fell to RBC in the semifinals of "Pod A" last week.  Graduation will take leading scorer Abby Antognoli (20ppg) along with Layla Laws, Niasya Erving and Maureen Stapleton but sophomore Rosie Scognamiglio is a rising talent who will be counted on to pick up some of the slack.
 5. Manchester (10-5)  Preseason: 4
It only seems like Destiny Adams has been wearing a Hawks uniform for a decade but opposing coaches are very happy her high school career is over.  She scored 93 points in her final two games to top the 2,000 mark for her career and takes her talents to the University of North Carolina.  All five of the Hawks losses were against Top 10 opponents and while life without Destiny won't be easy Amyah Bray and Myah Hourigan return for their senior season and Devyn Quigley is just a freshman.
6. Rumson (8-7)  Preseason: 6
The Bulldogs finish in this spot courtesy of a rugged schedule which saw two losses to both SJV & RBC and their other three against ranked teams.  It will not be easy to replace senior stalwarts Chase Boyle, Grace Munt & Cortland McBarron but the return of sharpshooter Julia Corsentino (37 3's) and Charley Rosen will help.
7. Jackson Memorial (7-3) Preseason: Not Ranked
A COVOD shutdown saw the Jaguars play just once over an 18-day span in February but when they returned they collected impressive wins over Manchester, Red Bank Regional and Rumson.  1000 point scorers Rachel Capua and Lexi Linton will move on but promising sophomore Zoe Maffei leads a couple of returning players.
8. Marlboro  (8-1)  Preseason:  7
The Mustangs likely deserve to finish higher but their season ended due to health protocols before the postseason tournament began.  Marlboro won their first eight games, including a win over Saddle River Day before a puzzling loss to Middletown South in what was their final game.  Sammy Jay and Jessica Riepe will be lost to graduation but Dani Schlesinger is back which will help.
 9. Donovan Catholic (12-1) Preseason: 10
The Griffins only loss came against Manchester in the middle of the season but they rebounded to win the Pod "B" group.  Jordyn Keating graduates but back for their senior seasons will be Olivia Conroy and Kya Joseph while Gabriella Ross is one of the top sophomores in the entire Shore Conference.
 10. Red Bank Regional (8-7) Preseason: 9
Another team done in by a brutal schedule which included losses to Red Bank Catholic (twice), Rumson (3 times) as well as Jackson and Manchester.  Most of their points will graduate with Chloe Teter, Caitlyn Decker, Amelia Medolla and Emma Moriarty but the Bucs like freshman Camryn Gardner very much and have other youngsters as well.
The Nine Best Baseball Players From New Jersey
More From Shore Sports Network