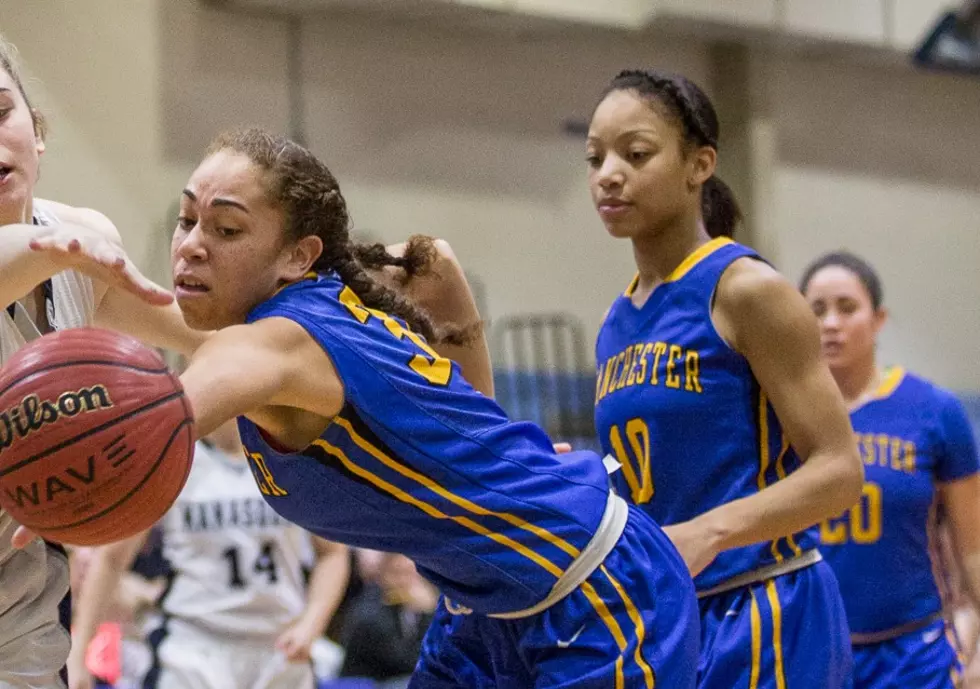 Girls Basketball – Dominant Defense leads Manchester into First Ever WOBM Final
Manchester junior Dakota Adams and sophomore Kemari Reynolds. Photo by Paula Lopez)
By Tyler Calvaruso
Shore Sports Network Contributor
TOMS RIVER - When a team gives up single-digit points in a half, it goes without saying there's a strong chance that team will come away with the win. That was the case for the Manchester Hawks on Friday night in the WOBM Christmas Classic semifinals, as they stifled Middletown South in the second half and cruised to a 51-35 victory to put them in their first ever WOBM Christmas Classic title game.
After a first half that saw Manchester give up 26 points, the Hawks dug in defensively coming out of the locker room, holding Middletown South to nine second-half points thanks to halftime adjustments made by head coach David Beauchemin to limit Middletown South sophomore Stephanie Mayerhofer, who scored 13 of her game-high 14 points in the first half.
"She was the influence," Beauchemin said. "That's a team thing, the way they were running their screen and roll in the first half. It's not necessarily just her girl giving it up; they were forcing us to use her defender as a help-side player, which is a really good set. We just needed to do a better job as a team hedging the ball harder so we could make things a little more congested for them and we could stay tighter to her on the perimeter."
Dealing with Mayerhofer was not the only topic of conversation for Beauchemin and his team at the half, as they had to figure out how to prevent Middletown South junior Isla Brennan, who finished with six points, from getting in the lane and kicking it out to Mayerhofer and her other teammates.
"We knew Brennan could really get into the lane and that was a focus of ours," Beauchemin said. "We talked about it in our pregame, try to deny her the ability to set everyone up on the perimeter. We did a great job on her and in the second half, we forced them to use [Kayla] Richardson to try and do most of their creating. Once that happened, that was when we really started getting the momentum back."
Manchester came out of the gates strong, jumping out to an early 9-4 lead, which prompted a timeout from Middletown South head coach Tom Brennan. The Hawks continued to roll throughout the quarter, but momentum started to swing when Middletown South freshman Grace Meehan banked in a three to end the quarter with the Eagles trailing 17-12.
The second quarter marked the beginning of Mayerhofer's onslaught from beyond the arc, as she drilled four threes to get the Eagles within one, down 27-26 going into halftime. Middletown South's second quarter momentum carried over into the beginning part of the third quarter, as the Eagles were able to grab a 29-28 lead, their first of the game.
From that point on, however, Manchester seized control due to a ramped up defensive effort and once the Hawks re-took a 30-29 lead, they never looked back.
"We talked at halftime about trying to get the game back to our tempo," Beauchemin said. "They did a great job, that first half was split a quarter apiece. We had a pretty solid first quarter and then they controlled the whole second quarter."
Manchester kept Middletown South at an arm's length for the rest of the night despite the efforts of Brennan, who drilled a three to cut Manchester's lead back down to single digits with 6:26 left in regulation. After a Middletown South timeout, the Hawks came out and seized the momentum back yet again; growing their lead to 46-34 by the 4:45 mark and 49-35 with a little over a minute left before a 51-35 score became final.
It was not a one-girl show for Manchester on Friday, as the Manchester offense maintained balance throughout the night. Sophomore guard Kemari Reynolds led the Hawks with 12 points, while fellow sophomore Serenity Anderson chipped in 11 points of her own. Junior forward Dakota Adams also had a strong night, notching a double-double with 10 points and 14 rebounds.
"We know on any given night anyone can score in bursts and we've had that early," Beauchemin said. "We try to stay within our system and they've done a great job. We saw a zone through the first three quarters and in that third quarter when it opened up, we did a great job getting the ball into the middle and distributing. To share the scoring, we become harder to defend that way."
While the victory gives Manchester their first trip to the WOBM Christmas Classic finals, the same could not be said of the team waiting for them on Saturday evening. The Hawks will have to deal with defending tournament champion Toms River North, who like Manchester, has the ability to hurt opposing teams in a variety of ways.
"They're a very good team, we know how good they are," Beauchemin said. "It's going to have to be another team defensive effort. We know it's going to take a full team effort and once we're there, anyone can beat anyone at that point."
More From Shore Sports Network