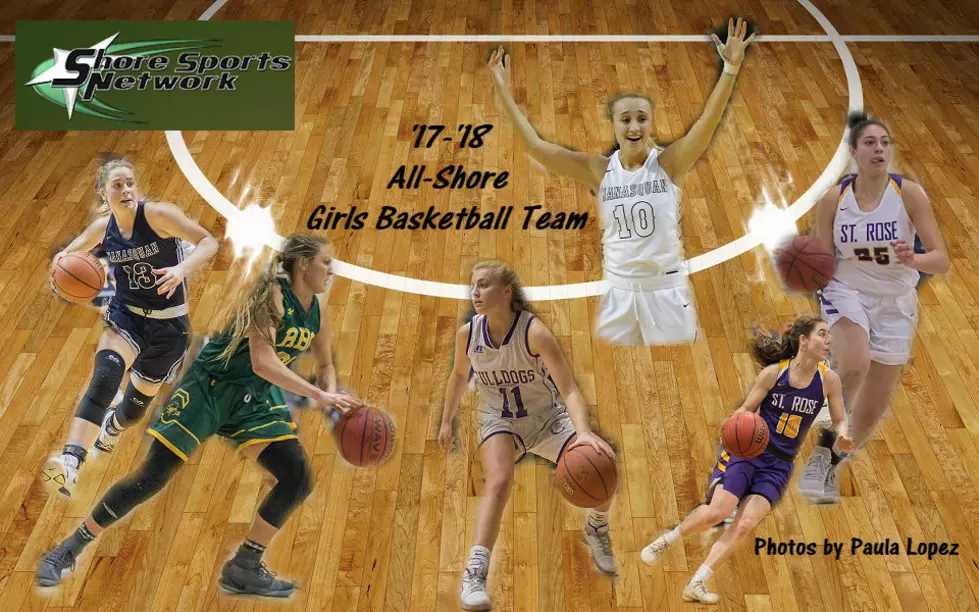 GIRLS BASKETBALL: '17-'18 All-Shore Teams
All-Shore Girls Basketball (Photos by Paula Lopez)
'17-'18 Shore Sports Network All-Shore Girls Basketball
The two-time Gatorade New Jersey Player of the Year, who is heading to Virginia Tech, capped off her sterling four-year run in signature fashion, scoring 15 of her game-high 30 points in the fourth quarter to lift Manasquan (32-2) to a 72-60 victory over Franklin in the Tournament of Champions final. The spiritual catalyst for Manasquan, Mabrey averaged 22.9 points, 4.7 rebounds and 4.5 assists in her senior season and finished her career with 2,145 points, two TOC titles and a pair of Shore Conference Tournament crowns, the second on the strength of her 33 points in a definitive 70-52 triumph against St. John Vianney in the final.
Faith Masonius, Manasquan
Already verbally committed to Maryland, Masonius raised her game to lofty heights and established herself as one of the premier juniors in the country. Her offensive scoring (18.7 ppg.) was manufactured in a variety of ways while her fierce presence on the glass (10.9 rpg.) dominated in the paint. She gave the Warriors additional aid in the ball-handling department, beating pressure with unflappable composure and conducted her work in a polished, economical manner. Masonius was a force in the post season. She opened the state tournament with 17 points, 17 boards, 10 assists and eight steals in a 79-26 verdict against Bordentown and closed the campaign with three consecutive double-doubles, marked by 23 points and 15 rebounds in the Tournament of Champions final against Franklin.
Her reliability in the paint, both as a scorer and rebounder, gave the Purple Roses frontcourt presence instrumental in a march to the Non-Public A state title. Thomas, who is bound for Monmouth University, adroitly sealed off defenders to access the rim on the blocks, beat opponents with the dribble from the high post and developed a soft touch from distance that yielded 15 3-pointers. She clicked for 17.1 points, 7.1 rebounds, 1.9 steals and 1.5 assists per game. Thomas had eight double-doubles as a senior, including a season-high 29 points and 14 rebounds in a 57-30 victory against Mater Dei. She dropped in 25 to key an 84-83 win over Long Island Lutheran in double overtime and scored 22 in the South Jersey, Non-Public final when St. Rose (28-4) topped Red Bank, 73-59.
Tori Hyduke, Rumson-Fair Haven
The pacesetter for the Bulldogs, Hyduke dictated a sizzling tempo for the Bulldogs (17-11). Her speed and maneuverability in the open floor put a defense on its heels while she exploited her wheels and scent for the rim. The George Washington recruit was downright explosive, scoring at a 26.3 clip. Her combination of zip and skill finishing off the dribble was balanced by a pure stroke from the perimeter, where she buried 70 triples. As the elder stateswoman for a young cast, Hyduke played with an exemplary energy that yielded 5.2 rebounds. 2.7 steals and 2.4 assists per game. She jumpstarted her senior year by averaging 32.1 points over the initial 10 games, keyed by six games of 30 or more as well as a career-best 41 in a 69-61 overtime loss to Pascack Valley.
Mikayla Markham, St. Rose
Numbers don't begin to express the value of the point guard, instrumental in a steering the Purple Roses to the Non-Public A state title. Markham set the soothing tone for a St. Rose offense that thrived off its ball movement under her shrewd direction. Her reliable ball handling and seamless transition of gears off the bounce helped the Purple Roses maximize their opportunities (61.9 ppg.). At the opposite end, she greeted counterparts with lateral movement that cut off access to the lane and confounded those trying to conduct a set. An unselfish dispenser, Markham handed out nearly five assists per contest, collected 2.1 steals and offered timely assistance on the boards by retrieving 3.2 rebounds a night. Her 9.5 scoring average spoke to a floor leader more driven to make an influential pass at the expense of shooting attempts. Yet, her impact on the outcome of a game was never better portrayed than in the South Jersey, Non-Public A final. She backed a pair of free throws with a 3-pointer, blocked shot, defensive rebound and delicate lob inside to teammate Lucy Thomas during a sequence that captured her multi-tasking while pushing the Roses past defending champion RBC, 73-59.
Rose Caverly, Red Bank Catholic
Her timing for attacking the rim and elusiveness to tiptoe between defenders on her path to the hoop was part of a repertoire that gave way to a sterling senior year. Caverly's scoring output steadily increased in each of her four season, rising from 4.4 points per game as a freshman to 7.3 as a sophomore, 9.1 as a junior and 13.3 in her swan song. Yet, her modest conduction of the offense made the Caseys (23-6) so effective in utilizing the balance within it. Caverly (23 3-pointers) was part of an army of long-range shooters who piled up over 200 triples. Yet, her will to get after opponents defensively was equally important within a system that yielded 40.2 points a contest. She left everything on the floor throughout her four-year term, best exemplified in her final game when she erupted for a career-high 24 points in a 73-59 loss to St. Rose in the South Jersey, Non-Public A final.
A deadly streak shooter who knocked down 49 threes, Mullaney was far more than a long-range sniper. Her heady reads off the ball created numerous back-door layups and her reputation along the perimeter drew defenders tighter, allowing her to show what she can accomplish putting the ball on the floor. Mullaney bloomed into a reliable option that alleviated some of the scoring burden off Dara Mabrey and Faith Masonius, netting 16.0 points per game. The consistent output tended to overshadow her other work, particularly under the boards (5.9 rpg.). She scored in double figures in all but two games for the TOC champion Warriors and surpassed the 1,000-point mark when she dropped 23 in the semifinals of Central Jersey, Group 2, a 72-40 victory over Holmdel. Mullaney took a shine to the post season where she clicked for 20.0 points over eight games, including a season-high 27 in a 95-79 decision against Newark Tech that earned Manasquan a fifth straight Group 2 state crown.
Jenna Paul, Toms River North
The durable and dependable Paul, who has amassed 1,329 points in her first three years, was a driving force in the Mariners' ascent to a South Jersey, Group 4 title. She helped secure the championship for Toms River North (28-4) with a career-best 32 points in a 41-32 triumph over Cherokee in the sectional final, a win that avenged last year's 37-35 loss to the Chiefs under the same circumstances. An accomplished game away from the paint (33 3-pointers) complemented her work on the interior and yielded a 17.5 scoring average. Her competitiveness on the boards (5.2 rpg.), defensive alterations in the lane (1.0 bpg.), distribution (2.1 apg.) and hard-nosed defense (1.4 spg.) more than hints at her multiple capabilities.
Madison Doring, St. John Vianney
The true measure of Doring's worth to the Lady Lancers didn't reside in gaudy stats, but in senior leadership. Her energetic play and smart decision making with the ball had a contagious effect on SJV (25-3), which went undefeated in the A Central and reached the Shore Conference Tournament final where it fell to Manasquan. Working off the wings, she had defenders at her mercy, guessing if she was going straight up to sink a three (37 3-pointers) or setting them up for the blow by to the tin. A varsity member for four years, Doring, who is heading to American University, delivered 10.8 points, 3.5 rebounds, 2.3 assists and 2.0 steals a game. She was also unflappable at the foul line (58 of 67, 86.5 percent). SJV boasted a 105-13 record during her tenure, winning two Non-Public A state titles, a Tournament of Champions crown and one Shore Conference Tournament championship.
Destiny Adams, Manchester
Freshman Guard/Forward 6-3
Adams made quite the debut for the Hawks (26-5), who earned a share of the B South title, won the WOBM Christmas Classic, reached the quarterfinals of the Shore Conference Tournament for the first time in program history and picked up their second straight South Jersey, Group 2 sectional title. A matchup nightmare with her seamless transition from sticking threes (26), penetrating off the elbows and posting up smaller defenders, Adams added another piece to a young group that will return four starters next season. Perhaps the most impressive thing about the lengthy swing was diversity. Besides netting 15.0 points a game, she cleared 8.7 rebounds, dished out 2.2 assists, swiped 1.9 steals and rejected 2.2 blocks per contest. She posted 13 double-doubles, including four straight to end the season. Her 28 points and 13 rebounds helped the Hawks topple Toms River North, 61-48, in the WOBM final.
Katie Rice, Red Bank Catholic
Senior Guard/Forward 5-11
Rice made her niche as a stout and versatile defender capable of guarding all five positions on the floor through her tenacity and athleticism. Her rigid resistance set a tone within a unit that yielded 40.2 points a game. Her scoring numbers made a steady increase over four seasons, culminating with a 10.3 average this year. The threat she posed from distance (17 3-pointers) forced counterparts to respect her jumper and lured them to the arc, exposing them to her sudden burst to the basket off the wing. She produced 16 points and 10 rebounds on Jan. 23 when RBC pinned Manasquan with a 62-57 loss, one that avenged a 60-37 setback in December, and made the Caseys the only team in New Jersey to top the Tournament of Champions winner this season.
Sajada Bonner, St. John Vianney
Junior Guard/Forward 5-11
A powerful presence with numerous ways to generate points, Bonner imposed her will routinely for the Lady Lancers. Her nimble footwork danced arounds defenders en route to the basket, offering balance to a jumper lethal from distance as well as in the mid-range. She led SJV with 12.7 points per game, shot 45.8 percent from the field, lent assistance on the glass (3.8 rpg.) and offered a physical defensive barrier. Her quick hands dispossessed many a ball handler as she collected 68 steals. She pumped in a career-high 31 points to pace SJV past Rumson-Fair Haven, 80-55, on Jan. 16 and buried four triples on course to scoring 19 when the two sides met again on Feb. 9, an 83-56 decision in favor of the Lancers.
Kemari Reynolds, Manchester
One of the more underrated point guards in the Shore, Reynolds' value was certainly not lost on the Manchester faithful. A patient and purposeful floor leader, she pointed the Hawks to the basket with her brash, attacking style and overall court sense. Reynolds delivered 12.2 points, 4.2 rebounds, 3.3 assists and 2.9 steals a night, emphasizing her versatility and impact on the game. She opened the year with 25 points, including 14 free throws, in a 67-63 victory against Donovan Catholic. Reynolds missed seven games mid-season due to injury but returned to the lineup without skipping a beat, steering the Hawks to a second straight South Jersey, Group 2 title. She dropped 25 on Sterling in the sectional semifinal to fuel a 74-49 triumph.
One of the more underappreciated forces in the Shore, McCoy provided the Bengals (18-10) with unwavering reliability in nearly every facet of the game. Whether scoring the basketball (21.9 ppg., 69 3-pointers), clearing it off the glass (9.0 rpg.), dealing it to teammates (3.0 apg.) or plucking it from the hands of whoever she guarded (2.4 spg.), she inevitably made the right decisions with it in her possession. McCoy was a pivotal piece as Barnegat made a surge in South Jersey, Group 2, taking down second-seeded Cinnaminson, 47-46, in the quarterfinals, a win she stamped with two decisive free throws with less than a second left in regulation. She poured in a career-high 42 points on Jan. 11 during a 59-50 win over Point Pleasant Boro and ended her four-year run as the school's all-time leading scorer with 1,402 points.
Christine Antonakakis, Holmdel
Antonakakis compensated for her diminutive status by getting underneath a defense with crafty ball-handling, then exploiting it with her passing wizardry. She operated with superior confidence that transcended to teammates who fed off her vibe. On a relatively young squad, her leadership was invaluable and inspiring, an example for those around her to follow and carry on as she departs. She scored at a 17.8 clip, armed with a deep jumper that yielded 60 triples and a drive to the hoop that revealed her fearlessness for the Hornets (17-10).
Brelynn Bellamy, St. John Vianney
Among the most improved players in the Shore, Bellamy used her length and polished footwork, honed as a defender on the soccer field, to become one of the Lady Lancers' best defensive assets. She towered over intimidated ballhandlers when trapped within the SJV press and congested passing lanes with lengthy arms that impeded vision and the path for distributing. She also grew increasingly more confident in her offensive game, especially when stepping into the occasional 3-pointer. She elevated her scoring rate to 10.5 points a game and truly found her groove in the second half of the season. She drilled one of the biggest shots of the season for SJV, draining a three at the buzzer to lift SJV over St. Rose, 39-37, in the Shore Conference Tournament semifinals.
Bridget Andree, Trinity Hall
The Monarchs enjoyed their finest season, crafting a 20-6 mark, finishing second to St. Rose in B Central with a 14-2 record and taking perennial state power Patrick School the distance before bowing, 68-61, in overtime in the quarterfinals of South Jersey, Non-Public B. Andree capped her career in signature style with 22 points and 15 boards in the loss, the punctuation mark on a senior year in which she emerged as one of the area's more unheralded scorers. Her 17.5 points a game were a byproduct of aggressive pursuits to the rim while her tireless work inside cleared 9.0 rebounds per contest. She posted a triple-double on Jan. 13, collecting a season-high 29 points as well as 12 boards and 10 steals in a 67-55 victory against Point Pleasant Beach. Over four years, she poured in 1,228 points.
Broad registered five double-doubles during her senior year for the Mustangs (18-9) and wrapped up her four-year career with 1,182 points. She deposited 16.8 this season, complemented by 7.2 rebounds. 2.8 steals and 2.5 assists. Along the arc, she thrived in matchups that favored her size, sticking 40 3-pointers, but was equally destructive tearing down a defense when she ventured inside. She exploded for a career-best 35 points in the preliminary round of the Shore Conference Tournament to power Marlboro past Howell, 72-57, and backed 20 points with 13 rebounds in a 49-45 overtime victory against Middletown South on Jan. 6. 
Vote for the Sixth Man of the Year
Rahmena Henderson, St. John Vianney
Her hounding ball pressure in man-to-man defense injected energy off the bench while her knack for squeezing into the lane off the dribble created opportunities to score (4.9 ppg.) or slip off a weakside dish (1.6 apg.).
Amanda Hart, Red Bank Catholic
Her presence along the arc (33 3-pointers) commanded respect and was capable of producing some lethal streak shooting for the Caseys. Hart drilled four treys en route to a career-high 20 points in a 68-33 win over Colts Neck in the quarterfinals of the Shore Conference Tournament and drained five to fuel her 15 points in a 73-59 loss to St. Rose in the South Jersey, Non-Public A final.
One reason why the Purple Roses put together a charge to the Non-Public A state title and semifinals of the Tournament of Champions hinged on the productivity of its bench. Lithgow infused a spark as a prominent perimeter presence, sinking 13 threes in the state tournament, including four when she netted 14 in a 73-59 win that dethroned Red Bank Catholic as the South Jersey, Non-Public A champion. She was undeniably clutch in the state tournament.
More From Shore Sports Network