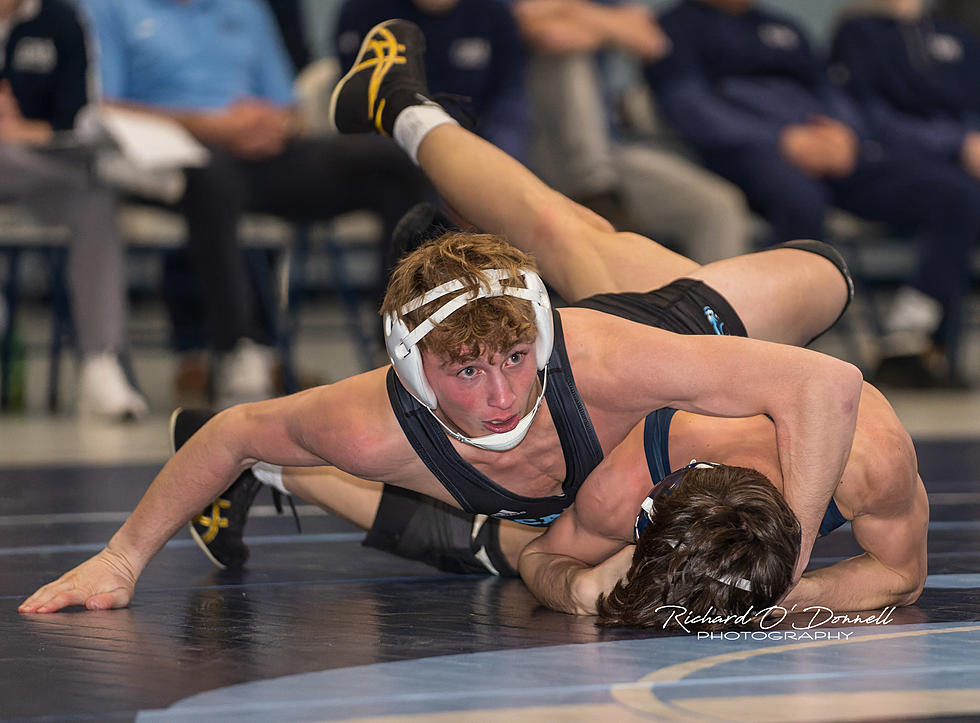 Garrett Totten Wins No. 1 vs. No. 2 matchup vs. Jack Zaleski to Lift No. 3 CBA past No. 4 Middletown South
Richard E. O'Donnell

MIDDLETOWN -- Garrett Totten finished seventh in the state last season, his second NJSIAA state medal in three years in what has been an exceptional career for the Christian Brothers Academy senior. The one match along the way that he wanted back, however, was a region semifinals loss to Middletown South's Jack Zaleski.
Totten's chance for redemption arrived on Wednesday night inside McKay Gymnasium, and it just so happened to come at a critical juncture of a major division showdown.
In a matchup of the top two 126-pounders in the Shore Conference, No. 2 Totten used a first-period takedown and a second-period rideout to beat No. 1 Zaleski, 3-1, and clinch what would end up as a 37-24 Shore Conference Class A North victory for the Colts.
Middletown South had closed the gap to just six points after consecutive pins at 113 and 120 pounds, making the Totten-Zaleski bout more than just a marquee bout. Totten's victory gave the Colts a 33-24 lead to clinch the dual-meet victory
"Jack's a great wrestler, I respect him a lot and we're friends off the mat," said Totten, who now sits at 98 career victories. "That loss last year hurt and I've been reminded of it ever since, so to come out on top for me as an individual and to help the team, it was a great victory."
"Obviously everyone knew Zaleski-Totten at 126 and we were hoping for that matchup," said CBA head coach Billy Ashnault. "We were excited for it, Garrett's been training for it, and he got what he deserved."
Totten wrestled an efficient match and neutralized Zaleski's offense both at neutral and on the mat, which was something he did not do in their region semifinals match.
"When he wrestled him last year there were too many scrambles," Ashnault said. "Garrett kept it clean, finished his shots, and was a lot smarter."
He led 2-1 after the first period and really took control in the second when he held Zaleski down for the entire period.
"You ride a guy for two minutes, it makes him think a little bit," Totten said.
"People don't realize, you ride somebody like that and it takes the wind out of their sails," Ashnault said.
CBA led the match from start to finish with the high-water mark being an 18-point lead after a pin by Tyler Venet at 106 pounds with four bouts left. The Colts were wrestling without standout sophomore Alex Nini, a returning state medalist and a third-place finisher at this season's Beast of the East, which resulted in some lineup juggling at 113 and 120 pounds. Normal 113-pounder Vin Principe moved up to 120 to take Nini's spot and sophomore Luke Pennisi entered the lineup at 113 pounds. That opened the door for Middletown South, which received a pin from No. 9 Ryan Madden at 113 over Pennisi and a stunning pin from Kaden King at 120 when he reversed Principe to his back and secured the fall with 8.7 seconds left.
"It was shocking," Totten said. "Vin's a hard worker in the room but stuff like that happens in wrestling and you have to just move past it and have short-term memory. It stinks for my friend out there but I had to forget about it and do my thing."
"You could see it in the crowd but Garrett went out there and did what he had to do and picked up Vin," Ashnault said. "That's what teammates are for."
Ashnault did not specify why Nini did not weigh in but said he would be in the lineup this weekend when CBA competes at the Escape the Rock Tournament at Council Rock South High School in Pennsylvania.
Middletown South won the pre-match flip and that allowed them to bump senior Robert Generelli up to 144 and away from CBA standout Julian George at 138 pounds. George, ranked No. 1 in the SSN rankings, received a forfeit and then Generelli, who is ranked No, 3 at 138, won 4-2 over a tough Nico Punzi to make it 6-3.
Several ranked matchups followed with CBA stacking four straight wins to open an 18-3 lead. Middletown South's David Hussey ranked No. 1 at 144, went up to 150 to take on top-ranked Tyler Barrett and it was Barrett who emerged with a 1-0 victory. No. 1 Zander Silva won 7-3 over No. 4  (at 150)Alex Quintanio at 157 pounds, No, 2 Nick Stump earned a 4-0 win over No. 3 Nick Holland at 165, and No. 6 Anthony Lawrence scored a 5-2 decision over No. 8 Jack Reiter at 175 pounds.
Middletown South got back on the board when No. 10 Jack Willi used a late takedown to win 9-7 over No. 8 Peter Grippo at 190 pounds. But after six straight decisions, CBA junior Robert Canterino ranked No. 2 at 215, provided much-needed bonus points when he turned and pinned No. 6 Matt Cody in 2:37 to open a 24-6 lead.
Middletown South had a major weight advantage at heavyweight and No. 6 Dante Miranda capitalized when he pinned Taig Sheehy in 2:36 to close CBA's lead to 24-12. The Colts got those points right back, however, when Venet pinned Zach Veniskey in 52 seconds at 106 pounds.
The match looked well in hand for CBA until the consecutive pins gave Middletown South life, but Totten was able to close the door before freshman AJ Falcone put the finishing touches on the victory with a 12-2 major decision over Alex Holland at 132 pounds. CBA is still alive for a piece of the Class A North division title but will need Middletown South to beat No. 2 Howell on Tuesday, which would force a tri-championship. Howell defeated CBA, 32-31, last Wednesday.
"That was great by the team coming up big in those toss-up matches and grinding them out," Totten said. "Against Howell, we didn't really do that and that's why we lost. Against Middletown South, we capitalized and showed we can win those tight matches."
Box Score
No. 3 CBA 37, No. 4 Middletown South 24
138: Julian George (CBA) by forfeit
144: No. 3 (at 138) Robert Generelli (MS) d. Nico Punzi, 4-2
150: No. 1 Tyler Barrett (CBA) d. No. 1 (at 144) David Hussey, 1-0
157: No. 1 Zander Silva (CBA) d. No. 4 (at 150) Alez Quintano, 7-3
160: No. 2 Nick Stump (CBA) d. No. 3 Nick Holland, 4-0
175: No. 6 Anthony Lawrence (CBA) d. No. 8 Jack Reiter, 5-2
190: No. 10 Jack Willi (MS) d. No. 8 Peter Grippo, 9-7
215: No. 2 Robert Canterino (CBA) p. No. 6 Matt Cody, 2:37
285: No. 6 Dante Miranda (MS) p. Taig Sheehy, 2:36
106: No. 8 Tyler Venet (CBA) p. Zach Veniskey, 0:52
113: No. 9 Ryan Madden (MS) p. Luke Pennisi, 4:12
120: Kaden King (MS) p. Vin Principe, 5:52
126: No. 2 Garrett Totten (CBA) d. No. 1 Jack Zaleski, 3-1
132: AJ Falcone (CBA) md. Alex Holland, 12-2
Check back for an expanded photo gallery by Richard O'Donnell
CBA vs. Middletown South Wrestling
7 UNTRUE STEREOTYPES ABOUT THE JERSEY SHORE
More From Shore Sports Network