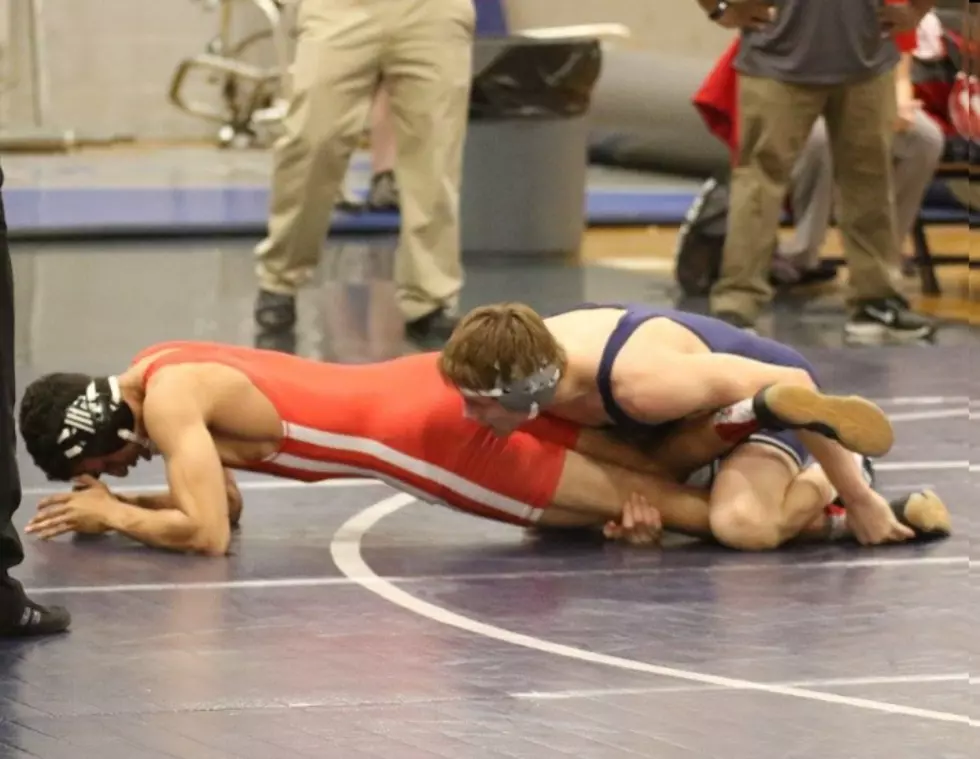 From the Octagon to Boardwalk Hall: Manasquan's Francis Marshall Makes Successful Transition from MMA to Wrestling
Junior Francis Marshall has made the deepest state tournament run of any Manasquan wrestler since 1998. (Photo courtesy of Matt Voskian)
Usually the natural progression is for wrestlers to switch to mixed martial arts after their careers on the mat have come to an end.
Manasquan junior Francis Marshall is part of a new generation showing that athletes can start in the octagon and transition to having their hands raised in victory on a wrestling mat.
Marshall decided to come out of the cage and try wrestling for the first time this season, and all he's done is become the Warriors' first qualifier for the NJSIAA Individual Championships at Boardwalk Hall in Atlantic City in 19 years.
"I expected big things out of him because he was used to the hand-to-hand combat and he has talent, but I never could have imagined that he'd make it this far in his first year,'' Manasquan coach Matt Voskian said.
His fourth-place finish in Region 6 means he will get his first taste of the bright lights on Friday afternoon as the 31st seed at 152, where he faces second-seeded Shane Griffith (32-2) of Bergen Catholic, a two-time state champion who is ranked seventh in the nation by Intermat.
"(Atlantic City) is the kind of competition I want,'' Marshall said. "The best of the best. I'm a little nervous now, but once I get in there and start warming up for my match, it all goes away, and I'll be ready to compete."
Marshall began training in mixed-martial arts when he was 13 after he and his dad drove by Kurt Pellegrino's Mixed Martial Arts Academy in Belmar and decided to check it out.
"I like the competition, the fact that it's you against another person,'' Marshall said. "You don't have to worry about another team member. If you lose it's on you, it's not on anyone else. It's real fun - I don't know how other people think about it, but it's pretty fun to get punched in the face, but that's just me."
Pellegrino has an impressive wrestling background as well, as he is one of the best wrestlers in Point Boro history. He finished second in the state in 1997 and '98 before moving on to become a professional MMA fighter in the UFC. Under his tutelage, Marshall became one of the top 10 Brazilian jiu jitsu competitors in the world for his age group by competing in tournaments all over the country.
Pellegrino also was the driving force behind Marshall's decision to try wrestling this season. Voskian had been trying for two years to get Marshall to put on the Warriors' singlet and take to the mat.
"(Pellegrino) wanted me to come out and just get more mat experience and experience competing three or four times a week,'' Marshall said.
The first order of business was making sure Marshall's MMA instinct didn't kick in while on the mat given that a punch, a kick strike and various choke holds would get him disqualified. Plus, going to your back in wrestling is usually catastrophic, whereas in Brazilian jiu jitsu it's strategic.
"I was nervous about that the whole time, but to be perfectly honest, he never showed anything that would indicate that he would fall into that habit,'' Voskian said. "He took to the sport very well."
"In the beginning of the wrestling season during practice, I would do different rolls or go to my back by accident, but I caught on quickly,'' Marshall said. "MMA really helped my takedowns, and my takedown defense is pretty phenomenal because of it."
In his first varsity match, he pinned Barnegat's Jarel Grimes in 43 seconds. One match later, he had his first encounter with the Shore's elite, getting pinned in the third period by Ocean's Jake Benner, a state title hopeful who is the No. 3 seed at 138 in Atlantic City.
Marshall's breakthrough came in a 9-6 decision over Long Branch's Luke Arnold in his fourth match. Arnold was a second-place finisher in District 23 and fifth in Region 6 at 145 this season.
"Once I beat him, I felt like I was getting the hang of it and starting to rise up,'' he said. "No one knew who I was, but after that I started to get some big wins and shock the Shore and make some statements."
"No one really knew who he was,'' Voskian said. "Most of these wrestlers all know each other because they've been facing off since middle school. He kind of came out of nowhere, and he has a tremendous skill set for the sport that he's developed."
Marshall (24-10), who was also part of the Manasquan football team that won the Central Jersey Group II title in the fall, improved to the point where he finished second at 152 in District 23, serving as a bright spot on a team that struggled to a 5-24 record in dual meets.
His specialty is the lightning-quick takedown, with the double leg being his favorite, resulting in some crazy winning scores like 26-11, 26-13, and a 31-14 technical fall. He will take opponents down, let them up, and take them back down at will. He even keeps track of them, noting that he has 135 takedowns in 34 matches this season.
"Kids could not take him down and could not stop his shots,'' Voskian said. "At
this level (in the state tournament), we're trying to develop a little bit more, but he's gotten the hard part down."
Entering his first Region 6 tournament as the No. 3 seed, he decisioned Point Beach's Jimmy Sherlock 7-5 in the "blood round" to become the first Warriors wrestler to make it to Atlantic City since 1998. In the Region 6 consolation final, he went to the ultimate tie-breaker with Ewing's Lavinsky Collins before falling 7-6 to finish fourth. He has benefited from a new rule in which the top four wrestlers from each region advance to Boardwalk Hall compared to the top three under the old system.
Marshall plans on continuing to wrestle during the offseason, but he also will be getting back into his MMA training. He will turn 18 on March 9, the age at which it's legal to participate in his first amateur MMA fight, which he hopes to do in the spring or summer.
Marshall will get back into the octagon armed with a much better wrestling pedigree, which can only help in the sport that is his first love.
"It will definitely help a lot,'' he said. "It also helps you grind it out in a fight because a lot of wrestling matches are close, and a lot of fights come down to the last round. It's been quite an experience for the first year, and I think next year will be even better."
WATCH: Wall's Rob Kanniard Wins Region 6 Title at 152
More From Shore Sports Network