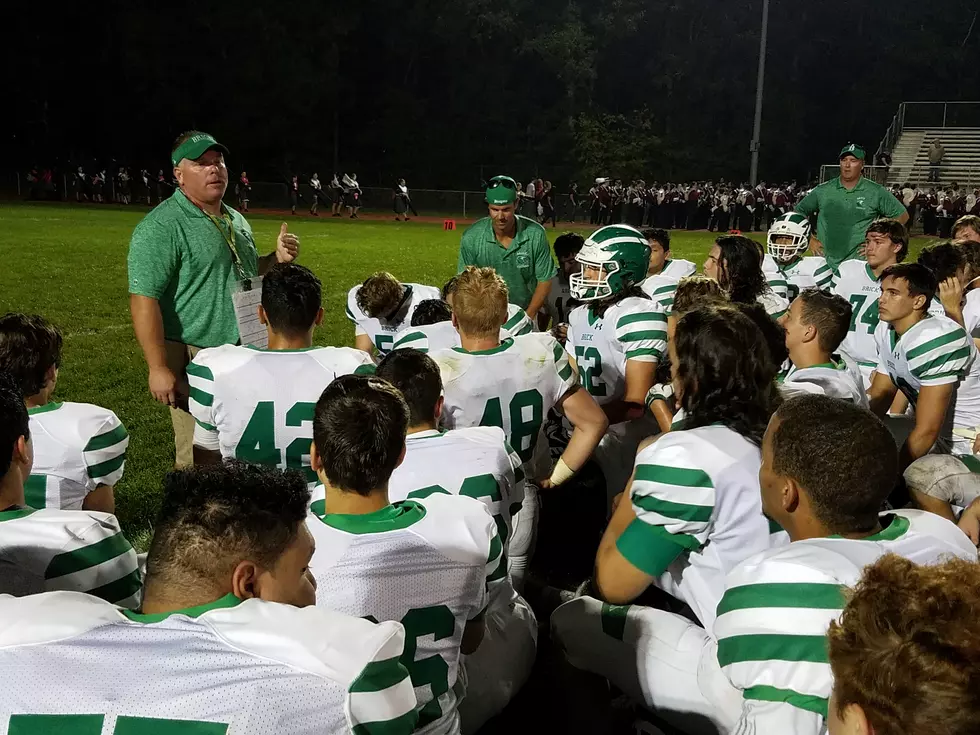 Football – Brick Rallies Past Jackson Memorial in A South Battle
Brick Head Coach Len Zdanowicz addresses the team following a win over Jackson Memorial. (Vin Ebenau, Shore Sports Network)
Coming off of a win where seemingly everything went right for the now 2-0 Green Dragons against Brick Memorial, they struggled for a bit Friday night against a ferocious Jaguars defense in the first half.
"We made plays when we had to," said Brick head coach Len Zdanowicz. "We got a lot of things wrong up front. We have to fix a lot of things if we're going to win some more games going forward."
Constantly in the backfield, the Jaguars (1-1, 0-1) were able to hold down Brick's running game and get to the quarterback combo of junior Jimmy Leblo and sophomore Anthony Prato, including Jags sophomore defensive end Colin McCarthy, who recorded a sack in the second quarter.
"We got a lot of resiliency from some of our kids fighting through a lot of poor protection up front, and there's a lot of things we have to fix" said Zdanowicz. "We'll get things fixed by next week hopefully and come out and make a good show against Toms River North."
The Dragons' backfield had Jaguar defenders in it for almost the entire night even when they were leading, enough to force two interceptions from their offense due to the ball-hawks of Jackson Memorial's 4-3 defense who were constantly sending the blitz, including a safety blitz from Jags junior John Ghinga.
"There's no lack of effort from our kids, they're working hard, we just have to push them a little bit more," said Zdanowicz.
Following a scoreless first quarter where both teams traded punts in their first two possessions, came an interception by a Green Dragon who would prove to be the difference maker late in the game.
After that it was Jackson Memorial who got the scoring going.
The momentum shifted to the hands of the Jags, who continued to play tight defense and take advantage of a slow start by the Green Dragons.
It was a quick scoring drive of just three plays following an interception by senior defensive back Elias Wilson off a deflection to set up the next scoring drive for the Jaguars.
Three plays later it was Jaguars senior quarterback A.J. Tolmachewich running it into the end zone to put Jackson Memorial up 14-0 with 3:40 left in the first half. That touchdown also turned out to be their last score of the game.
Seeking to get some points on the board before the half and cut down the lead as well, Brick scored with 48 seconds left before the break as junior Cole Groschel scored the first of two touchdowns on the night with a pass from Prato from 35-yards out to make it a 14-7 game.
At the half, Groschel and his teammates tried to refocus their gameplan and execute it in the second half.
"We just sat down, Jimmy, Anthony and me and we just said 'we have to step it up, we have to make plays, we've been doing this since we were kids'," said Groschel.
On their second possession of the second half Brick was able to draw a little bit closer by settling for a short 21-yard field goal by junior Jake Wynkoop to make it 14-10 with 1:55 left in the third-quarter.
"We knew we could come out in the second-half with our conditioning and how hard the kids worked," said Zdanowicz. "Our kids just believed and when that fourth quarter came around...those kids can make a lot of plays in the fourth quarter and they just believe in each other."
That closed out the scoring in the third quarter with Jackson Memorial still beaming with confidence in their defense to keep Brick from scoring any more points.
With 6:54 left in the game however, that changed for good with the turning point of the game on a scoring play by Cole Groschel who ran the most important 28 yards on the night after hauling in a pass from Leblo.
"Cole's a kid that we got to get isolated on certain things and we try our best to formation him in one-on-one things," said Zdanowicz. "He's a talented kid."
"I just saw that they (Jackson Memorial) were just trying to one-on-one me the whole game and switch corners and try to man me up and I said (to the offense) 'just throw it and I'll make the play," said Groschel. "You always have to feel confident as a wide out. When you're in a one-on-one, it's your favorite thing to see."
A couple of key interceptions by the tight Green Dragons defense in the second half, the first by junior Mike McGuigan and second (corrected from tweet below) by Anthony Prato, helped seal the win for Brick.
With another tough matchup coming up next week for Brick back at home against the Toms River North Mariners, Zdanowicz says winning Friday night was important.
"It's always good to be 2-0, especially in your division," said Zdanowicz. "It doesn't get any easier, we have Toms River North coming up and some tough teams after that."
Here is the post-game interview with the player of the game, Cole Groschel:
Vin Ebenau is a Shore Sports Network Contributor. You can follow him on Twitter and Instagram @VinEbenau. Like Shore Sports Network on Facebook and subscribe to our YouTube channel for all the latest video highlights.
More From Shore Sports Network