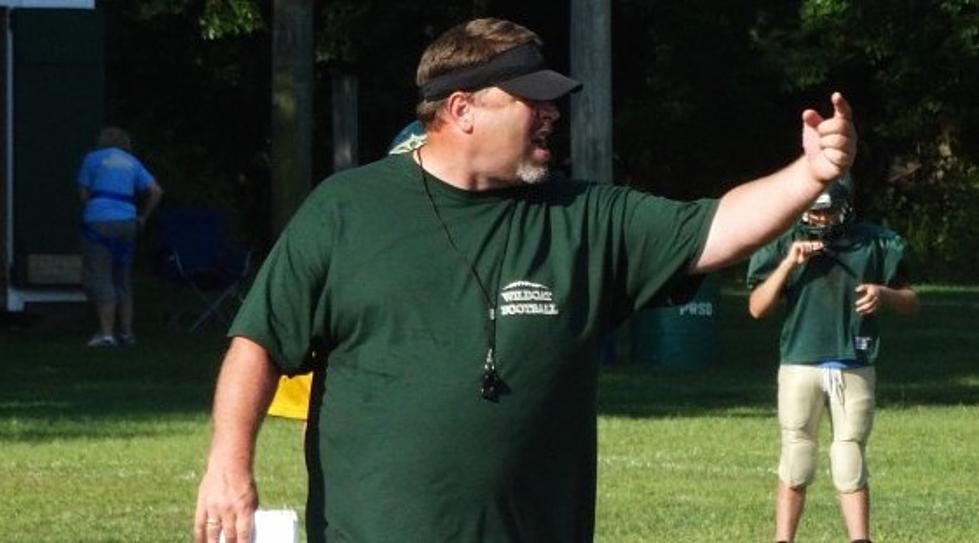 Football: Brian Wilkinson hired as Manchester head coach
Photo by Robert Badders

Enter your number to get our free mobile app
Veteran Shore Conference football coach Brian Wilkinson was approved as the new head coach at Manchester Township High School during the district's board of education meeting on Wednesday night.
Wilkinson succeeds Bill Furlong, who resigned in December after six seasons. Wilkinson is a former head coach at Toms River South and Pinelands and has been on Manchester's staff for the last three seasons, including as the Hawks' defensive coordinator the past two years.
"Being there the last three years was a great experience; there are great kids there and it's a great district, so when things opened up and I had the opportunity I was excited to put in for the job," said Wilkinson, who is a social studies teacher at Manchester Middle School.
Wilkinson will try to build a consistent winner at a school that has had limited success on the gridiron. Manchester was 2-8 this past season and hasn't had a winning season since 2010 when it went 6-4 under Gerard O'Donnell. Manchester has just five winning seasons plus five additional 5-5 seasons in its 44-year history.
Having been on the coaching staff the last three seasons is advantageous for Wilkinson - which it would be for any new head coach - but even more so considering schools are on virtual learning for the rest of the academic year and sports are on hiatus because of the COVID-19 pandemic.
"That's really the awesome thing," Wilkinson said. "We're not going to have to change much defensively from what we were. Defensively, we were really starting to get it and were much better last year. That's a good place to start. Offensively, I'm very excited. With Charlie Diskin coming aboard and running the offense, he's a veteran guy who I worked for at Toms River East and he coached with me at Pinelands. We really feel like these kids are hungry and we're going to put them in the best position to succeed."
In 2017, Wilkinson was controversially not rehired as the head coach at Pinelands just a few months before he was scheduled to receive tenure. Wilkinson was hired at Pinelands prior to the 2013 season and left his job as a tenured teacher in the Toms River Regional School District where he worked for 15 years. He arrived at Pinelands at a low point for the Wildcats' football program and has brought it back to respectability. Pinelands had a 21-game losing streak, including consecutive winless seasons in 2011 and 2012, and routinely lost games by 30 points or more. During Wilkinson's fourth and final season at Pinelands, the Wildcats went 4-6 and were competitive in every game.
Since then he's been waiting for the opportunity to become a head coach again, and that chance was granted on Wednesday night.
"My experiences have been really good (as a head coach) and I've been fortunate everywhere I've gone to have great kids and really good coaching staffs," Wilkinson said. "When you work with good people you want to keep building. Football is a great game and I've gotten to the point in my career where I've realized you're never done learning. When that happens you want an opportunity to apply that, to test yourself and your ideas."
Wilkinson is raring to go and chomping at the bit get on the field with his team, but it's anybody's guess as to when that can happen. While New Jersey is slowly beginning to reopen, economically, social distancing measures are still firmly in place. What the fall scholastic athletic season may look like is still very much up in the air.
"It's certainly a strange feeling not knowing when you're going to get out there," Wilkinson said. "As a football coach, you have the idea that you always have to grind. I don't think that part is going to change but the difference is we may be doing it online. We might be working out in a virtual world, which puts more on the kids. It could end up being a good thing where we see who takes charge and who our leaders are. It's hard as a coach because you want to be hands-on but we have to find a different way. Some of the early games next season could be decided based on which staff is the most organized."
TACKLE THESE: Check Out the Best Uniforms In Each NFL Team's History
Managing editor Bob Badders can be reached at bob.badders@townsquaremedia.com. Follow him on Twitter @Bob_Badders. Like Shore Sports Network on Facebook and subscribe to our YouTube channel for all the latest video highlights.
More From Shore Sports Network