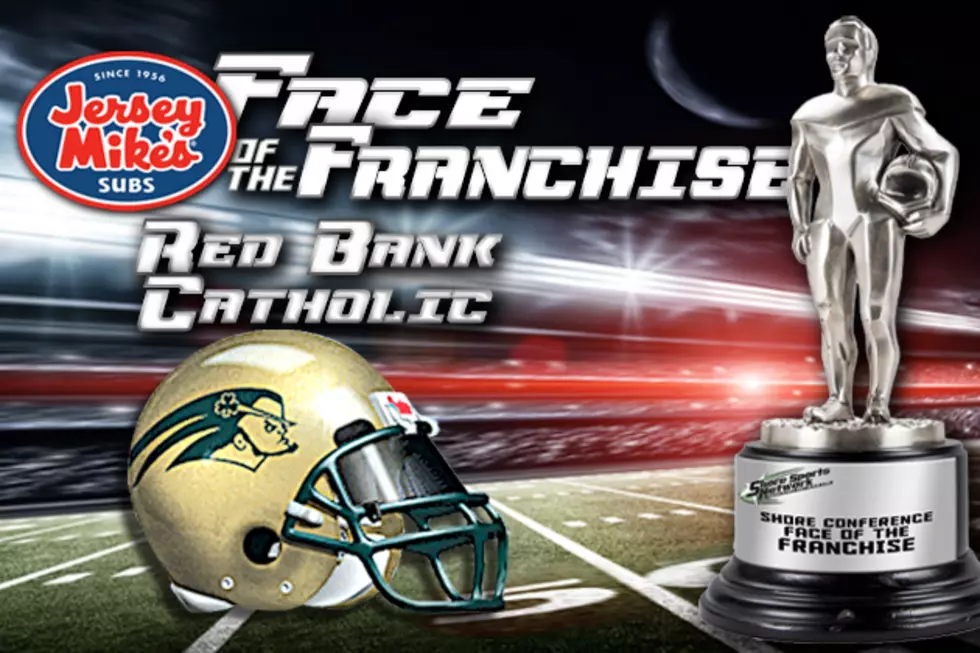 Face of the Franchise: Red Bank Catholic football
Steve Meyer

Enter your number to get our free mobile app
When a Shore Conference football program is mentioned there are certain people that always come to mind. For some, it's unanimous no matter what era you are from. For others, it's a fun debate comparing all-time greats from different eras whether they roamed the sidelines as coaches or broke records between the lines.
That got us at the Shore Sports Network wondering: when you think of Shore Conference football, who are the most prominent figures in each program's history? And if there was a mountain nearby and we knew a sculptor, whose faces should be carved on its side to be forever honored?
With that in mind, we came up with a football feature that will run throughout this summer, and it's called Face of the Franchise.
We reached out to all 43 football programs in the Shore Conference and in conjunction came up with five to six nominees for each school. The five names and their accomplishments will be listed and fans will have a chance to cast their votes to select who they feel is the Face of the Franchise for each program. Our SSN football crew of Bob Badders, Kevin Williams, Ed Sarluca and Matt Harmon will also put their heads together to make a selection. The polls will run for one week each.
At the end of the summer when the Face of the Franchise has been determined for all 43 programs, we'll run one final poll to see who the fans think should go on top of the mountain; five legends to represent the history of Shore Conference football.
RED BANK CATHOLIC
Quenton Nelson
Nelson's legendary high school career wasn't built on gaudy stats – not unless you count pancake blocks – but rather his uncompromising domination in the trenches that has prompted many Shore Conference coaches to say he was the greatest high school football player they had ever coached against.
A 2013 graduate of Red Bank Catholic High School, Nelson was a devastating 6-foot-5, 300-pound force of terror for the Caseys and one of the top offensive line recruits in the country. As a senior, he helped lead RBC to a 10-1 record in which the Caseys averaged a Shore Conference-high 43.5 points per game and won their fourth straight division title. He also wreaked havoc on the defensive side of the ball, recording 61 tackles with 12 tackles for loss to earn Class A Central Defensive Player of the Year honors from the coaches. Nelson was a two-time first-team All-Shore selection, a first-team All-State selection as a senior and played in the prestigious U.S. Army All-American Bowl. During Nelson's high school career, RBC went 30-3, including 30-0 in the regular season.
Nelson arrived on the national scene when a video emerged of him doing the same bench press weight that NFL prospects do at the NFL Combine, 225 pounds. Nelson put up 26 reps, which was more than nine first-round 2014 NFL draft selections were able put up.
Nelson continued his football career at Notre Dame and quickly became one of the best offensive linemen in the country. After redshirting in 2014, Nelson played in all 12 games and made one start as a sophomore guard. He started all 12 games in 2016 and was a second-team All-American selection as Notre Dame had one of the top rushing offenses in the country. Nelson was incredible as a redshirt junior in 2017 and was widely lauded as the nation's best lineman with many of his blocks appearing on highlight packages. He was a unanimous first-team All-American and projected as a potential top-10 pick in the 2018 NFL Draft. Nelson elected to forego his final year of eligibility to enter the NFL Draft.
The Indianapolis Colts selected Nelson with the sixth overall pick of the 2018 NFL Draft and he wasted little time making an impact. He was named NFL Offensive Rookie of the Month for October, becoming the first guard to ever win the award. He was named to the Pro Bowl as a rookie and was named first-team All-Pro.
Nelson's second year in the NFL was even better. He appeared and started in all 16 games for the Colts, playing 1,042 snaps, allowing zero sacks and committing just three penalties. He was once again named as a first-team All-Pro and selected to the Pro Bowl.
He is arguably the best lineman in the NFL and at age 24 has barely scratched the surface of what is on track to be a Hall of Fame career.
Donald Brown
With breakaway speed and a deceptive amount of power, Brown had a massive senior season that set the stage for a record-breaking college career and a seven-year career in the NFL.
As a junior at Red Bank Catholic, Brown eclipsed the 1,000-yard mark and did so on just over 100 carries to average a whopping 10 yards per attempt, earning second-team All-Shore honors. The following year he turned in an all-time season by rushing for 2,032 yards and 27 touchdowns to earn first-team All-Shore and second-team All-State recognition. His massive 2004 season attracted the attention of several college programs and Brown ultimately signed with the University of Connecticut.
After a redshirt year in 2005, Brown played in all 12 games as a freshman and took over as the starter for the final five games. He rushed for 896 yards and seven touchdowns (nine total TDs) and averaged 5.6 yards per carry to earn All-Big East recognition. He was the only freshman to be named to the all-conference team that season. He again started five games as a sophomore and ran for 821 yards and eight touchdowns while splitting time with fellow sophomore Andrew Dixon.
A preseason injury to Dixon cemented Brown as the starter to begin his junior season, and what followed was the greatest offensive season in UConn history. Brown began the year with eight straight 100-yard games, including a pair of 200-yard games, and in the process broke the previous program single-season rushing record of 1,262 yards. Brown was far from done, finishing the regular season with an FBS-leading 1,822 yards rushing. His final college game came in UConn's 38-20 win over Buffalo in the 2009 International Bowl and he went out in style with 261 yards and a touchdown, finishing the season with an FBS-best 2,083 yards rushing and 18 touchdowns. He became just the 14th player in FBS history to run for 2,000 yards in a season and the only UConn player to ever lead the nation in rushing. He was selected as the Big East Offensive Player of the Year and was also named to the College Football All-America Team. Brown concluded his college career with 3,800 yards rushing and 35 touchdowns on an average of 5.4 yards per carry.
Brown announced he would forego his final year of college eligibility and declare for the NFL draft. He was considered one of the top three running back prospects in the draft, ironically alongside fellow Shore Conference superstar and former Pop Warner teammate Knowshon Moreno of Middletown South and the University of Georgia. The Indianapolis Colts selected brown with the 27th overall pick of the 2009 NFL Draft, making him the first UConn football player to ever be taken in the first round.
Brown played out his five-year contract with the Colts, rushing for 2,377 yards and 17 touchdowns. His top two seasons were in 2011 when he ran for 645 yards and five touchdowns and in 2013 when he ran for 537 yards and six touchdowns. Brown also played two seasons with the San Diego Chargers in 2014 and 2015.
Harry Flaherty Sr.
Flaherty was an All-Shore selection as a linebacker for the Caseys, also starring as a baseball player and track and field athlete, before graduating in 1980. Flaherty elected to continue his football career at the College of the Holy Cross and enjoyed a tremendous career. He was a four-year starter for the Crusaders where he racked up a program-record 447 tackles, a career mark that still stands. His 152 tackles as a senior in 1983 set the school record at the time. He helped Holy Cross advance to the NCAA Division I-AA playoffs for the first time in program history.
Flaherty was inducted into the Holy Cross Athletic Hall of Fame in 1995 and in 2015 was inducted into the Crusader Football Legends Ring of Honor.
After going undrafted in the 1984 NFL Draft, Flaherty signed with the Philadelphia Eagles but was released before the start of the season. In 1985 he signed with the Tampa Bay Bandits of the United States Football League and played inside linebacker. The following season he signed with the Baltimore Stars but the league folded before the season began.
In 1987, Flaherty got his second shot at playing in the NFL when he signed with the Cowboys, serving as a backup outside linebacker.
Since 1995, Flaherty has served as New Jersey's Director of the Fellowships of Christian Athletes. He has also previously an assistant coach with Red Bank Catholic.
Lonnie Burgess
Burgess was a first-team All-Shore player and an All-State selection as a senior when he led the Shore Conference in rushing and helped lead the Caseys to the NJSIAA South Jersey Non-Public A state championship.
His 1,000-plus yard season as a senior concluded with a fabled 233-yard, four-touchdown performance on just 14 carries in RBC's 40-6 win over Notre Dame in the state final. He also threw a touchdown pass during the game. Even more impressive was that he accomplished all that with a broken jaw suffered during the game.
Burgess played collegiately at Springfield College.
Eddie Hahn
Arguably the greatest quarterback in Red Bank Catholic history, Hahn was a dynamic dual-threat player who also excelled on defense to help the Caseys snap a 38-year state title drought.
RBC had been banging on the door of a state championship for several years when Hahn took over as the full-time starting quarterback in 2014 after rotating as a sophomore. That season as a junior, Hahn threw for 1,485 yards and 20 touchdowns and also ran for 531 yards and 12 touchdowns on an average of 7.5 yards per carry. As a safety, he had 32 tackles, two interceptions and 12 passes defensed. In the Non-Public Group 3 state final against Delbarton, Hahn completed 9 of 10 passes for 234 yards and two touchdowns and ran for 47 yards and a touchdown to lead RBC to a 45-20 win and secure the Caseys' first state title since 1976. He was a first-team All-Shore selection after leading RBC to a school-record 11 wins and the most points – 543 – in program history.
As a senior, Hahn was a second-team All-Shore selection after throwing for 1,718 yards and 12 touchdowns and rushing for four touchdowns. He had a career-best 380 yards and four touchdowns in a game against Ocean. RBC went 39-6 during his high school career.
Hahn had several FBS and FCS scholarship offers and elected to sign with the University of Connecticut. He ended up playing linebacker for the Huskies and in 2019 started 10 games and recorded 59 tackles and four tackles for loss. Following the 2019 season, he entered the transfer portal as a graduate transfer and signed with Monmouth University. The Hawks, however, canceled their fall sports season due to the COVID-19 pandemic.
See New Words Added to Dictionary.com in 2020
Managing editor Bob Badders can be reached at bob.badders@townsquaremedia.com. Follow him on Twitter @Bob_Badders. Like Shore Sports Network on Facebook and subscribe to our YouTube channel for all the latest video highlights.
More From Shore Sports Network