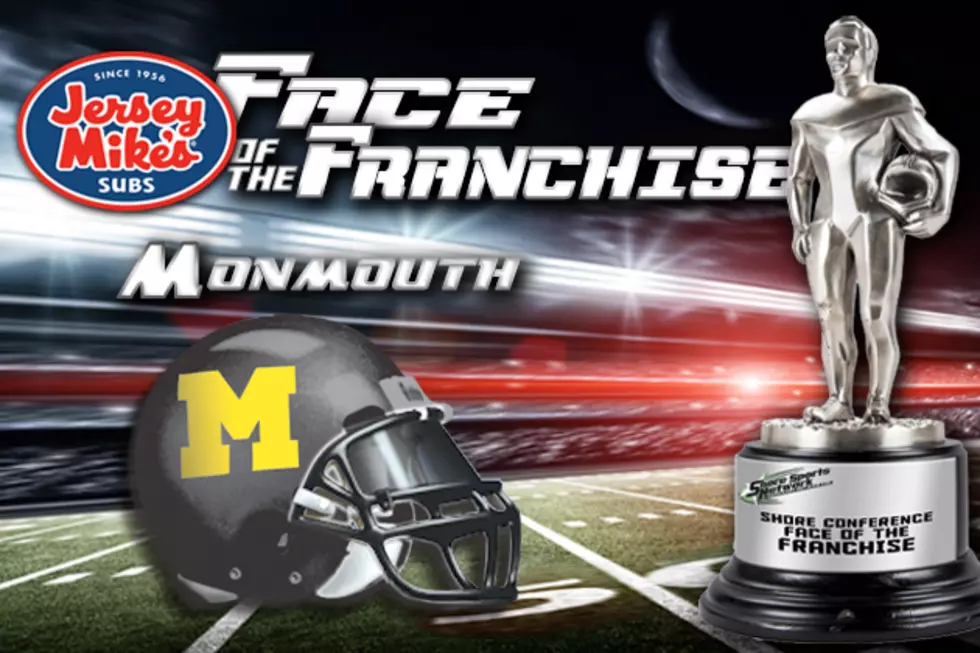 Face of the Franchise: Monmouth Regional football
Steve Meyer

Enter your number to get our free mobile app
When a Shore Conference football program is mentioned there are certain people that always come to mind. For some, it's unanimous no matter what era you are from. For others, it's a fun debate comparing all-time greats from different eras whether they roamed the sidelines as coaches or broke records between the lines.
That got us at the Shore Sports Network wondering: when you think of Shore Conference football, who are the most prominent figures in each program's history? And if there was a mountain nearby and we knew a sculptor, whose faces should be carved on its side to be forever honored?
With that in mind, we came up with a football feature that will run throughout this summer, and it's called Face of the Franchise.
We reached out to all 43 football programs in the Shore Conference and in conjunction came up with five to six nominees for each school. The five names and their accomplishments will be listed and fans will have a chance to cast their votes to select who they feel is the Face of the Franchise for each program. Our SSN football crew of Bob Badders, Kevin Williams, Ed Sarluca and Matt Harmon will also put their heads together to make a selection. The polls will run for one week each.
At the end of the summer when the Face of the Franchise has been determined for all 43 programs, we'll run one final poll to see who the fans think should go on top of the mountain; five legends to represent the history of Shore Conference football.
MONMOUTH REGIONAL
Mike Lucarelli
Part of the inaugural graduating class at Monmouth Regional, Lucarelli (Class of 1963) was a standout fullback and linebacker for the Falcons who was a first-team All-Shore selection by the Long Branch Daily Record. Lucarelli went on to enjoy a standout career at Sioux Falls College (now the University of Sioux Falls) in South Dakota, eventually earning a tryout with the Chicago Bears.
Lucarelli's post-college career included a return to Tinton Falls where he served as the Falcon's head football coach from 1986-1989 and also as the school's athletic director.
Walter "Butch" Brown
A 1973 graduate, Brown was a first-team All-Shore selection at linebacker as a senior and was also a two-time all-Red Bank Register selection, including being named the 1972 Defensive Player of the Year. He went on to play collegiately at Tarkio College in Missouri.
Brandon Taylor
A two-time second-team All-Shore selection and a third-team All-New Jersey selection as a senior, Taylor starred as a running back and defensive back from 1996-1999. As a senior, he led the Falcons to a 7-3 record, which tied the school record for wins in a season, and led them to the Class C South division title, the school's first. He was also a two-time all-division selection and an Academic All-Shore recipient.
Taylor ran for 2,249 yards combined between his junior and senior years and posted 16 total touchdowns as a senior. He continued his career at the University of New Hampshire where he started 28 games at defensive back, accumulating 155 tackles and three interceptions. Taylor then played two seasons with the Utah Blaze of the Arena Football League and also played for the Mahoning Valley Thunder and the Albany Conquest in the AF2 league, which is the Arena Football League's developmental league.
Following his playing career, Taylor has been an assistant coach with the Cleveland Gladiators and the Pittsburgh Power of the AFL, Kean University, Bentley University and Robbinsville High School.
Thomas D'Ambrisi
A dynamic dual-threat quarterback, D'Ambrisi piloted the Falcons' offense to the best season in program history in 2006 when they went 8-3, won a division title and won the first playoff game in program history.
He accounted for over 2,000 combined yards as a senior by throwing for 1,367 yards and 16 touchdowns and rushing for 724 yards and 10 touchdowns. The Falcons' won the Liberty Division title and their eight wins set a program single-season record that still stands today. In the first round of the Central Jersey Group 3 playoffs, D'Ambrisi starred as Monmouth upended rival Ocean, 32-14, to give the Falcons the first playoff win in program history.
As a senior, D'Ambrisi was a first-team All-Shore and first-team All-New Jersey selection, as well as the Liberty Division Offensive Player of the Year. He threw for over 4,500 yards in his career and totaled 31 touchdowns.
D'Ambrisi's elected to continue his college career at Monmouth University but eventually transferred to Kean. He became one of the Cougars' all-time great quarterbacks, starting all but one game over a four-year span and setting records for single-season completions (178) , single-game completions (34) wins by a quarterback (31), passing touchdowns in a season (21) and most touchdowns responsible for in a season (24). D'Ambrisi threw for 7,140 yards and 64 touchdowns in his career. He was the 2008 ECAC Rookie of the Year and a first-team All-NJAC selection when he led Kean to the NJAC title.
Isaiah Searight 
Searight came out of nowhere to have a breakout senior season in 2014, earning All-Shore honors and kickstarting a career that would lead to collegiate success and a spot in the National Football League.
After a modest junior year where he caught 29 passes for 351 yards and only one touchdown, Searight became one of the state's best wide receivers as a senior by leading the Shore Conference with 76 catches for 887 yards and finishing third with nine touchdown grabs. All three totals are program single-season records and his 76 receptions are the second-highest single-season total in Shore Conference history. He was a first-team All-Shore and second-team All-State selection and was also named to the Academic All-Shore Team.
Searight's production and his 6-foot-4 frame caught the eye of Fordham University, which offered him a spot with their FCS program. During his time at Fordham, Searight was converted to tight end and was a three-year starter. He was a second-team team All-Patriot League selection as a sophomore and a first-team pick as a senior and was also a three-time Patriot League All-Academic selection. His 10 career touchdowns tied the school record for tight ends and he was just the fourth Rams tight end in school history with over 1,000 receiving yards (1,119). He finished with 89 career receptions. As a junior, he caught eight passes for 139 yards and two touchdowns, to set a single-game record for receiving yards by a tight end.
Searight signed with the Tampa Bay Buccaneers as an undrafted free agent following the 2019 NFL Draft. He was released but then signed with the Giants. He is currently a free agent.
KEEP READING: 15 Natural Ways to Improve Your Sleep
Managing editor Bob Badders can be reached at bob.badders@townsquaremedia.com. Follow him on Twitter @Bob_Badders. Like Shore Sports Network on Facebook and subscribe to our YouTube channel for all the latest video highlights.
More From Shore Sports Network