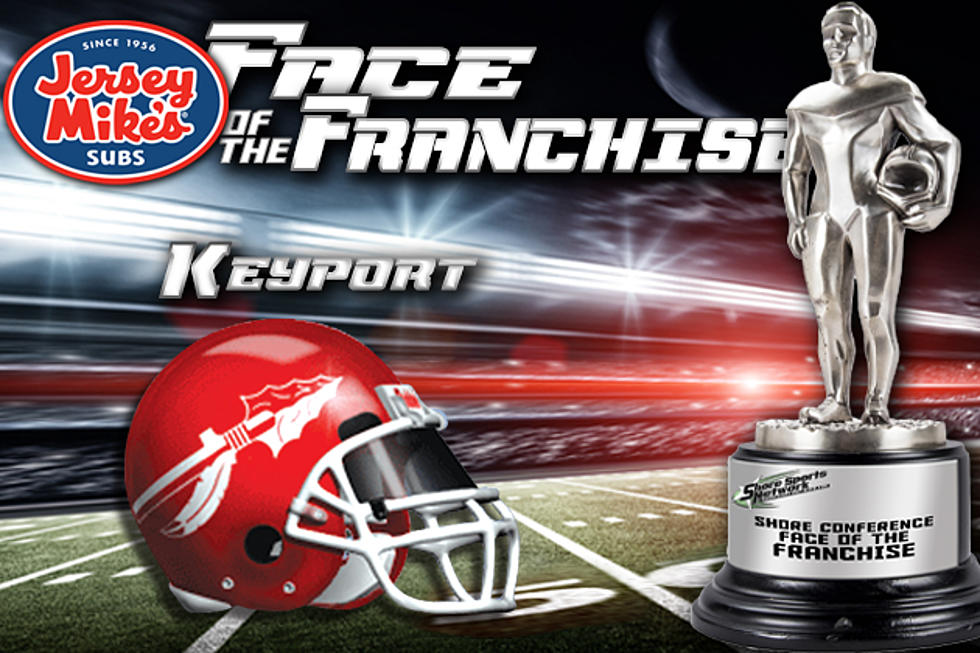 Face of the Franchise: Keyport football
Steve Meyer

Enter your number to get our free mobile app
When a Shore Conference football program is mentioned there are certain people that always come to mind. For some, it's unanimous no matter what era you are from. For others, it's a fun debate comparing all-time greats from different eras whether they roamed the sidelines as coaches or broke records between the lines.
That got us at the Shore Sports Network wondering: when you think of Shore Conference football, who are the most prominent figures in each program's history? And if there was a mountain nearby and we knew a sculptor, whose faces should be carved on its side to be forever honored?
With that in mind, we came up with a football feature that will run throughout this summer, and it's called Face of the Franchise.
We reached out to all 43 football programs in the Shore Conference and in conjunction came up with five to six nominees for each school. The five names and their accomplishments will be listed and fans will have a chance to cast their votes to select who they feel is the Face of the Franchise for each program. Our SSN football crew of Bob Badders, Kevin Williams, Ed Sarluca and Matt Harmon will also put their heads together to make a selection. The polls will run for one week each.
At the end of the summer when the Face of the Franchise has been determined for all 43 programs, we'll run one final poll to see who the fans think should go on top of the mountain; five legends to represent the history of Shore Conference football.
KEYPORT 
Efrain Cabrera
A two-time All-Shore selection, including a first-team honor as a senior in 1987, Cabrera was a standout running back for the Red Raiders when they went 10-1 and won the NJSIAA Central Jersey Group 1 title in 1987, the first of six titles under Hall of Fame coach Mike Ciccotelli. Cabrera was actually an offensive lineman as a sophomore, but when training camp opened for his junior year, he wowed the coaching staff with blazing speed and was quickly converted to a running back.
Cabrera played collegiately at Temple where he was the Owls' starting fullback. Temple's head coach at the time was current Tampa Bay Buccaneers head coach Bruce Arians. Cabrera ran for 651 yards and two touchdowns during his college career.
J.J. Bedle 
A dominant wide receiver for Keyport when the Red Raiders went 22-1 between 2002 and 2003, Bedle caught 134 passes for 2,711 yards and 37 touchdowns. He helped lead Keyport to the 2002 NJSIAA Central Jersey Group 1 title and back to the title game in 2003. As a senior, Bedle caught 48 passes for 1,000 yards and 15 touchdowns. As a junior, he hauled in 53 passes for 1,051 yards and 15 touchdowns and debuted with 33 catches for 650 yards and 7 touchdowns as a sophomore. On defense, he had 15 career interceptions. Bedle was a second-team Associated Press All-State selection and a first-team All-Shore selection during his junior and senior seasons. He set school records for career touchdowns catches, receptions and receiving yards.
Bedle earned a scholarship to Syracuse where he redshirted as a freshman and then played during the 2005 season at wide receiver and kick returner. Also a standout basketball player, Bedle was a member of the 2005-2006 Syracuse basketball team as a walk-on. Bedle transferred to Delaware State University a year later where he concluded his career.
Tragically, Bedle passed away in 2007 of unknown causes.
Kenny Cattouse
"The Moose" is among the greatest running backs in Shore Conference history and was part of a powerhouse Keyport offense that led the Shore in yards and points per game and won 22 straight games from 2002 to 2003.
A three-year starter who saw significant time as a freshman, Cattouse ran for over 1,500 yards in three straight seasons, including back-to-back, 2000-yard seasons as a junior and senior in 2002 and 2003. As a junior he ran for 2,160 yards and 28 touchdowns as Keyport went 11-0 – the only undefeated season in program history – and captured the NJSIAA Central Jersey Group 1 title. As a senior, Cattouse ran for a school-record 2,210 yards and 34 touchdowns as the Red Raiders started 11-0 before falling in the state final. Cattouse concluded his career with a Shore Conference-record 6,676 yards rushing, which at the time was also the all-time state record. His 96 total touchdowns are also a school record for Keyport. During Cattouse's high school career, Keyport went 38-7, won three Shore Conference division titles and captured a state championship. He was a two-time first-team All-Shore selection and a two-time All-State selection, including first-team All-State as a senior.
Cattouse went on to play collegiately at Troy University where he was a three-year starter. He ran for 1,966 yards and 16 touchdowns on an average of 4.9 yards per carry and caught 59 passes for 377 yards and one touchdown during his career.
Mike Ciccotelli 
A Shore Football Coaches Foundation Hall of Famer, Ciccotelli was Keyport's head coach for 36 years from 1978 through 2013, amassing a 231-131-3 record and leading the Red Raiders to six NJSIAA Central Jersey Group I titles, which is tied for the second-most sectional titles by any coach in Shore Conference history.
Ciccotelli coached Keyport to NJSIAA Central Jersey Group I championships in 1987, 1988, 1992, 1998, 1999, and 2002. He also has led the Red Raiders to 12 Shore Conference division titles, including three straight from 1987-89. His teams made 16 state playoff appearances and had a career playoff record of 21-11.
With teams known for their punishing Delaware Wing-T running attack and physical defense, Ciccotelli led the Red Raiders to a school single-season record 11 wins in 1999, 2002 and 2003, including an 11-0 season, the only undefeated season in program history, in 2002. Ciccotelli also twice served as the Monmouth County head coach in the All-Shore Gridiron Classic, winning both times. He was an All-County running back/defensive back at A.L. Johnson High School, graduating in 1969 and moving on to be a four-year starter and earning all-conference honors at defensive back at Trenton State College, which is now The College of New Jersey.
Malcolm Postell 
Postell was a two-time All-Shore selection, including a first-team pick as a senior in 1999 when he rushed for 1,275 yards and 20 touchdowns, totaling a Shore Conference-leading 24 touchdowns and 181 total points (he also had 34 extra points as a kicker). He helped Keyport win back-to-back NJSIAA Central Jersey Group 1 titles and post a 22-2 record from 1998 to 1999.
Postell played collegiately at Pittsburgh where he was recruited as a running back but switched to linebacker as a junior. He saw significant time as a junior and then started as a senior. Postell totaled 194 tackles, 8 interceptions and 3 defensive touchdowns, including 119 tackles and four interceptions as a senior. His three interceptions returned for touchdowns in 2004 led the NCAA. At Pitt, he was teammates with several future NFL players, including Larry Fitzgerald, Darrelle Revis, Joe Flacco and former Rumson-Fair Haven standout Rob Petitti.
CHECK IT OUT: See the 100 most popular brands in America
Managing editor Bob Badders can be reached at bob.badders@townsquaremedia.com. Follow him on Twitter @Bob_Badders. Like Shore Sports Network on Facebook and subscribe to our YouTube channel for all the latest video highlights.
More From Shore Sports Network