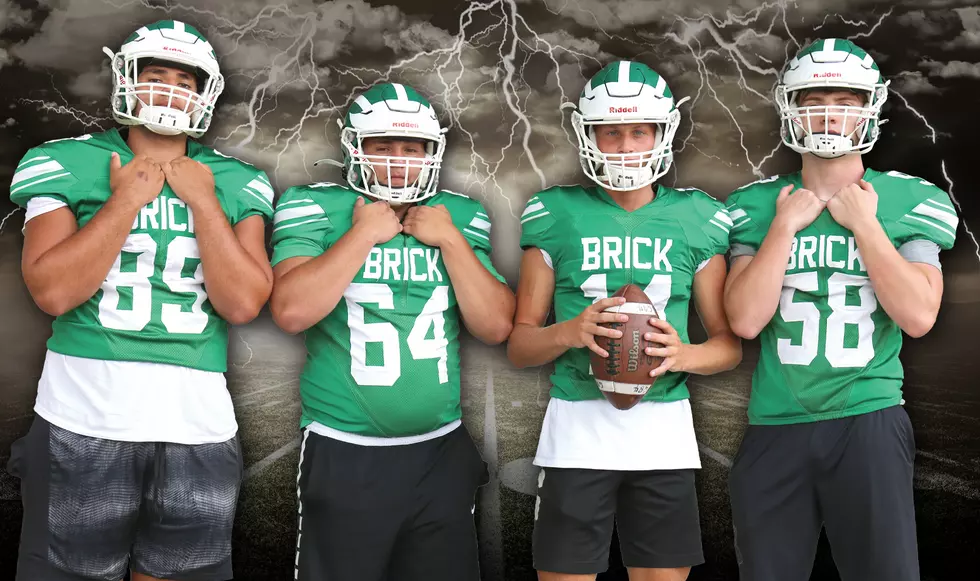 Expecting to Contend: 2022 Brick Township High School Football Preview
Left to right: Tyson Lopez (89), Michael Pormigiano (64), AJ Grygiel (14), Colin Wilson (58).

With just a handful of starters back in the fold for the 2022 season, there are plenty of question marks surrounding the Brick Dragons football team. But just because there aren't many recognizable names doesn't mean the expectations have changed for one of the most tradition-rich schools in the Shore Conference.
A group of important seniors paired with some promising underclassmen have the Dragons ready to compete for a title in what looks to be a very competitive Freedom Division. And, as always, a return to the playoffs is always a goal for a program that has won seven NJSIAA sectional championships and several more before the current playoff model took shape.
Brick's offense features senior returning starter AJ Grygiel as the team's quarterback. Junior Christian Booker will serve as the backup. Grygiel will orchestrate a multi-faceted scheme that returns a total of six starters. The backfield also includes junior returning starter Jake Toye at H-back along with senior Chris Salvato, plus juniors Travis Trempy and Aidan Dvorak at running back. In the passing game, junior Johnny Poukish and senior Ethan Christiansen are the main wide receivers and sophomore Jayden Johnson and senior Logan Donnelly are slated to line up in the slot.
At tight end, senior Tyson Lopez (6-1, 235) returns as the starter with junior Ezra Meyers also at the position. The left side of the offensive line is a clear strength with a pair of senior returning starters - Michael Pormigiano at left tackle and Colin Wilson at left guard. The center is senior Abdul Rahimi and the right guard is also a returning starter in junior Will Walsh. At right tackle is senior Ray Wood (6-2, 240). Adding depth to the offensive line are sophomore Chris Quick and junior Juan Navarette at tackle, juniors Alex Azevado and Vincent Vargas at guard, and junior Aidan Lowenstein at center.
Defense has long been a hallmark of Brick football and the Dragons had an above-average unit last season that finished 14th in the Shore allowing 18.3 points per game. Four starters return with two of them being along the defensive line. Toye is a returning starter at defensive end and Pormigiano is a returner at defensive tackle. The rest of the defensive ends are Lopez, Salvato, Wood, and senior Gabe Batt, and rounding out the group of defensive tackles are Rahimi, Lowenstein, Navaratte, Brandon O'Hearn, and John DeVaughn.
Walsh and Wilson are both returning starters at linebacker with Meyers set to also start. Trempy, senior Mike Rufano, and sophomore Sean Savannah could also see playing time at linebacker.
The secondary consistent of Christiansen, Donnelly, Grygiel, and Johnson as starters with Booker, senior Julian Beltran, freshman Germaine Rice, senior Jose Flippen, and Ryan Chapman also in the mix.
Division realignment has Brick in the Freedom Division with rivals Brick Memorial and Toms River South, plus Ocean, Neptune, and Red Bank.
At a Glance 
Projected starters (RS=returning starter, 3RS=3rd-year returning starter)
Offense: Multiple
Returning starters: 6
QB: AJ Grygiel, Sr., RS; Christian Booker, Jr.
RB: Travis Trempy, Jr.; Aidan Dvorak, Jr.
HB: Jake Toye, Jr., RS; Chris Salvato, Sr.
Slot: Jayden Johnson, So.; Logan Donnelly, Sr.
WR: Johnny Poukish, Jr.; Ethan Christiansen, Sr.
TE: Tyson Lopez, Sr., RS; Ezra Meyers, Jr.
LT: Michael Pormigiano, Sr., RS; Chris Quick, So.
LG: Colin Wilson, Sr., RS; Alex Azevado, Jr.
C: Abdul Rahimi, Sr.; Aidan Lowenstein, Jr.
RG: Will Walsh, Jr., RS; Vincent Vargas, Jr.
RT: Ray Wood, Sr.; Juan Navarette, Jr.
Defense: Multiple
Returning starters: 4
DE: Jake Toye, Jr., RS; Chris Salvato, Sr.; Ray Wood, Sr.
DT: Michael Pormigiano, Sr., RS; Aidan Lowenstein, Jr.; John DeVaughn
DT: Abdul Rahimi, Sr.; Brandon O'Hearn, Juan Navarette, Jr.
DE: Tyson Lopez, Sr.; Gabe Batt, Sr.
LB: Will Walsh, Jr., RS; Mike Rufano, Sr.
LB: Colin Wilson, Sr., RS; Sean Savannah, So.
LB: Ezra Meyers, Jr.; Travis Trempy, Jr.
DB: Ethan Christiansen, Sr.; Julian Beltran, Sr.
DB: Logan Donnelly, Sr.; Germaine Rice, Fr.
DB: AJ Grygiel, Sr.; Christian Booker, Jr.
DB: Jayden Johnson, So.; Jose Flippen, Sr.
Special Teams
K: Kurt Weiboldt, Jr.
P: AJ Grygiel, Sr.
STAFF
Head coach: Len Zdanowicz, 8th season
Career record: 40-31
Team record last five years:
2021: 4-5
2020: 2-5
2019: 3-6
2018: 8-3
2017: 6-5
Assistant coaches: Matt Fuller (Offensive coordinator/QB); Brian McNamara (Defensive coordinator/LB); Andrew Cruz (OL); John Dolan (WR);  Bob Grace (RB); Joe Smyth (DL); Chad Dougherty (LB); John Prato (DB); Kurt Wieboldt (Special teams/kickers); Jared Kight (assistant); Jack Bush (video coordinator); Christian Malta (Defensive asst.); FRESHMEN: Jay Groschel (head coach/OC), Chris Blackburn (DC); Pete Fusco (athletic trainer).
Player to Watch: AJ Grygiel, Sr., QB/DB
Grygiel returns as Brick's starting quarterback and will also start in the secondary after seeing some time there last season. The Dragons will need both production and leadership from him if they are to contend.
Player Under the Radar: Jake Toye, Jr., RB/LB
Toye played significant snaps as a sophomore and could be in line for a breakout season on both sides of the ball. He is also a standout ice hockey player for the Dragons.
Impact Newcomer: Jayden Johnson, So., WR/DB
Johnson is in line to be a starter at both wide receiver and in the secondary and should get plenty of opportunities to make a major impact in his first varsity season.
Rivalry Game: Oct. 22 vs. Brick Memorial
This year's edition of the Battle of Brick has an extra layer to it now that it will take place during Week 8, the final week of the regular season. A playoff spot, playoff positioning, and even a division title could be on the line when the Dragons and Mustangs square off at Keller Memorial Field. Brick won last season's game, 36-18, and has dominated the series over the past decade.
Season Schedule:
Sept. 1  - vs. Marlboro, 6 p.m.
Sept. 9 - vs. Toms River South, 7 p.m.
Sept. 16 - @Neptune, 7 p.m.
Sept. 23 - @Red Bank, 7 p.m.
Sept. 30 - @Centrall, 7 p.m.
Oct. 7 - vs. Ocean, 7 p.m.
Oct. 14 - @Lacey, 6:30 p.m.
Oct. 22 - vs. Brick Memorial, 12 p.m.
Take A Tour Of Ocean County's Only Indoor Cornhole Arena
Opening September 1st, you'll be able to keep your throwing arm strong over the winter at Fun Bags, in Toms River New Jersey
More From Shore Sports Network