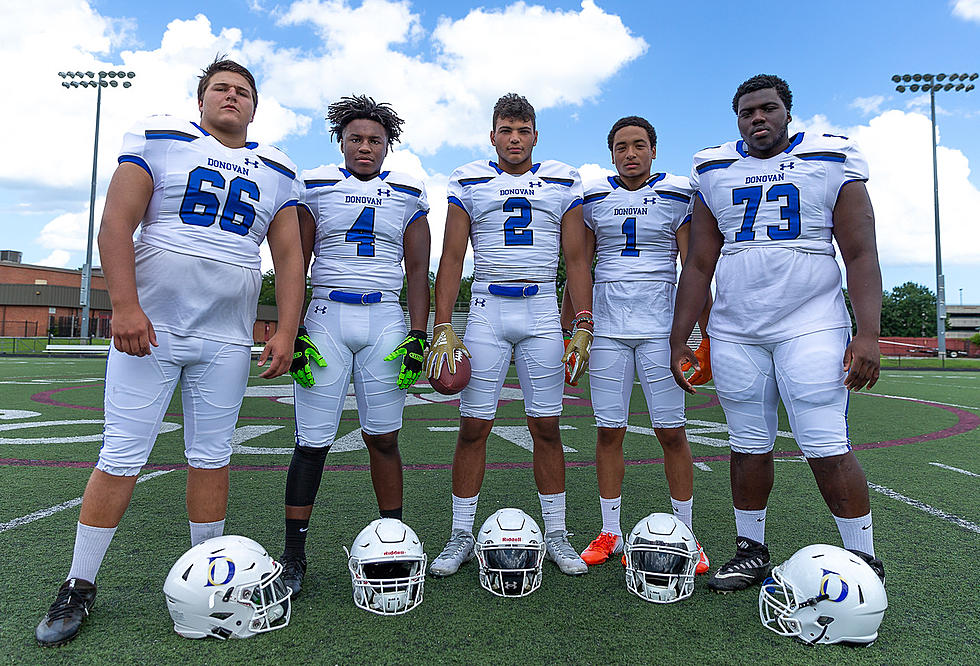 Donovan Catholic vs. Keyport game moved to Saturday at Central Regional
Donovan Catholic's Nick Kenmure (66), Quamire Green (4), Ryan Clark (2), Andrew Laney (1) and Bobo Aluko (73). Photo by Paula Lopez/PAL Images
Due to delays in the construction of its new turf field, Donovan Catholic's game against Keyport has been moved to Saturday and will now be played at Central Regional High School at 1 p.m.
Construction has been ongoing throughout the summer at the Toms River school to replace the natural grass field with a synthetic turf field. The field was supposed to be ready for the Griffins' home opener, which was originally scheduled for Friday night at 6:30 versus Keyport. The persistent rain over the past week hampered construction efforts, however, and although the field is in its final stages, it won't be ready in time for this week's game.
Donovan Catholic has a bye in Week 3 and it is anticipated the field will be ready for football when the Griffins return home on Sept. 28 to take on Asbury Park.
Donovan is coming off a 33-6 victory over Keansburg in Week 1 while Keyport enters after a 14-0 win over Point Beach. The Griffins are looking for their first 2-0 start since 2008.
Managing editor Bob Badders can be reached at bob.badders@townsquaremedia.com. Follow him on Twitter @Bob_Badders. Like Shore Sports Network on Facebook and subscribe to our YouTube channel for all the latest video highlights. 
More From Shore Sports Network