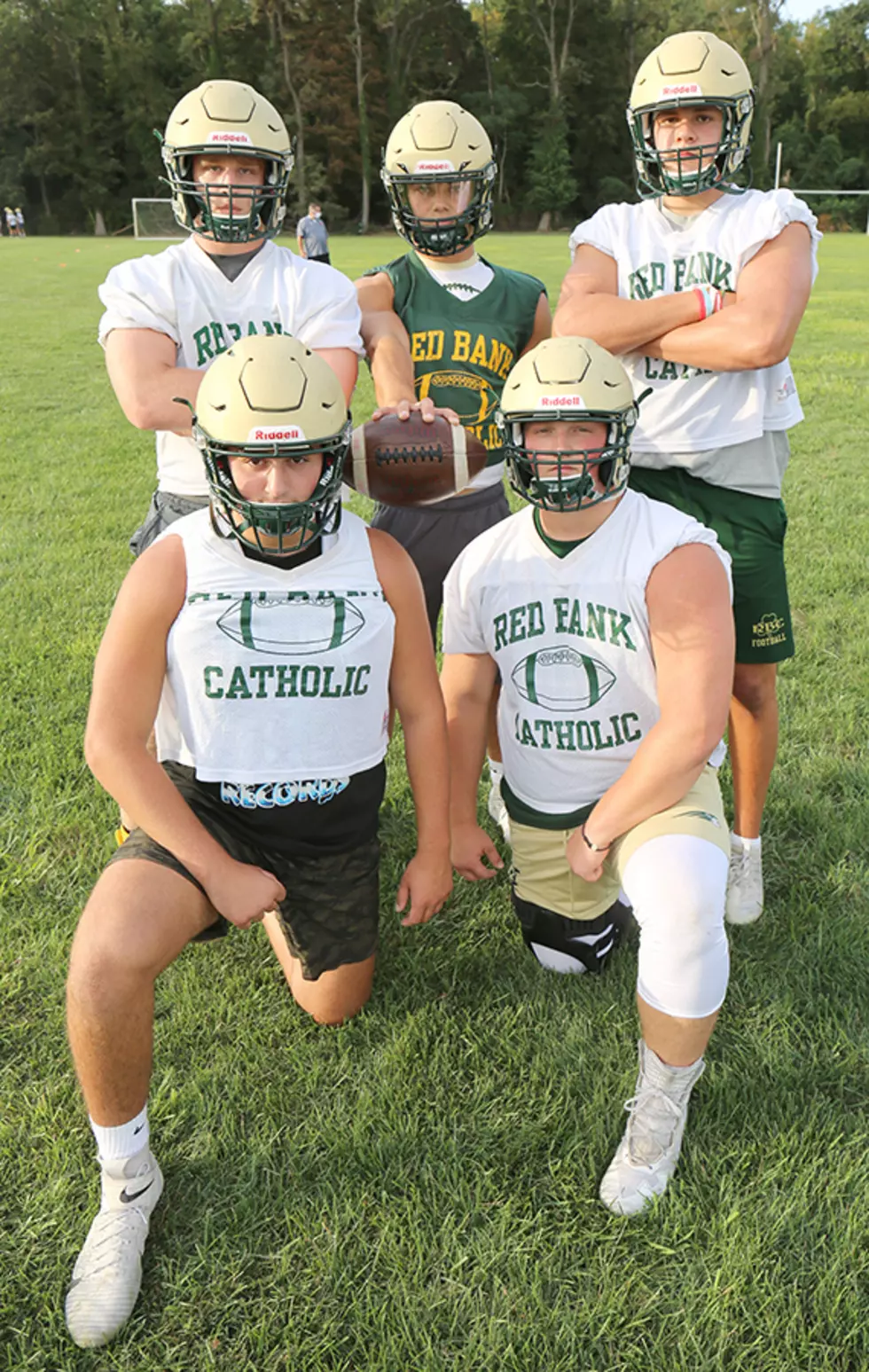 Different Names, Same Expectations: 2020 Red Bank Catholic Football Preview
Photo by Steve Meyer.

Enter your number to get our free mobile app
Gone are two FBS tight ends, a longtime face of the program, two more All-Shore recipients and several other key players. But for Red Bank Catholic, the focus is not on who no longer walks the halls of the school or patrols the sideline. Rather, it is on how to sustain success and deliver on a set of expectations that remain the same every year.
The Caseys have a new head coach as Mike Lange takes over for Frank Edgerly, who resigned in February and is now the head coach at Howell. Lange was RBC's defensive coordinator the past two seasons and the defensive line coach in 2017. Also moving on were star tight end/defensive end Kevin Bauman (Notre Dame) and standout tight end/linebacker Charlie Gordinier (Boston College). Nearly the entire core of the team that went 10-0 and won the NJSIAA Non-Public Group 3 state title in 2018 has graduated, but RBC expects to remain one of the state's best programs and bounce back from a 5-4 season in 2019.
Over half of the starters on each side of the ball are back, so even though the Caseys don't have as many household names as in recent years, they are a deceptively experienced group.
"We have a good batch – not a huge senior class – but they all started or contributed in some way," Lange said. "We also played a decent amount of sophomores last year so now they will work their way up the ranks. It's a little misleading that we're younger because we still have a lot back on both sides of the ball."
Senior Jake Louro, a returning first-team All-Shore selection at defensive tackle, leads the way as an anchor to both lines. A three-year starter, Louro posted 57 tackles, including 4 sacks and 24 tackles for loss last season for an RBC defense that allowed just 12.9 points per game and held five of its nine opponents to 10 points or less. Offensively, he'll line up at right guard.
Another key returner is senior quarterback and free safety Anthony Borriello, who was a Shore Sports Network third-team All-Shore selection last season. As a defensive back, Borriello pulled down a team-high four interceptions and added 51 tackles, 3 tackles for loss and 1 forced fumble. Borriello saw some action at quarterback last season as well, rushing for 241 yards and 2 touchdowns and throwing for 151 yards and 1 touchdown. He'll be the lone starter this season and RBC has transitioned from a multiple pro offense to a spread scheme to utilize his dual-threat abilities.
Borriello will have a pair of returning starters at wideout in senior Lenny Loria and junior Joe Diorio. RBC doesn't have its behemoth bookends anymore but will still have an impactful weapon at tight end in the form of 6-foot-4, 225-pound junior Alex Bauman. He has the versatility to play as a standard inline tight end and to split out wide.
Joining Louro as a returning starter along the offensive line is another three-year starter, senior left guard Luke Guidetti. Among the newcomers up front is 6-foot-6, 285-pound junior Vince Carpenter, a transfer from Red Bank Regional.
RBC's offense has received most of the attention over the last few years but its defense has also been among the Shore's best. Seven starters return in the Caseys' 4-3 scheme, including three defensive linemen and three defensive backs. Louro is a three-year starter at defensive tackle and one of the most disruptive players in the Shore. Senior JJ Lodato lines up next to him with Bauman, a returning starter, at defensive end. Junior Ryan McPherson steps into the other defensive end spot where Kevin Bauman wreaked havoc a season ago.
Senior outside linebacker Scott Ungemah is the only returning starter in the second level but the Caseys have an experienced varsity player at middle linebacker with Guidetti and a very promising sophomore in Sabino Portela at the other outside linebacker position. Diorio and Loria return as the starting cornerbacks with Borriello as the free safety. Junior Corbett Cimini will be the strong safety.
Red Bank Catholic will play a seven-game regular-season schedule after adding St. John Vianney on Thanksgiving Eve. This isn't a normal season by any stretch due to the COVID-19 pandemic, but the Caseys will have an opportunity to play nine games, the same number as last season, if they can reach the postseason finale.
"The expectation is to play the best teams and be one of the best teams, and right out of the rip here we get three of the best in the Shore (Mater Dei Prep, Middletown South and Rumson-Fair Haven)," Lange said. "We're excited, but it's been all about Week 1 so far.
At a Glance
Projected starters (RS=returning starter, 3RS=3rd-year returning starter)
Offense: Spread
QB: Anthony Borriello, Sr., RS
WR: Lenny Loria, Sr., RS; Joe Diorio, Jr., RS; Najih Rahman, So.
LG: Luke Guidetti, Sr., 3RS
Defense: 4-3
OLB: Scott Ungemah, Sr., RS
FS: Anthony Borriello, Sr., RS
Special teams
K: Mike O'Connor, Sr., RS
P: Mike O'Connor, Sr., RS
Head coach: Mike Lange, 1st season (2nd overall)
Team record last five years:
Assistant coaches: Joe O'Connor (Offensive coordinator/OL); Kevin Gaul (Defensive coordinator/DL); Mike Rosenfeld (Passing game coordinator/QB); Joe Gallagher (WR/DB); Keith Hugger (Special teams/WR/DB); Jay Graham (OL/DL); Andrew Lamura (RB/LB); Tony Flego and Matt Finucane (freshmen); Lauren Barry (athletic trainer).
Players to Watch: Jake Louro, Sr., OG/DT and Anthony Borriello, Sr., QB/FS
Louro will be entering his third year as a two-way starter and last season was a first-team All-Shore selection as a defensive tackle.
"Obviously you can talk about his skill set all day and night, but what I really like is the leadership role he's taken this year," Lange said. "He's been up with us since his freshman year. The kids look toward him and I think he embraces that role. For what our offseason was he came in a little bit lighter but he's a lot faster and obviously has plenty of strength. We expect even a bigger year from him."
Borriello will take the reins full-time in RBC's spread offense and could be a breakout force at the quarterback position. He showed flashes of his dual-threat potential in limited action last season, including leading the Caseys to a win over Donovan Catholic in a marquee nondivisional game.
"I think you're going to see an exciting new offense here," Lange said. "We're relying on the quarterback to make a lot of decisions. (Borriello) is good with the ball in his hands whether it's running or throwing. I'm excited to see him in (this offense). It fits his skills to a T."
Player Under the Radar: Luke Guidetti, Sr., OG/MLB 
Guidetti has been a mainstay on the Caseys' offensive line the last two seasons and will be entering his third year as a varsity starter. He'll also play a big role on defense as the starting middle linebacker.
"He doesn't have any defensive stats because he only played a little bit of end for us last year, but he's one of our leaders," Lange said. "He's an old-school linebacker. He just wants to make a lot of tackles, which is what we need. And his role, leadership-wise, is crucial."
Impact Newcomer: Sabino Portela, So., OLB/RB 
A standout wrestler as a freshman and a beast on the freshman football team, Portela is slated to start at outside linebacker and will push senior Dan Brewton for carries at running back. He is a highly-touted player who has star potential.
"He's a kid we feel like we can plug and play in a few different spots," Lange said. "He works hard and is a kid who plays above his age. I expect a big year from him. The sky's the limit."
Top position group: Pass catchers
The Caseys have two returning starters at wide receiver in senior Lenny Loria and junior Joe Diorio, plus junior tight end Alex Bauman. Another player to keep an eye on is sophomore wideout Najih Rahman, who started at wide receiver for St. Joseph (Montvale) last season. He's another sophomore with a chance to make an immediate impact and have a special high school career.
Big Shoes to Fill: Alex Bauman, Jr., TE/DE 
RBC graduated two of the best tight ends in the country in Notre Dame's Kevin Bauman and Boston College's Charlie Gordinier. Alex Bauman, Kevin's younger brother, played some tight end and started at defensive end last season and will have an expanded role and expectations on both sides of the ball.
"He is going to be his own man; he doesn't have to be Kevin or Charlie," Lange said. "Defensively, he'll play that hybrid defensive end/outside linebacker role and offensively, you'll see what we're trying to do with him as more of that hybrid tight end who can also play outside. He'll be an inline tight end, in the backfield, in the slot. You'll see his whole skill set."
X-Factor: Starting fast 
A condensed offseason has put every team behind schedule in terms of preparation. The Caseys don't have the luxury of easing into the year with three straight ranked teams on the schedule to begin the season.
"I'm sure this is the same for a lot of teams, but we have to get off to a fast start," Lange said. "You think of this layoff we've had and there's going to be some rust on a lot of levels. I think the important thing is to come out sharp and come out swinging."
Season Schedule
Friday, Oct. 2 – vs. Mater Dei, 7 p.m.
Friday, Oct. 9 – at Middletown South, 7 p.m.
Friday, Oct. 16 – vs. Rumson-Fair Haven, 7 p.m.
Friday, Oct. 23 – at Middletown North, 7 p.m.
Friday, Oct. 30 – at Long Branch, 7 p.m.
Friday, Nov. 6 – vs. Raritan, 7 p.m.
Wednesday, Nov. 25 – at St. John Vianney, 7 p.m.
Managing editor Bob Badders can be reached at bob.badders@townsquaremedia.com. Follow him on Twitter @Bob_Badders. Like Shore Sports Network on Facebook and subscribe to our YouTube channel for all the latest video highlights.
More From Shore Sports Network