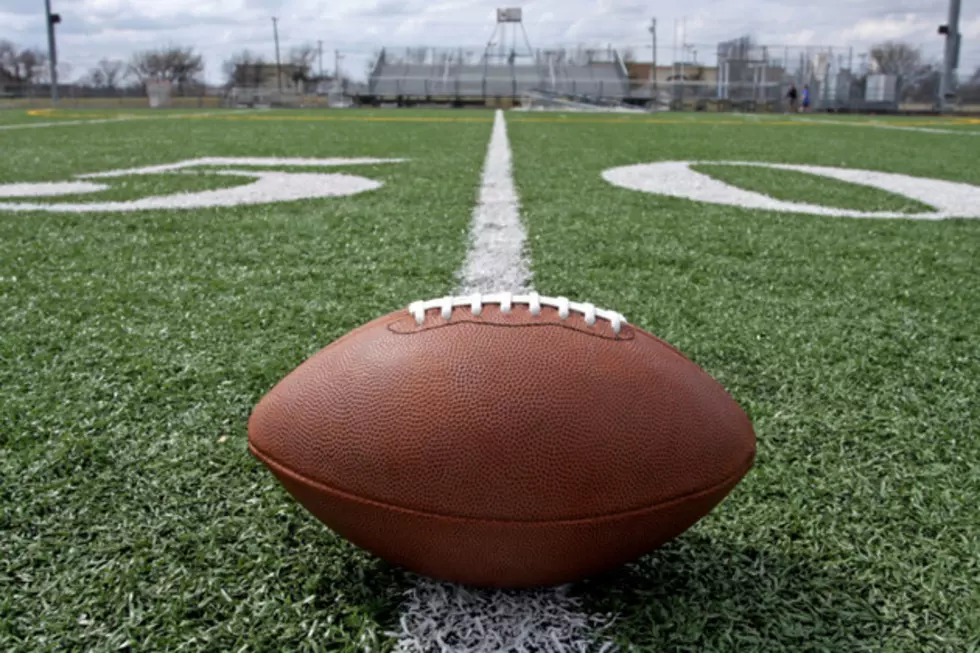 Countdown to the Classic: Monmouth County gathers for All-Shore Gridiron Classic Media Day
David Lee
The countdown to the All-Shore Gridiron Classic has begun.
With the 42nd edition of New Jersey's longest running high school football all-star game less than a month away, Monmouth County gathered for its first organizational meeting at the annual Gridiron Classic Media Day on Wednesday at Shore Regional High School.
Players in attendance heard from Gridiron Classic Chairman Dom Lepore and assistant Gerard O'Donnell as well as Monmouth County General Manager John Bird and Shore Sports Network's Ed Sarluca and Steve Meyer. Following a photo session, players met with head coach Jerry Schulte and his staff from Rumson-Fair Haven, who, along with Freehold's Dave Ellis and Asbury Park's Tim Fosque, Manalapan's Eddie Gurrieri and Wall's Tony Grandinetti, will guide the Monmouth County squad for this year's game.
Coaches and players were also treated to dinner from Jersey Mike's, courtesy of Billy from the Jersey Mike's at 175 Monmouth Road in West Long Branch.
When the game kicks off on July 11 at Long Branch High School, Monmouth County will try to win its third consecutive game and extend its lead in the all-time series, which is currently 22-18-1 after last season's 28-14 victory at Brick Memorial.
'Once I found out I was playing in the game I was so excited, I started trying to find my cleats and stuff just to get ready," said Wall quarterback/defensive back Dylan Richey. "It's a huge honor."
Richey is the Crimson Knights' lone representatives, so while he won't get a chance to play with any of his high school teammates in the Gridiron Classic, he will be able to team with some former teammates.
"On the eighth-grade all-star team I played with Tommy Smith (Red Bank Catholic) and we've just been boys ever since, so I'm excited to get to play with him again," Richey said. "I can't wait to play with all these great players."
Rumson-Fair Haven's Ethan Ardolino will be part of a large Bulldogs contingent who led the way in another championship season that saw RFH won its fifth sectional title in the last six years and also take the South-Central Bowl Game.
"I've always heard people say in high school you really play for your brothers, so to be able to play with my teammates one last time is an awesome opportunity," Ardolino said.  "It will be great to meet a bunch of other great kids and develop more friendships; practice with kids you usually face in games, but for me, playing with my own teammates again will be fun."
Monmouth County will feature 13 SSN First Team All-Shore selections plus 24 players who earned either second- or third-team honors. Host Long Branch, which captured the NJSIAA Central Jersey Group 4 title and then defeated Shawnee in the South-Central Group 4 Bowl Game, will have six players suiting up for the Gridiron Classic. Quarterback/defensive back Marc Denis, wide receiver Matt Clarke, offensive lineman Kevin Cerruti, linebacker Luke Arnold and defensive back Devyn Blount were all First Team All-Shore selections in the fall while linebacker Latrell Bennett was a Third Team All-Shore pick.
Manasquan, which won a division title and reached the Central Jersey Group 2 championship game, will also have six players representing its program. Running back/linebacker Canyon Birch, wide receiver/defensive back James Pendergist, fullback/defensive back Rashid Tuddles and linemen Alec Wells, Art Foreman and Dylan D'Anton give the Big Blue a strong presence in the Gridiron Classic.
Red Bank Catholic and Rumson-Fair Haven each have five players who will participate in the game. The Caseys went undefeated and surged wire-to-wire as the No. 1 team in the Shore, ultimately capturing the NJSIAA No-Public Group 3 state title with a 14-10 win over Mater Dei Prep. Wide receiver/defensive back Jaden Key, lineman Tommy Smith and linebacker Steve Cmielewski, each of whom were First Team All-Shore selections, lead the way with Second Team All-Shore linebacker John Columbia and Second Team All-Shore defensive back Anthony Romano.
It was another championship season for Rumson-Fair Haven as the Bulldogs won the Central Jersey Group 3 title with a memorable performance against Somerville before defeating Woodrow Wilson in the South-Central Group 3 Bowl Game. Rumson's outstanding senior class will be represented by First Team All-Shore linebacker and SSN Defensive Player of the Year Keegan Woods, along with Second Team All-Shore linebacker Christian Lanzalotto, Third Team All-Shore offensive lineman Ethan Ardolino, Third Team All-Shore defensive back Ryan Dupree and Third Team All-Shore defensive lineman Isaac Vernon.
Shore Regional and Freehold have four players each on the Monmouth County roster. The Blue Devils will be represented by quarterback/defensive back Gil Goldsmith, linemen Sam Aromando and Vin DiMaio and running back/linebacker Jack McCrae. The Colonials will feature First Team All-Shore quarterback/wide receiver/defensive back Matt Krauss along with standout kicker/receiver Jake Hurler, 6-foot-6 tight end Quincy Davis and two-time All-Shore lineman Alex Verardi.
Other Monmouth County all-stars of who were First Team All-Shore selections include Red Bank defensive lineman Ka'Shaun Turner, Middletown South linebacker Matt Tardy and Freehold Township kicker Colin Taptich.
Managing editor Bob Badders can be reached at bob.badders@townsquaremedia.com. Follow him on Twitter @Bob_Badders. Like Shore Sports Network on Facebook and subscribe to our YouTube channel for all the latest video highlights.