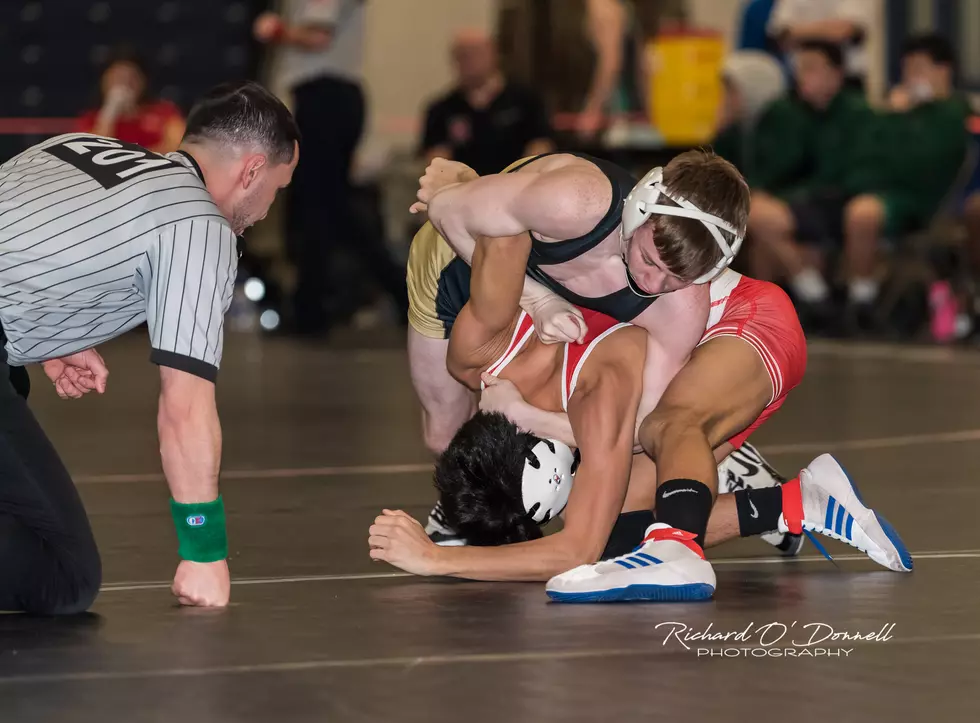 Colts Neck (NJ) enters, Southern Regional ascends in Shore Sports Network Wrestling Top 10
Photo by Richard O'Donnell

One week of wrestling is in the books and we have some changes to the Shore Sports Network Top 10, including a change at the top.
I went back and forth between Brick Memorial and Southern for No. 1 in the preseason rankings and went with the Mustangs, trying not to overthink it and going with the team boasting three-returning state finalists, a state fourth-place finisher and another returning state qualifier. And while the Mustangs went 3-0 during the week, including a thrilling win over No. 4 Rumson-Fair Haven, there some areas of concern that have led to me jumping Southern to No. 1.
Brick Memorial junior Lucas Torre, a returning state qualifier who transferred from Point Boro, has yet to take the mat. Without him at 106, Brick Memorial has a big hole there. Also, Southern matches up great with Brick Memorial where the Mustangs are strongest between 113-145. Southern has sophomore Connor Collins at 113 where he would match up with Evan Tallmadge. The two met last season during the state tournament where Tallmadge won, 7-3. Collins lost just four times as a freshman and never came close to allowing bonus points. In fact, that four-point defeat was the biggest margin he allowed all season. Then at 132, Southern has standout freshman Matt Henrich, at 138 has senior state qualifier Matt Brielmeier and at 145 has state third-place finisher Eddie Hummel. Brick Memorial got 15 points in those three weights against Rumson and needed all of them to win 40-37. They could easily lose all three vs. Southern.
Southern will have the advantage from 138-220, as well, although not to the point Rumson did against Brick Memorial where the Bulldogs won six straight with 31 points scored from 152-220. There will be some tossups in there. Brick Memorial will expect and likely receive six points from David Szuba at heavyweight.
I'm sure the Mustangs faithful won't be happy with this, but it's my honest analysis. With that being said, Southern and Brick Memorial will wrestle on Friday so the debate will be settled on the mat.
Now, on to this week's rankings.
1. Southern (4-0). Last week: No. 2
The Rams dominated in all four of their matches and showcased a balanced lineup with wins over Toms River South (75-0), Central (53-13), Seneca (60-3) and Middle Township (64-6). Senior Eddie Hummel recorded his 100th career win in the match vs. Middle. Junior Nate Bischoff had a big week with a 4-0 mark at 152 that included wins over returning region qualifiers. This week: Tuesday at Toms River East: Friday at No. 2 Brick Memorial; Saturday vs. South Plainfield; Monday vs. Toms River North.
2. Brick Memorial (4-0). Last week: No. 1
The Mustangs drop one spot due to my aforementioned reasons. Brick Memorial went 4-0 during the first week, highlighted by a dramatic 40-37 victory over No. 4 Rumson-Fair Haven. They also cruised to victories over Toms River East (48-26) and Toms River South (67-6) and beat Brick, 27-15, in what was essentially a JV match. To no one's surprise, Brick Memorial's Four Horseman (Evan Tallmadge, Anthony Santaniello, Vincent Santaniello, David Szuba) are a combined 14-0 with 100 percent bonus points. This week: Wednesday vs. No. 8 Jackson Memorial; Friday vs. No. 1 Southern.
3. Howell (3-0). Last week: No. 3
The Rebels took care of business with a 3-0 week that included wins over Long Branch (63-9), St. Thomas Aquinas (53-16) and No. 6 St. John Vianney (47-27). Senior Nieko Malone recorded his 100th career win. Junior Hunter Mays has been outstanding at 160 pounds and has given Howell another hammer in its already deep lineup. This week: Tuesday vs Marlboro; Thursday at No. 5 CBA; Saturday at No. 8 Jackson Memorial.
4. Rumson-Fair Haven (1-1). Last week: No. 4
The Bulldogs topped Raritan, 42-36, before falling to Brick Memorial, 40-37, in a match that came down to the final bout. Rumson split the bouts 7-7 with the Mustangs and came just three bonus points short against a top-10 team in the state. It was another positive step forward for a program on the rise. This week: Tuesday at Seton Hall Prep; Wednesday vs. No. 7 Ocean.
5. Christian Brothers Academy (2-2). Last week: No. 5
The Colts coasted to victories over Toms River East (48-21) and Freehold Township (53-18) before suffering back-to-back losses, but those defeats came to two top-10 teams in the state. After a 38-23 loss to Kingsway, CBA won eight bouts against reigning Group 4 champion North Hunterdon but lost by fall in five and forfeited another to lose 36-32. The Colts are big-game hunting and while it may not suit their record well it will certainly pay dividends going forward. This week: Tuesday at Long Branch; Thursday vs. No. 3 Howell; Saturday vs. St. Peter's Prep.
6. St. John Vianney (1-1). Last week: No. 6
The Lancers opened their season with a 48-27 victory over Colonia before falling to No. 3 Howell, 47-27. A closer look at the match vs. Howell shows the Lancers won six of the 10 contested bouts, including a 7-6 upset victory by freshman Dominic Terracciano over two-time state qualifier and past SCT champion Nieko Malone. The Lancers are a little short-handed now but have the firepower to contend with most anybody. This week: Thursday at Raritan; Saturday at St. Joseph (Montvale).
7. Ocean (4-0). Last week: No. 7
A perfect 4-0 week for the Spartans included a 49-18 win over Raritan and a 51-18 win over Wall to go along with victories over Red Bank Catholic (53-19) and Jackson Liberty (64-12). Ocean has one of its most balanced lineups in years and showed it off over the first week. Junior Shane Cartagena-Walsh, a Monmouth Regional transfer, was 4-0 with a big pin of Wall state qualifier Nicolas Zamaloff and freshman 106-pounder James Farina has also been impressive. This week: Wednesday at No. 4 Rumson-Fair Haven; Saturday at Shore.
8. Jackson Memorial (3-0). Last week: No. 8
No issues for the Jags in Week 1 as they eased into the season with convincing wins over Brick (78-4), Toms River South (48-12) and Jackson Liberty (40-22). Freshman Kael Huxford is off to a 3-0 start, as are Luke Temple, Quinn Bohringer, Nick White, Rob Lagravenis and Mike Rauch. This week: Wednesday at No. 2 Brick Memorial; Thursday vs. Toms River North; Saturday vs. No. 3 Howell.
9. Middletown South (2-0). Last week: No. 9
The Eagles rolled to a 57-13 win over Long Branch and then defeated Cranford, 43-18. The win over Long Branch was the first in at least 15 years. Middletown South hasn't been tested yet but those matches are coming soon. This week: Tuesday at Freehold Township; Thursday at Marlboro.
10. Colts Neck (4-0). Last week: not ranked
The Cougars replace Wall in the rankings after a 4-0 week that included a key 38-33 victory Class B North victory over Matawan. That should set up their match with Wall later in the season to decide the division title. Colts Neck also defeated Manasquan (54-18), Neptune (72-6) and Old Bridge (72-6). This week: Thursday vs. Red Bank; Saturday at Long Branch.
Dropped out: Wall (No. 10 last week)
Keep an eye on:
Marlboro (3-0)
Point Boro (2-0)
Lacey (2-0)
Toms River East (1-2)
The 100 Best Places to Live on the East Coast
More From Shore Sports Network